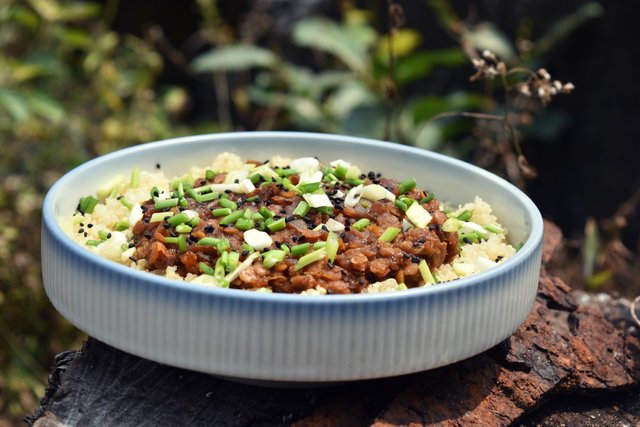 Dinner can be on the table in less than 30 minutes from start to finish with this quick, easy, and delicious Asian lentil stew.
Eating yummy, healthy and 100% plant-based meals shouldn't be difficult or take up all your precious evening time. Though I love to spend time in the kitchen, especially since we have an outdoor kitchen now, running a bakery has forced me to make more of these quick and easy dinners.
ASIAN-STYLE LENTIL STEW WITH QUINOA 🍲
Though I live in Assia, I hardly eat any rice. Not only because rice has been found to contain small amounts of arsenic, I just don't like the taste. Furthermore, rice doesn't provide as many nutrients and proteins as other whole (pseudo) grains such as buckwheat, quinoa, amaranth, and millet.
For today's dish, I used quinoa. Buckwheat is my favorite, but we ran out of it and I have never seen it for sale here in Cambodia so I'll have to wait until we travel to stock up again.
Quinoa, however, is easy to find. It is gluten-free and high in protein (containing all nine essential amino acids our body needs). It is also high in other good-for-you plant nutrients such as fiber, magnesium, B vitamins, iron, potassium, calcium, phosphorus, vitamin E and various beneficial antioxidants.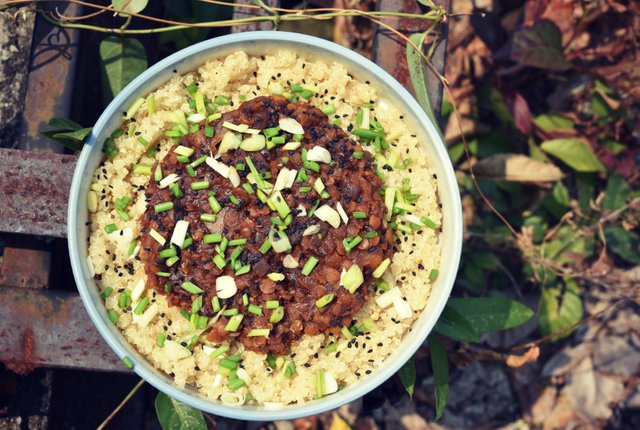 INGREDIENTS (Serves 2)
---
¾ cup onion, chopped
2 cup napa cabbage, chopped
2 clove of garlic, minced
1-inch fresh ginger, grated
½ cup red lentils
1 cup water
2 tbsp soy sauce or tamari
1 tbsp sesame oil
Chili paste to taste
½ cup uncooked quinoa
1/3 cup spring onions, finely chopped
2-4 tbsp toasted sesame seed, I used black ones
DIRECTIONS
Heat the cooking oil in a skillet over medium heat, Saute the onion for 2-3 minutes. Then add garlic and ginger and cook for 1-2 minutes more.
Stir in napa cabbage and cook until it starts to soften.
Then add the lentils, water, soy sauce, sesame oil, and chili paste. Cover and bring to a gentle simmer until the lentils are cooked and tender while most of the liquid is absorbed. This will take about 8 to 10 minutes.
Meanwhile, cook the quinoa according to the instructions on the package.
When ready, divide stew over bowls. Top with spring onions and sesame seeds. Serve with quinoa on the side.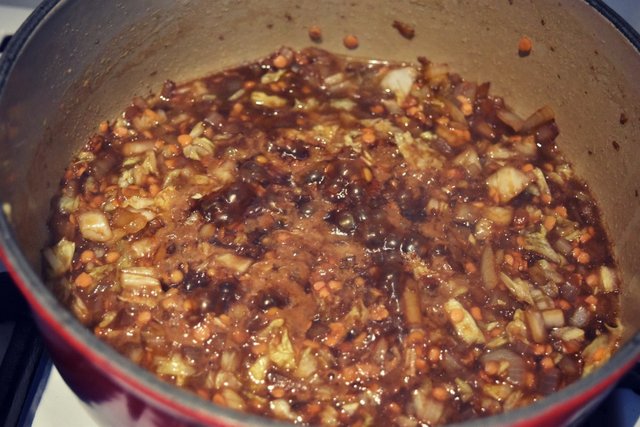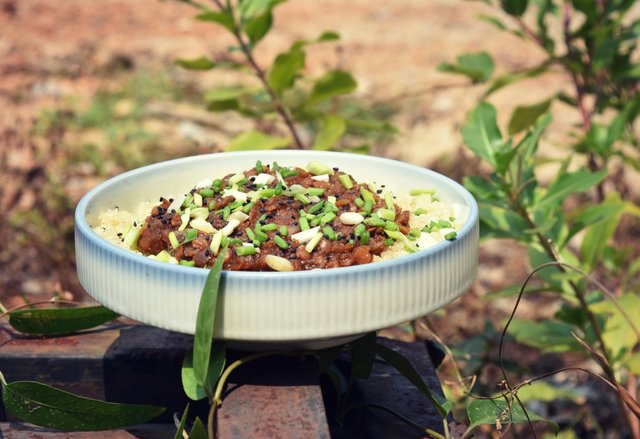 ---

FYI: For green smoothie tips, tricks, and recipes, download my FREE GREEN SMOOTHIE EBOOK HERE!
---
ALL CONTENT IS MINE AND ORIGINAL!
PICTURE(s) TAKEN WITH NIKON D5600
---
LET'S CONNECT!
---
Website - Facebook - Google+ - Twitter - Pinterest - YouTube
---
🥑🍓🍆 FIND MORE YUMMY PLANT-BASED CREATIONS BELOW 🥑🍓🍆
---