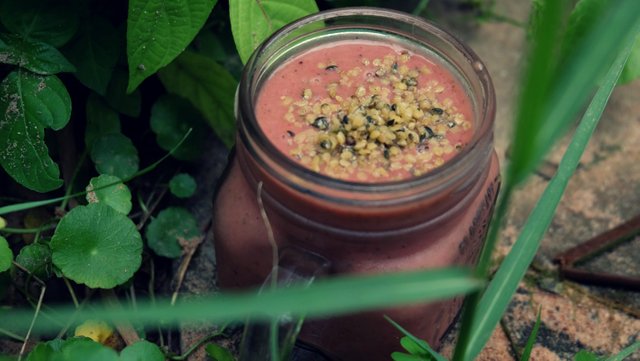 Good morning steemit. Tropically chilly today. I wish I could stay home with a hot cup of cacao and watch a movie, but work is calling. Seven more days and we have an entire week off to relax. Yipee.
Luckily there is always a yummy green morning drink 5or pink like today) to energize and get me up on my feet to drive to work. There are worse thigs in life right hehe.
What are you guys up to today. Still chillig out after the holidays or back to work like me?
Wichever it is, Enjoy tis lovely day of the new year.
PINK MORINGA CELERY RED BEET LASSI 🌱🌸🍌
---
INGREDIENTS (SERVES 2 FOR BREAKFAST)
---
1 cup fresh moringa leaves or use moringa powder instead
1/2 cup plain unsweetened cultured coconut yogurt
Small stalk celery
1/4 big red beet
1 banana
1 cup papaya
1 cup mango
1/4 cup mint or more to taste
Hemp hearts (for topping)
Water as needed
DIRECTIONS
---
Blend moringa and water until smooth. Add the remaining ingredients and blend again. If the smoothie is too thick, add more liquid base. If you have a high-speed blender you can blend everything at once.
Optional: top with toppings/superfoods of your choice (chia seeds, goji berries, desiccated coconut, hemp hearts etc.). I used hemp heart this time.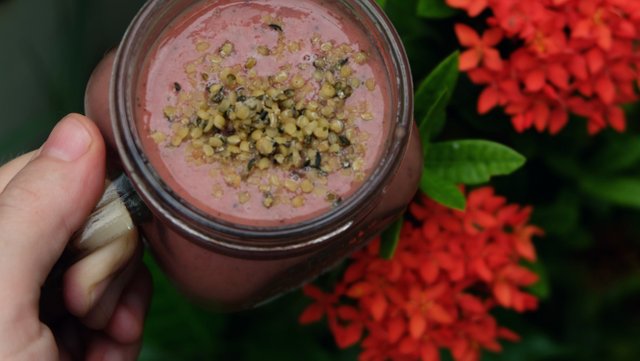 HAPPY BLENDING!!!!!
---

FYI: For green smoothie tips, tricks, and recipes, download my FREE GREEN SMOOTHIE EBOOK HERE!
---
ALL CONTENT IS MINE AND ORIGINAL!
PICTURE(s) TAKEN WITH NIKON D5600
---
LET'S CONNECT!
---
Website - Facebook - Google+ - Twitter - Pinterest - YouTube
---
🥑🍓🍆 FIND MORE YUMMY PLANT-BASED CREATIONS BELOW 🥑🍓🍆
---