Flagging
Nobody likes to be flagged. It is more fun to see your rewards go up, than it is to see them go down. It is easy to take it personally, and feel like you did something wrong.
Steemit lists these as some "common reasons to flag". This does include Disagreement on rewards, which is very subjective.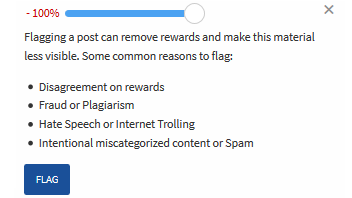 The list is not exclusive though! People are allowed to flag for any reason they want.
One suggestion: If you get flagged - don't take it personally. A flag does not necessarily mean that you did something wrong. They may have disagreed with your post, or thought your post was making more than they thought it was worth. It may not have even have anything to do with you or what you posted. If they did explain their reason, then you can determine if there is anything you could/should do differently.
There are many in the community who want flagging to be used only for 'abuse'. Not everybody is going to follow this etiquette though.
Don't flag content just because you disagree or don't like it
This is a big issue and I'm sure some people will disagree with it but I think the majority of the community agrees that the flag issue is for posts which are harmful or abusive and should not be used as a dislike or downvote button. Don't like something? Post a comment explaining why or if you can't be bothered to do that or don't have the time move on.
It is entirely up to you if you want to follow this etiquette. Just because you follow it though, does not mean everyone else will. Every person gets to decide how to use their upvotes and downvotes. There are no "rules".
Personally, I try to treat everyone how I want to be treated - but that's just me.