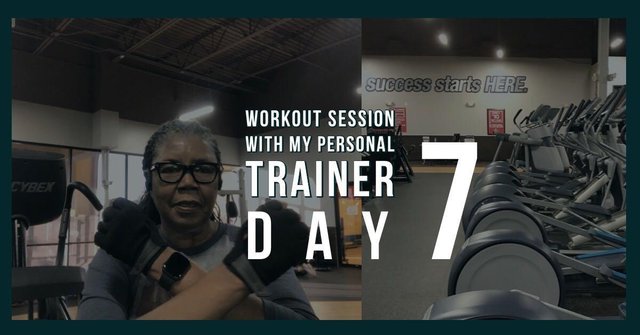 After a week of being away from the gym during the holidays, my workout session was not as brutal as I thought it would be.
The first exercise I was given to do was a cardio boxing workout that consisted of one hundred punches (jabs, upper cuts, and kicks). I actually enjoyed the boxing and had more strength in my arms than I had previously during my first boxing session.
The next round of workouts was a little bit more challenging with the medicine ball. I lifted a thirty pound ball over my head and bounced it on the floor catching it and then lifting it up again for three sets of ten.
I was also introduced to a new exercise where I lifted a forty pound rod from my shoulder area and then pushed it up in the air, extending one arm at a time.
My final set consisted of the band resistance leg/ankle exercises that stretched my IT bands and worked my hip muscles.
During the next workout session, measurements will be taken to record my progress.
Photo Enhanced with Adobe Spark
Read my previous post below as I document my exercise journey.
Getting Back in Shape
Workout Session #1
Workout Session #2
Workout Session #3
Workout Session #4
Workout Session #5
Workout Session #6