This is my entry into Finish the Story Contest - WEEK #32! host by @bananafish and all those who help keep this contest a weekly thing.
Awakenings
by @f3nix
The hoverbike lay abandoned on its side, the engine still warm. The fine black dust carried by the incessant wind was a snake that crept in every small recess.
From the top of the dune the Tesseract 19 could be seen with the naked eye. The column pierced the black sea of ​​graphite and challenged the dark crimson sky. The awareness of his distance made him wince. That construction was enormous. That impenetrable artifact, Moloch's sharpest tooth.
Intertwined with dust, the warm wind brought an imperceptible howl: the bark of the monolith, an omen of death.
The man waited, a stiff exoskeleton bent over the black sand. The helmet lay abandoned beside him. Soon the team would have arrived.
"Soon you will arrive too and everything will be accomplished, one way or another."
He thought of her smile, her courage, her strength. "My life, how could I've been so reckless to have you involved in all this?" The tears were already kneading blackened as the memories of their happy normality swept over him.
"I can not let them find me like this". He stared at himself from outside: another tower on a dune, far more uncertain than the one that howled his feral wish.
These and other demons echoed within the chambers of his soul, when his eyes met a green sprout. The man stared that little miracle that, against every odd, was striving to affirm its existence. In the midst of that sea of bottomless ​​despair.
The tear finally found its way lingering and bathed a leaf. The man managed to pull himself together and, now smiling, he put on his helmet.
"This Moloch will tremble, time has come for an awakening."
My Ending
Mike was on his knees tied to a chair with broken legs. The sand crunched between his teeth as he swallowed any saliva his body mustered up.
The three men who captured Mike entering the city brought him to face Mayor Trajo, a hideous looking man. An acid scar covered his face. It was from a boy who snapped back in chemistry class after he'd gotten tired of being picked on by Trajo for a year straight. The boy was found mutilated inside a local theater weeks later. Parts of the boy's flesh and muscle were cut away and not found at the scene. Service to Moloch began that day.
"We searched him. Found nothing you asked for, Mayor," said one of the three men.
"The dike?" Trajo asked. All eyes in the room avoided his. "We'll deal with that later."
"Welcome home," Trajo said cracking his knuckles. "You stole things. They weren't gifted back to us. Clever of you to cover your tracks with a sandstorm."
Mike's vocal cords itched as he spoke. "They are not yours nor mine to keep. The lands will prosper and grow. The people with it."
Trajo: "What would that do for my business?"
Traje nodded his head to the executioner standing behind Mike. The executioner tightened the ropes around Mike's wrist.
Trajo: "Tell me where you planted the seeds?"
Mike didn't mind the pain by looking deep inside of himself. He reminded himself why he did what he did; why he taught the people the difference between evil speech and speech based in love; why the people needed to see life grow in an area they were told it could not.
Trajo: "When the circulation is cut off too long, the hand turns a blue, white, or black color, depending on how long it's cut off, of course. We're going for black. That means gangrene has developed. Do you have any idea what that will do to your biological system once it's released into your bloodstream?"
Mike: "They're planted in the minds of the people."
Trajo: "About that. People should be allowed to say anything they want, whenever and wherever they want. I don't like it when they say loving things to one another, but it goes with the territory. It is so much easier to destroy than it is to create. So, when you teach them this - the very thing I hold over them - they don't vent their angry, hate-filled feelings freely to one another. When they don't vent freely, it destroys what I've created. That makes my job much harder when they start thinking they don't need me. They begin to see me as a ...," along with a cut-eye stare at Mike and a Merkel-Raute hand gesture, his voice got soft, "a monster. ... That is not good for business."
A flash-bang coming through a vent blinded everyone in the room. Smoke and coughing followed. Mike felt the ropes tying him to the chair snap lose and his arm violently being tugged on after. "Run!" a women's voice, his woman, shouted.
They bolted out the door. She closed it and slammed the locking-mechanism down when they were out.
Trajo is heard banging on the door shouting as they run down the hall and out onto the street, "Bitch! Fucking bitch! Open this fucking door, cuck! How the f..."
The End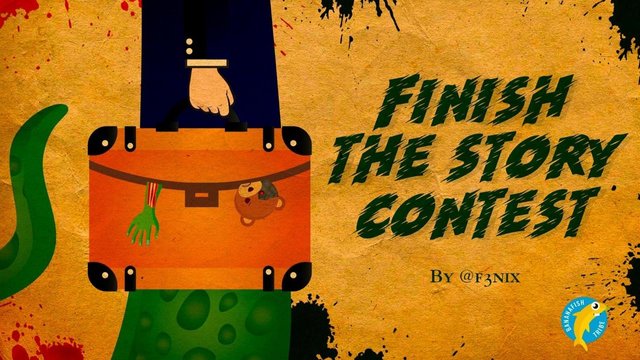 ---
---
If you are enjoying my work, please -
===
Upvote my posts through steem auto and add the other people and groups you would like to support.

Support me and others through steembasicincome shares. (This also helps you because you will also get a share for sponsoring somebody.)

Click here --> Steemmonsters. This is an offical affiliate link. So, not only will you get awesome cards, but you will also be helping me out.

Send steem directly to me! because you want to. 8-)
---
---
Coming to you from arcange, a friendly warning to all who want to be successful on the steemit platform:
A bit of paranoia is the basis of security.
There are a few simple rules to follow in order to avoid having your account hacked:
Rule 1: NEVER, I repeat, NEVER use or give your owner key or password!
Rule 2: Use your posting key to login, post and vote on trusted websites like steemit.com or busy.org.
Rule 3: NEVER give your active key as this key allows to control your funds! Only use your active key for special operation like money transfer or account update on trusted websites like steemit.com.
Rule 4: Anywhere else, if you are requested to provide any of the above key: RUN AWAY!!!
---
---
Tools:
---
---
Ongoing Contests