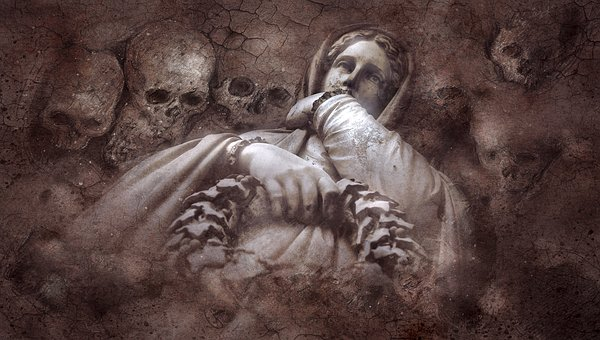 Hello, I am getting to this a little late this week. I have just been very busy. Still, I wanted to give it as shot as this is really fun to do. Make sure you check out the contest here If you can't write a story today think about taking part in the next one. @bananafish is a great follow for this contest and others.
Here is the first part of the story.


Leitner
by @dirge

Benjamin Leitner, son of General Reinold Leitner, grandson of Count Dietrich Leitner, stepped from the stagecoach and lit his pipe. The night was cold, the sky a vast black emptiness. The moon, if it had shown itself at all that night, was gone, and nothing but the light cast by Benjamin's lantern offered solace from the creeping dark.
He'd reached the graveyard, home of his family tomb and its historic dynasty. It was a forbidden place, the site of his late mother's suicide, where Leitners were entombed stretching back centuries. He hated this place, more than anywhere else on earth. But he'd come, alone as ordered to. He'd come, as he had no other option but to do so. And he'd brought the gold.
The letter was written in her typical style. Loquacious, expounding on the nature of their relationship, apologizing for her affairs, thanking him for standing by her throughout it, remaining at her side despite all the controversy of the town. Despite even her own parents telling him to abandon her as a lost cause.
She'd not only dragged herself down into the mud. But him as well. Benjamin the financier, of Wolfstone and Kauffman, now the cuckold of all of Austria. But worst of all, she'd tarnished the name of Leitner.
And when the accusation came, of witchcraft and devilry, of black magic and the most bestial of sacrilege, of whoring in the night endowed with opiates unto madness. Well, it was no wonder when Kauffman wanted out.
And still he stood by her.
Should he have been surprised when the letter came, demanding the last of his finances or else she'd accuse him in the papers of having masterminded it all? Of being an original scholar of the black arts?
That would render the Leitner name into devilry.
No. He couldn't allow that.
Benjamin finished his pipe, the tobacco was charred and ashen. He cast the ash into the wind then slipped the cherry wood pipe into his coat pocket, beside the letter crested with her seal.
Melinda. Oh, you wench.
I'll be in the crypts, waiting.
He suspected she wasn't alone. Benjamin suspected the whole carnal tribe to be down there, waiting for with her.
Well, so much the better. Let them all wait for his arrival. Let them all see the truth, the forbidden history denied to the world. Stretching back into the foundation of the soil. Let them know who it was that the Leitner's may be.
He stepped across the grass, peering at the graves of his forbears till he reached the central crypt. The iron gate was ajar and the darkness seemingly impenetrable. They were down there, waiting for him.
"Melinda," Benjamin said to himself. "It could have been different. So different. But you threatened my name. For that, I cannot forgive you."
He entered the crypts.
"Time to meet the family," he thought to himself, almost with a laugh.

Torches lit a path through the crypt. He was sure they lead to a trap. Melinda really had no idea who he was. She played at games of the dark and he allowed it. He thought it was cute at times. She had made a mistake to not fear him. As he turned a corner he could see her standing at the end of the corridor. He could feel the others lurking around. Why not play at her game for a moment.
"Melinda, I will give you a chance to apologize for this. Do it now and I will forgive you one more time"
"Benjamin, you have always tried to protect me. Silly man. Now, do as I told you or I will follow through."
"You have no idea what you have done but it doesn't matter."
Benjamin could hear the others coming from behind. He dropped to his knees and whispered in the forgotten tongues of man. A mist filled the floor and the torches all went dark.
Benjamin could still see. He moved quietly behind Melinda. She held a little blade now and she peered around in the dark. He disarmed her and pinned her arms against his chest. It was time for her to hear some truths.
"Melinda you have made many mistakes but to meet me here will be the last. I know your friends are out. Let us listen to them scream as they meet the rest of my family."
"What are you talking about?"
A scream came from one of the tunnels, then another and another. Melinda stopped trying to escape as they continued. Then she began to shake as a figured dragged a body in the room.
"Say hello to my cousin Melinda. How many souls did you bring me tonight?"
It continued until there were ten bodies piled up on the floor. Benjamin pushed Melinda down to the floor with them.
"You see now, don't you? Why I let you play at the dark arts? My family has been studying them for generations. I had hoped to teach you one day. Yet your betrayals always stopped me."
He tossed the blade down at her feet.
"I will give you one chance at peace in death take your life and I will not add you to the souls I control."
Melinda looked around at the corpses on the floor and grabbed the blade. She lunged at Benjamin.he stopped the attack and placed his hand on her forehead. He started to chant. Melinda's pupils turned black and she fell to the floor.
"Get up now and follow me we are leaving."
"Yes master right away"
Melinda stood and followed Benjamin out of the crypts. Now she would spend the rest of her life as a servant of his. Then her soul would serve the family. Normal people never do understand eternity. If she did she would have taken his offer.

Image by @EdibleCthulhu