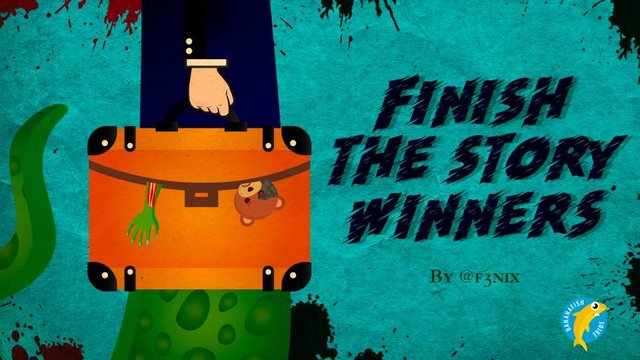 Hoist the colours, proud fiction writers!
Greetings folks. I'd like to thank all the participants for the 56th week of Finish the Story. This is @dirge, and I will list the winners below. But first, Let's all congratulate @tristancarax, @sidequest and @sarez for receiving support votes from our Old God @curie!

What's boiling in the bananafish kitchen?
I'm not really sure, so maybe I'll update this part of the blurb later. Or, @f3nix can mention something. Basically we hang out sometimes on discord and talk about random projects. Not sure.
Let's hear some cheers for our terrific partners, @Crowdmind! Courtesy of their generosity and support, our participants now have the opportunity to win some sweet golden SNAX tokens! Haven't heard of SNAX? Then I urge you to check out Crowdmind's Interview with the team from the blockchain as well as our previous post. Crowdmind's mission to empower crowdsourcing initiatives is of tremendous benefit to the Steemit community. Check out their blog and consider as well a vote for their witness, @Crowdwitness. Thank you @Svemirac, @Hidden84 and the Crowdmind Community for your sustain!!
Keep those cheers coming for @Josephsavage and @Steembasicincome! 🎉 It's thanks to their kindness that our golden yellow deityhas been able to distribute so many SBI units unto the fabulous writers in our community! Anyone who has been on the blockchain longer than a minute can see what a precious gift this is! Our sincere gratitude to you, Joseph!
Our tribe is also blessed to with recognition by the @C-Squared / @c-cubed community! Dedicated to supporting quality works on the Steem blockchain, those in the C-Squared community put in hours of tremendous effort each and every day. We love what C² is doing, and urge our writers to please consider voting for the @c-squared community witness!
Curie factoid: we have been supported by the amazing Curie community with 81 upvotes in 56 editions. We have now more than an average of 1 curie upvote per edition! @Sarez and @Tristancarax are tied out in front, closely followed by @Brisby, @Calluna, @Cyemela and @Dirge. I think. This is frankly copied and pasted from previous contest posts, as I'm trying to do this all between afterwork and feeding my dogs. Either way, let's show the amazing Curie community our solidarity and vote for @Curie as one of Steem's witnesses! 😎
Don't forget to join the Realms, where you can promote yourself and meet all of us strange creatures! And also talk about Cthullu and stuff. If you're into that.

To receive your SNAX rewards, you'll need to have a SNAX wallet.
Our Contestants
Sarez constructs a convincing scene of brutality and murder. A man pushed to his breaking point of anxiety is brought back to a horrific time in his past. Things don't end well for anyone. As tragic as it is brutal. Great stuff!
Sarez is a talented writer with clear prose and straight-moving plot.
Sean thinks his friends are in trouble. He searches for them, entering a creepy old haunted house. The results aren't so much gory as they are terrifying. I thought the spin on time-dilation, and the theft of life, hit a deeper level of psychological fright.
Sean enters the water, to never leave again. The prose has a poetry to it, and its draws up emotions in the reader, particularly loss and tension. I enjoyed the feeling of dread as I read on.
Sidequest immediately breaks the prompt's tension, only to create an even worse situation for everyone. I enjoyed the shift from playfulness to horror by sidequest's summoning of beasts from the deep. The story's end with a question towards Sean seems to be the only possible ending. Will he accept the pendant or not? I think not showing Sean's choice has more weight than if @sidequest had confirmed it either way. I appreciated the narrative decision.
The story's beginning with running from the guards sent me back to fond memories. I appreciated the familiar tropes of police chase, taser guns and mysterious woman capable of martial prowess. The ending was also a fun spin!
Ah, sunrise peak! On New Years, people often went there early on Jan. 1st in order to see the year's first light. I was never in a mood to do so at the time, though.
I think there's two things that stand out for raj's piece. First, the imagery (particularly the severed arm floating on the face of the moon in the water). The second is the confidence of the story telling. The metaphors of sharks consuming flesh, of sexual/violent imagery merging into one work well to highlight the main character's emergence into the Church.
The story begins with the normal, a man getting slapped for being a creep. This allows the surprise to be even more shocking. We go from "things are normal" to "things aren't normal".
The contrast between the mundane ("There's free wifi.") and the supernatural ("It depends how deep you want to reach."), really adds more depth to the narrative.
I also appreciate the cuts of small scenes. I've got a small attention span these days lol.
Confident storytelling! If I was him, I'd choose the sea as well.
The woman's murder was shocking, and we're soon brought to the esoteric cult. Sean finds himself slipping, enjoying the pleasures of the fresh and the orgiastic rituals. The tale ends with a question: will he kill his friend to join them?
Creepy as fuck!
Sects, cults, religions. Full of the standard mantras and self-grandiose esoteric phrase mongering, Sean, skeptical, instead experiences visions of his past self. His past self, and the mysterious femme fatale. Was it all a dream? It's up to you to decide.
We have asteroids, a T-38 crashing down from the sky, giant tentacles emerging from the water and pilots escaping via parachutes. Explosions, slaughter and energy forcefields. Tragedy, death, and cameos. If you like that, then check this out.
I enjoyed the festive atmosphere of this story. The narrative moves quick between dancing and smoking and drinking and the mysterious "Master". The ending is up for interpretation regarding the 'goodbye' to their friends. Are they dead ("They have already been diagnosed")? What is the grave that Sean must begin?
Thanks for the entry @vida-blanca!
Sean emerges from the ocean, only to find himself in another world. There are dwarfs, as the title suggests, and that was fun. I've never read any stories with dwarves as characters (outside fantasy) so this was a surprise in itself. The story has a plot on it's own: Sean's blood is magical and required to help the pink girl's mother. I was reminded of the story Rip Van Winkle.
The Winners
GRAND PRIZE - 5 STEEM & 500 SNAX tokens: @raj808
SECOND PRIZE - 3 STEEM & 200 SNAX tokens: @gwilberiol
THIRD PRIZE - 2 STEEM & 200 SNAX tokens: @sarez!
POPULAR VOTE - 4 SBI: @sarez!

Sustain the @bananafish project through your delegations! We're a selfless inclusive and decentralized community, we put our heart in what we do and a lot of passion and everyone will be abundantly rewarded for their generosity as the @bananafish will keep growing. Here you may find a guide by @marcoriccardi on how to sustain this project.
A special thanks to @felt.buzz, @gwilberiol, @dirge, @theironfelix, @raj808, @brisby, @maverickinvictus, @cyemela, @marcoriccardi, @hidden84, @calluna, @oivas, @f3nix, @khasa, @vdux, @anixio, @ntowl, @tristancarax and @blueeyes8960 for their precious delegations, making this project a reality!
If you like this contest..SPREAD THE GOSPEL! We're grateful for your resteeming and word of mouth. Everything helps to grow together!
See you tomorrow for Edition #57 with the wonderful @brisby!