Chapter 11—The Threat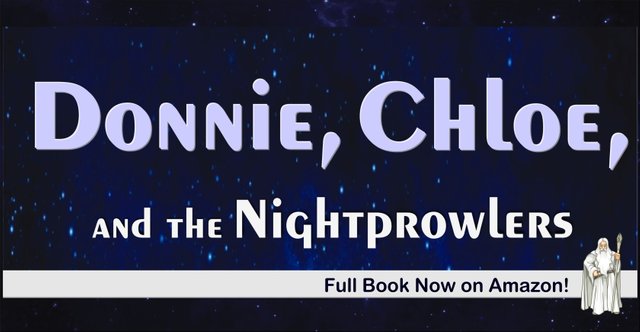 Click Here for
Chapter 1
Chapter 2
Donnie
I walk back to the office jauntily, feeling the best I had felt all day. I couldn't believe it had been less than 24 hours since Crystal and the others had come to me by midnight and unlocked my full powers. The things I had learnt! And now, I had a date with Crystal to look forward to. We were going astral travelling together tonight. It was going to be so awesome!
I feel the presence before it hits me, even had the time to look around. For a split second, I catch a glimpse of a figure in a dark hooded cloak staring at me from the shadow of a building across the street. But then it does hit me and I can't think about that anymore.
My heart gives a heavy beat, so hard that I clutch at my chest convulsively. I let out a loud gasp and lurch forward. The elation I had been feeling all day was suddenly wiped away and I was filled with a horror so intense I could barely breathe. I was literally shaking with fear. What on earth was happening now?
Suddenly, I saw everything I had done since I woke that morning in a vastly different light. My lackadaisical attitude towards my job. What I had done at the eatery — basically robbing and stealing from them. Worse still, that blonde waitress was surely going to be held responsible for what the manger would most likely consider a lapse in her duties. She might even be fired, all because of me!
And Chloe. Chloe, who I loved like I'd never loved anyone before, left standing alone and hurt on the sidewalk. Would she ever talk to me again?
What had I done?
My heart was beating rapidly in my chest. I felt very different, as though I hadn't been totally aware and in control of myself since I'd woken that morning. Or rather, like I hadn't been fully awake until this moment. And I understood. What was scaring me so badly wasn't the mystical presence I felt, or whatever it was he or she was doing to me. What was scaring me was me—the things I had done. I had to fix everything immediately. Especially my relationship with Chloe. I couldn't lose Chloe.
It seemed to me like someone shrieked long and loud, but my eyes were closed and I was concentrating on steadying my breath.
"Donnie?"
Breathe in. Breathe out. Repeat.
"Donnie!"
My eyes snap open. The presence was gone, and with it, the horror I had felt. My heart slowed and my breathing steadied at once. I felt bewildered. I was crouched in the middle of the street, holding my head tight. I glance automatically towards the building across the street. The dark hooded figure was gone.
"Donnie, are you alright?"
A hand touches my shoulder very fleetingly, like whoever it was had thought better of it. I stand up quickly and look around. It's Chloe, again. Instantly, I'm irritated.
"What do you want?" I ask scathingly.
She looks taken aback, but there's a touch of resignation mixed in, like she had been half expecting something like this. She scrounges up her face and I can see that she's just trying to be strong.
I don't care.
"We need to talk, Donnie," she says. "You need to tell me what's going on."
"I don't need to do anything," I reply.
"Did I do something wrong? Why are you treating me this way? What's going on?"
I scoff. "Nothing's going on. Excuse me, I need to work."
I start to turn away but she grabs my arm. I curse loudly and turn back fuming. Chloe takes an alarmed step back, but doesn't take her eyes off my face. I look back into her eyes unflinchingly. Suddenly, I realise I can feel something around her but I can't put my finger on it. I can feel her carefully hidden fear, but I don't care about that either. She should be afraid.
"I need to get back to the Code Pen," I say slowly, putting weight on each word. "Let. Me. Go."
There are tears sparkling in her eyes. "I'm sorry," she whispers. "But I can't let you go."
Then she steps forward and, in one quick motion, takes both of my hands in hers.
The pain hits me hard.
---
Watch here for Chapter 12—The Other


Find this book and more of my original works as Peter M. Ogwara on Amazon!
---
Upvote, Comment, Resteem
Follow me @whitewizard