Chapter 9—Answers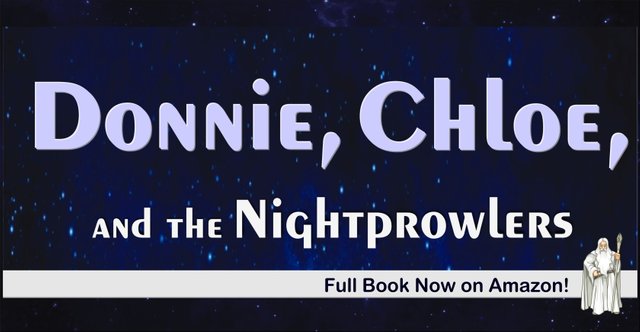 Click Here for
Chapter 1
Chapter 2
Chapter 3
Chapter 4
Chapter 5
Donnie
Hand in hand, Crystal and I walked towards the nearest eatery. Having her hand in mine felt so natural, but at the same time, so novel. This was beyond feeling good —this was feeling complete. I was so happy, it felt slightly surreal. Yet, I had never been surer of anything in my life. We walked in silence, but it wasn't an awkward one. It felt like I've known her, like we've known each other all our lives. My heart was so light with feeling it could almost lift me off the ground. Then I remembered that I could literally lift off the ground and I let out a breath of laughter. I glanced down at her. Our eyes met and we both blushed and laughed. This happened a lot —I couldn't help looking at her much more than was necessary. The girl called Chloe was already completely forgotten.
When we got to the restaurant, it seemed only natural we sit at a couple's love seat. We ordered snacks; burgers, fries and ice-cream, and chatted lightly while we ate. Then I notice a band around her wrist.
"You're a student up at the university?" I ask.
She nods, a little sheepishly.
I shake my head in wonder. "You know, considering what you can do, you seem so... so..." I groped for the right word. "Normal."
She laughs in her thrilling soprano. "So do you," she says. "We are people. Just with a little something extra."
I lean towards her eagerly. "So we're what? Wizards and witches?"
"Oh, no," she laughs. "We told you, we're nightprowlers. We have the ability to access the mystical energies of the sun, filtered through the moon. Witches powers are more 'spiritual'."
"Wait... you mean we aren't, but there are actual wizards?"
"Of course! There are many different types of magical folk. Each accesses a different source of mystical energy and therefore, has differing abilities."
I was enthralled. "And us? What can we do? I keep having the impression we did a lot last night, but I can't remember anything."
She blushes down at the table. The colour made her even more beautiful. "I should apologize," she says. "I kinda got carried away. I was just so happy you were fully one of us at last, and I could finally meet you."
"Finally?"
She blushes even deeper. "We've been —I've been watching you for a while."
I blush myself, trying not to show how pleased that makes me.
"Anyway," she continues. "I overstressed you. We, uhm, did a tour of the state..."
I stare at her, amazed. "You mean we—" I look around and lower my voice, "—flew around the entire state?"
She laughs again. "No, Donnie!" My name sounds so sweet coming from her. "We can't fly."
"We can't?" I'm puzzled. "But I did. When I got out of bed this morning, my feet didn't touch the ground."
"That's different. We can rise a few inches and sort of glide, but actual flying is not our thing. More like levitation."
I'm slightly disappointed. Guess it showed, because she leans in put her palm on my arm. "Don't be down... we can do a lot more." I nod and take a breath. Without really thinking about it, I put my arm around her. She leans in more and rests her head on my chest. We remain like that for a few moments.
After a while, I ask again, "So, how does our magic work?"
"Ours is more about thoughts and feelings," she replies. "We can make others see us anyway we want, control what they feel." She draws away and looks into my eyes. "I'm sure you've noticed everyone tends to like you, right? And that you pass through potentially dangerous situations where you could be robbed or mugged unscathed? That children and animals are drawn to you?"
I nod, amazed.
"And that was before you came into your full powers," she continues. "What you can do now..."
She trails off—the waiter had come over with our bill. I look up at the semi-attractive blonde girl and smile. Suddenly, she stopped short and crumpled the bill, blustering apologetically. "I'm sorry, sir —didn't realise it was you. Everything's on the house." She packed up the tray and walked away.
"Did you just do that?" Crystal asks, her eyes sparkling.
I smile at her. Her eyes are wide and dark and lovely, her lips supple and inviting. I wonder how it would feel to have her lips on mine, and looking into her eyes, I concentrate on that —on making her want to kiss me.
Nothing happens.
She pulls away slightly, still smiling from my trick with the waiter. "That was very impressive," she says. "Especially for a newbie."
"Thanks," I say. "So, I'm guessing we can't use our abilities on other nightprowlers?"
"Not that one," she replies. "But that's not all we can do."
I'm excited again. "Oh, yes! Like the way you came to me last night, invisible. And you could read my thoughts!"
She's laughing again now, in her thrilling voice. I can't get enough of the sound. "Well, kinda. But don't get too excited. Nightprowlers can only read other nightprowlers' thoughts, and even then only when they are in astral form and the other is unguarded in the physical realm. But we do get an idea of what other humans around us are thinking, anyway."
"Astral form? You mean we can travel out of our bodies?"
"Hm-hmm," she nods. "That's what we did last night. Although I should probably call it pseudo—it's not the real astral travelling. Only true witches and wizards can do that: they can go into a totally different dimension, send their consciousness through the astral plane into another creature, sometimes another person. But we can only travel through the physical realm in that form. It's fun!"
She glances at the clock on the diner wall. "Wow... the time's flying! I really should be getting back to the campus. And you should be getting back to the office; you've been gone over an hour."
I glance at the clock. She's right; it's past 2pm already. But I don't want to go. I could spend the whole day with her. She sees my downcast face and giggles. "Don't worry, Donnie, we have a lot of time to spend together. And you can always talk to me."
"It's not the same over the phone," I say.
"I don't mean the phone!" She laughs. "Just think about me, and send me your thoughts. I'll hear you."
I'm pleasantly surprised. "Really?"
"Yup —our very own nightprowler instant messaging service. And besides," she smiles. "We can go astral again tonight. Just you and me."
I smile back. "I'll really, really love that."
She leans in and plants a light kiss on my lips before getting up, and suddenly, I feel it again. The sense that something malignant and something else are struggling inside me. But then it's gone, and my spirit is soaring in euphoria as I watch her blow me a kiss from the restaurant door before finally turning around and walking away.
---
---
Watch here for Chapter 10—Churchill


Find this book and more of my original works as Peter M. Ogwara on Amazon!
---
Upvote, Comment, Resteem
Follow me @whitewizard