Sarah, Returned--Epilogue, Part 2 (A Steemit Original Novel)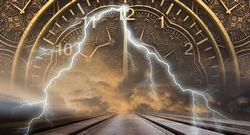 Lizzie stares blankly at him, mouth agape. 
"Oh, don't give me that look, Lizzie," Jacob says, dismissing her stunned expression with an irritated wave. He crosses the room and sits on the corner of the formal receiving chair, positioning himself as close as possible to the sofa on which she is perched so he can look her in the eyes. "We always planned a trip for me. I'm 87 years old, Lizzie, and I haven't been through a portal since I came here with you as a boy. Though I've taken extra care to keep myself in excellent condition, I need to do this now, if I'm going to do it. For me, it will be a quick trip in and out of the early 18th century, since I want to arrive after Margaret is grown up and returned to Dover. I don't have to stay there long. As old as I am, I'll age backward quite a bit when I go back; one thing we know is the older you are when you go, the younger you are when you come out the other side of a portal. I'll age backward again when I return. By the time I bring mother back to 2017, I'll probably be in my 30's, maybe even 20's, and so will she. As young as you. It's the easiest trip I could make, and now is the time to do it. As you said, we know exactly where to find Mother. You're the more experienced traveler, so finding Grandfather is a better trip for you. You've picked up a dozen languages over the centuries you've been doing this. I'm sure Latin is among them. You will fit right in during Roman Britain times. Think about it, dear sister. It makes sense." 
Lizzie sighs, and puts a hand to her forehead in dramatic fashion, as if it's all just too much for her to coordinate, and the burden of being in charge of everything is an annoyance.  
"Please, Lizzie," Jacob prompts. 
Lizzie lets out a loud sigh, and leans forward, slumping her normally ramrod straight shoulders in a most uncharacteristic manner. "Fine. Go. You're right, Jacob. It is your turn. It has been for a while. I've been selfish in continuing to go off in search of my sons without giving you your chance to regain your youth. We always planned for you to take a trip once all of the kids were grown, but when the time came, I asked you to stay here to manage my affairs for me while I'm away. Believe me, I always intended for you to go. The time just got away from me. You're all that's left of my original family, Jacob, and look what I did....I just about left it too long. I don't want to lose you, and you deserve the same benefits time travel has given me. I'm sorry. Of course you should go retrieve Mother. But, what will you tell your son?" 
"Lizzie," he says, taking her hands, "the kids aren't kids anymore. We no longer need to protect them like we've done in the past. We have at least three, maybe four family members lost in time. Now we know how to control where we go, and how to get back. Any of us with the ability to travel can and should travel whenever and wherever we like. I say we go with the truth. Matt and Sarah already know. Christopher can know now, too. One person can't be expected to do all the work of finding and retrieving everyone. This can be a family enterprise. If we let the younger generation take on the truth of the matter, they can help. There's no reason to continue to keep this secret. As long as the youngest ones are protected from accidentally traveling on their own, even they can know. Hannah already knows most of it. Let this be a family gift, rather than a secret. It's time." 
Lizzie eyes her brother, clouds passing over her eyes, obscuring her thoughts to give her privacy while she considers it. "You've given this a lot of thought, haven't you?"
Jacob winks at her. "Like I said, Lizzie, I do more than just sit at home and keep your secrets for you."
"All right," Lizzie says, conceding. She looks at her baby brother, no longer a baby at all, and gives him a tired smile. "I've been secretive for too long, and demanded the same of you when I shouldn't. I kept you from having the relationship with my grandchildren you should have had when they were younger, and I'm sorry. I was just so worried I'd lose them, too. I wanted to control their environment as much as I could, so as to never risk them touching something that would send them back. I banned antiques from the house, and forbid them from going anywhere that might have them, like garage sales, flea markets, and thrift stores. I even inspected the homes of each of their friends for hidden dangers before I would allow them to visit. Apparently, I've been unfair to everyone. But Jacob, you know I was just trying to keep my family safe." 
"I know you were," Jacob says, nodding to show her he understands. "It's why I always did as you asked, even if I didn't agree with it. You were so traumatized by losing both of your sons, and then learning one or both of them may be out there in time somewhere, lost like you and I were. I knew you didn't want it to happen to Matt or Sarah, which is why you were so overprotective. You love them." 
"But, I was an insane bitch about it, right?" she says with a rueful laugh. 
"Well, maybe a little," Jacob says. His face is serious, but a twinkle in his eyes lets her know he's playing with her. Typical little brother, even after all these years. "But, you're entitled. After what happened to us, then learning it probably happened to Mother and Grandfather, too, and then Caleb and Elijah….well, of course you had your reasons, even if you took it way too far." 
"Way too far?" Lizzie demands, crossing her arms. 
"Well, just a little." Jacob grins. "And after all that careful planning, it happened to Sarah, anyway." 
Lizzie sighs and shakes her head, upset at what she sees as her failure to protect her granddaughter. 
"But, we can control it now," he reminds her. "And controlling it means coming clean to everyone who is left in our family. Besides, Sarah returned, and she's fine. You did not fail her. If anything, you gave her the strength she needed to survive for 14 years in the 17th century by the amazing way you raised her." 
"Thank you for that compliment, even if I'm not sure I deserve it. Very well," she nods, giving her approval, a tough thing to obtain. "When will you tell Christopher?" 
"No time like the present. I can get him on video chat right now, along with you." 
"Me?" She's taken aback. "Why me?" 
"Because, you're my proof that this is all true. I don't want my son thinking I've gone batty in my old age, now, do I?" 
"Fine. And, after we bring Christopher into the loop?" 
"Simple. I'll ask Matt to come here, so we can talk about your leads on Caleb and Elijah. He will be interested to know you've seen a photograph of Caleb in the future twice, and have talked to people there who knew him, but he seems to keep traveling and you keep missing him."
"And, all I have on Elijah is a painting from the 1530's that looks like him, and is labeled with his name. It could be my Elijah, or a distant relative who looks like him and bore his name. It's still unclear," Lizzie adds.
"Of course. Matt can bring Sarah, Joshua, and the kids with him for this conversation. You will stay in the room I keep here for you while we talk. Once we're done, you will come out and reveal yourself to them, as you are, not as an old woman with all those prosthetics, wigs, and cosmetics. You will have a long overdue reunion with your grandchildren, and meet your great-grandchildren and grandson-in-law. Stay here a while before going to look for Grandfather, Lizzie. Help Sarah locate the professor. Get to know her again, and be a part of her children's lives. Remember, one of them is our half-sister as well as your adopted great-granddaughter. When you do travel again, and I know you will, come back to them whenever you return, not me. They want you in their lives, and now, you can be." 
"But…." Lizzie starts to protest.  
"No," Jacob interrupts her, holding up a hand. "You are going to take a much deserved vacation. I may be your little brother, but I'm old enough to take charge of this venture for a while, especially after I go through a portal and shed a few decades. Spend some time with the family, Lizzie. I insist. I will leave from right here in my own house to go fetch Mother. The whole family can watch me go. We will get Christopher back on video chat so he can see it, too. I want him to have no doubt this is real. With any luck, I'll be right back, and literally a new man, with Mother at my side."  
"And then?" she grits the words out, disliking this whole "letting someone else take control" concept, though she knows Jacob is right. It's not easy to let go of something that's been yours alone for so long.
"Then, we enjoy getting re-acquainted with our mother. It will be a nice family reunion. I'll invite Christopher and the kids to come up and be with us. When you are both ready, after the reunion, Matt will go look for Caleb and Elijah, and you will go home with Sarah and her family. Once you've spent some time with them and helped Sarah find Professor Johnson, and I know you will, go search for Grandfather. Knowing you, you will find him in no time and bring him home to us. My clue is a good one, Lizzie. I think it will take you right to him." 
"Maybe. But, it may also take more than one trip," Lizzie points out. "For all of us. You, Matt, and me. It's taken me dozens so far, and I still haven't found Caleb or Elijah, though it's beyond doubt at this point that Caleb, at least, is out there, and my clues regarding him have all been excellent. We could be doing this for a long time." 
"Is that so bad?" 
"There are worse ways to live," she admits. "Though my trips have been to find my sons, I have come to enjoy visiting different times and places over the centuries. There's nothing like it. Just be aware, if we do this, we may find more than one lost relative, or even trapped time travelers who aren't related to us. Who knows how many people are out there, living under assumed identities in times that are not their own? Will we try to help everyone?" 
Jacob smiles at her, this time with deep love and tenderness. He may tease her, even challenge her and get on her nerves sometimes, but that's what little brothers do, even if they are 87 years old. There has never been any doubt between them that they adore each other. "Knowing you," he says with fondness, "the answer is yes. You're not the type to turn down anyone in need. You may have found your calling, Lizzie." 
"Maybe one day, we can bring Father and our other siblings here, too," she says, a hint of wistfulness in her voice. "If we go to them just after we left, when the little ones are still children, before they've married in the 19th century and established lives of their own in that time. We could all be together again, in this century. I know our other brothers and sisters married and had children of their own back then, but we can change that, right? Sarah changed things by saving Hannah. Who says we can't do the same thing?" 
"That will take some research to determine if the change to the future would be too great, or imperceptible, but we can figure that out when you're ready to try it. They're not going anywhere," Jacob assures her. "Who's to say we can't do it? But, first things first, okay? It's time for me to call my son, and for you to reunite with Matt and Sarah. I assume you have an appropriate artifact on you for me to use to go to Mother?" 
"Naturally." 
"Wonderful," he picks up his phone and waves it at her, his eyebrow arched in an unspoken question. 
"Do it," she tells him, nodding to let him know she truly does consent. Jacob's plan is sensible, and, if done correctly, could bring some exciting results to all of their lives. She hasn't thought about much except finding her sons for centuries, but she may finally be up for a new sort of adventure. 
"Excellent," Jacob says, grinning once more. "Get ready, Lizzie. We've all got work to do." 
The End
________________________________________________________________   
Catch up with the entire "Sarah, Returned" series here: