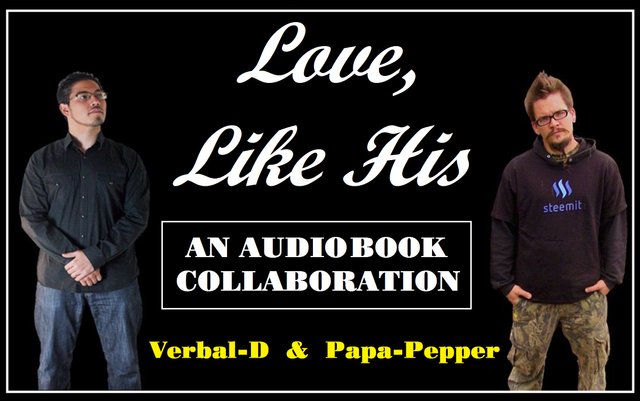 An exciting new project for you all to enjoy!
---
Of course we all love being able to be instantly connected to talented and caring steemians all around the world. We also like to team up to combine our efforts and accomplish things that we could never do on our own. Today, we are pleased to present a new project.
THE "LOVE LIKE HIS" AUDIOBOOK
---
For those of you who do not know. @papa-pepper has been releasing an original novel titled "LOVE, Like His" on steemit. I originally started the book many years ago, and still have a few chapters to finish. It has been some time since I posted a chapter, but steemians like @gregory-f and @verbal-d are really enjoying it.
I'll get the last few chapters out eventually, but today you are in for a treat. Recently, @verbal-d and @papa-pepper decided to combine our efforts and release an audio version of the book. Today, we bring you the first chapter.
For those of you who prefer to read or even to follow along, here is the link to the original Chapter One post from ten months ago.
https://steemit.com/fiction/@papa-pepper/love-like-his-chapter-1-an-original-story-by-papa-pepper
We sincerely hope that you enjoy it. Stay tuned for the next installment, and for those of you who do not already do so, please follow @verbal-d and support his other efforts! He is a true Brother and friend of mine!
---
---
Until next time…
Don't waste your time online, invest it with steemit.com

---