"Cross Connection" A Thriller Story Of Greed And Bitrayer.
Vinay was looking at the new black leather bag lying on his bed in a cheap hotel in Mumbai. Inside the bag there was 10 million USD. He started dreaming about how to spend those money in rest of his life. He want to settled in UK with those money and want to buy a restaurant in UK. He already planned everything on his mind and he already arranged for UK traveling visa for three month and buy a ticket. Next tomorrow evening he supposed take his flight from Mumbai.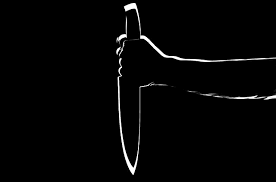 Image Credit
Vinay was waiting for a phone call from one of his close contact. Suddenly the land line of the hotel rang. He sprang up and reached for the phone. The phone was disconnected. "Shit" he cursing bitterly and sat on the the chair. The telephone rang again. He took the phone.
"Hello" nobody answered he stick to the phone and then he heard some conversation between two male. He listened those conversations silently.
It was like a cross connection but the conversation was related to money.
"Dipak listen carefully" one man talked with authority ,"Go to the chandni Bear bar at 9 pm today and there will be a foreigner lady sitting on the reception. Go straight to her and ask for a change of Rs1000 and gave her one 100Rs note ,she will give you ten 100 RS note along with a sealed envelope.
Leave the place immediately and bring the envelope straight to me."
Bhai what was in the envelope, Dipak asked. "You fooled want to die today" another man answered, just do what I say and get the money from me when you came to me with the envelope.
Vinay was puzzled after listening the unexpected cross talk. Greed on his eyes provoked him to betray Dipak and snatched the Envelope from that lady. Vinay thought something secret related to smuggling of Gold reside inside the Envelope.
Vinay check the time it was 7pm. Vinay had two hours now to reach Chandni Bar which was not toomuch far from his hotel.
It's hardly took 30minutes to reach Chandni Bar from his hotel.
His much awaited phone call never came. He decided to jump on that top secret Envelope as he already had the code RS 100 and change of Rs1000 and the foreigner lady.
Vinay kept the leather suitcase bellow his bed and locked the door with two different padlock.
He took a taxi and reached to Chandni Bar at 8pm and then took a drink and wait for the foreigner lady in the reception. At 8.30pm sharp he saw the foreigner lady. Vinay was looking around, he saw nobody around and then he came to meet the foreign lady and greet her "good evening madam " ask for the change of RS 1000 and then gave her Rs100 the lady looked at him and then gave him ten 100Rs note along with an Envelope.
Vinay took the envelope and those ten 100Rs note and then leave the Bar. When he opened the door he saw a tall handsome guy whom he thought as Dipak.
After that he quickly entered into an auto outside the bar went to Bombay railway station to misguide those smugglers and then returned to his hotel from Railway station with another taxi with two different roots.
Before entering into his room he took another drink at hotel's restaurant. At that time he saw a news Police Commissioner warned everybody "all the residents of Mumbai please listen carefully there were some gang's who identify person coming from outside and who live alone on their room and then use some technology to create a Cross Talk on their land line about some secret precious things to lure those persons so that those persons came outside of his room to take the precious items from them by the time they steal all their belongings in their absence in their room.
When he entered into his hotel room, he was very shocked and surprised as his room was opened . Somebody broke the padlock of his room and take the leather suitcase.
Vinay was too shocked as he was lost 5 million USD which he stole from American Bank in Dubai with some of her closed friends Ajit, Fakira, Musafir and obviously Shakira and then betrayed everybody and killed Shakira came back to Mumbai alone.
"Oh God" I lost everything my Greed make me beggar now Vinay told himself after reaching inside the room.
He was just sitted and thought about how to recover RS 5 million USD from those guys who stole from him just now because to cash out 5 million USD was not easy.
Suddenly somebody knocked his door and he opened the door and saw Ajit and Fakira and Musafir entered into his room with guns in their hands.
Musafir asked him" You betrayer How dared to double cross us and snatch away all the loots"
You killed my beloved Shakira you bloody bustard and gave him huge punch on Vinay's face.
Vinay fall down and Fakira bit him with his boot. Blood came out from his nose.
Vinay prayed to him and told him not to kill me. It was all Shakira's idea.
Vinay told him Shakira made the plan to betray all of you and flew away to USA with me.
But after meeting with Shakira when I saw the 5million USD I got mad and I killed Shakira. I gave poison to her drinks and left her body into the bathtub.
"Who called Police and told everything about us"
Vinay answered "It's Me".
"Where is the money? show us the money immediately otherwise I shoot you" Musafir asked Vinay.
"All the money was stolen now now, I lost everything" Vinay answerd . You bloody bitrayer , You can't make us fooled again,
Show me the money otherwise I killed you now" Musafir hit him again on his face.
A couple of teeth came out and Vinay started crying and told him "Allah Kasam "
I made big mistake and spoke everything about the missing of the money.
Nobody trust him and suddenly Fakira shot bullet on Vinay's head and Vinay fall down on his bed then another bullet from mushafir gun fired on his chest.
Everybody were gone from Vinay's room and looking for that money according to Vinay.
Vinay remembered everything before Death.
He was a very poor boy who came to Mumbai for work and then came to Dubai for money. He met Fakira and other in Dubai and started working as a Drug supplier as a courier boy in Drug selling.
After sometime they made a big plan of Bank Robery in American Bank in Dubai on Friday with the help of Shakira who initially falls in love with Mushafir.
Shakira was working in American Bank as a English translator who make the blueprint of the bank robery on Friday . Friday was holiday in Dubai.
They worked according to the plan and successfully stole the money from the bank as Shakira damaged the alarm of the volt and provoked some sequrity guards to do sex with her on that time.
After successfully stole the money from Bank's vault they handover all the money to Shakira.
The plan was that Shakira took the flight immediately and went to the Switzerland and later oneby one all the members flew away to Switzerland.
But Shakira made another plan with Vinay to betray others and both of them flew away to US with the money.
But after seeing the money Vinay killed Shakira and informed police about the bank robery and but police couldn't arrest them as Fakira, Musafir and Ajit already changed their plan and instead of staying in Dubai they took the flight immediately and went to Hongkong.
But when they saw the news of bank robery in Television and found out that Shakira already dead they suspected Vinay for everything and came to Mumbai and searching Vinay for the money.
But Oh! God Vinay and Shakira lost his life and Others were searching for the money till now.
Because Of Greed And Untrust They Lost Everything.
Thanks For Reading.
If You Like My Story Please Upvote And Resteem Follow .