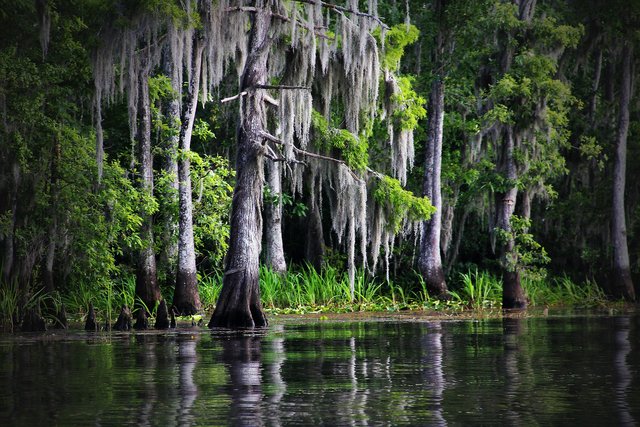 Thunder echoed in the swamp and the orc's head exploded into viscera, painting the trees behind it with red and grey. The large, misshapen sword fell from its meaty paw with a thud on the grass, and the body followed suit. Vincent Tassin scrambled out of the way, got to his feet, and his hands flew to reload his scattergun. His head swiveled, looking for the rest of the war band he knew was lurking nearby. He broke the barrel, put in two shells from his bandolier, and snapped it shut, readying it against the darkness of night. His hand wavered not an inch as his brown eyes scanned the trees.
Vincent could hear them. He made to turn and follow the sounds when a bellow burst from the bushes behind him, and his hand led as he pivoted back, pulling the trigger. The brunt of the blast caught the orc full in the chest, and it went down choking on its own fluids. He might be alone, but these beasts would find him a dangerous breed of prey. They were used to easy pickings from lone travelers at night, but Vincent had been wandering for years with no companions. This group of ravagers was in for a rude awakening.
The second kill had given them pause. He reloaded, and jerked his machete from the sheath on his thigh, waiting for them to make their move. His breathing slowed, he centered himself, and concentrated on the noises the night forest was bringing to his twitching ears. When they came, it would be all at once, and he would have maybe half a second to react.
Guttural howls broke from the underbrush, and three orcs rushed him. In the moonlight, he could see their slavering fangs, their large, green, muscled bodies, and their red eyes, intent on murder. They raised their crude weapons, encircling him, ready for the kill.
A smirk came to Vincent's lips. Pointing his scattergun at the closest, he unloaded it into the thing's face, removing one threat. As he did this he dropped to the ground, hearing the whistle as their blades passed over his head. He felt a brush in his short cropped red hair as one of their swords missed his scalp by centimeters. Before they could recover and finish the job, he rolled away, lashing out with his machete, grinning as the metal parted flesh and stuck in bone.
Wrenching it out, he swept to his feet and delivered a kick to the struck orc, knocking it backwards as it wailed in impotent pain and rage. The last didn't bother with its fallen comrade, bringing its sword in a cross stroke at his chest. Vincent leapt back, feeling the tip nick one of the shells in his bandolier. He dropped his scattergun and grabbed at his pistol, dodging another clumsy stroke from the brute.
Drawing, he let his reflexes do the work, honed by years of training, and a sharp crack echoed through the night as the bullet made a tunnel through the orc's head. Vincent straightened and looked down on the survivor. The damned thing was still trying to come for him, clawing its way along the ground, snarling and drooling. It would take it a while to reach him, so he found his scattergun and reloaded it.
Walking over to where the brute was struggling, he kicked its weapon aside. When it reached a hand out for him, he chopped it off, dark green flesh parting like warm butter. The thing howled again, and got a mouthful of dirt for its trouble as Vincent used the barrel of his scattergun to drive its head into the ground. It looked up at him, eyes glowing in hatred.
"I'm only going to ask you this once," Vincent said, grinding the barrel into the thing's temple. "Who sent you?"
The orc spat out a mouthful of dirt, snarling up at him, "You know soon enough, human! Warlord Buramog crack your bones, drink your blood! He eat your-"
The deep, growling voice was cut off as Vincent squeezed the trigger and ended the thing's miserable life. He reloaded, pulled a cloth from his back pocket, and wiped the gore off of the gun, then stowed it back in its holster on his calf. Sighing, he looked up at the moon, a bright, gibbous circle, hanging low in the night sky. The swamp gas had turned it a sickly green, and it looked like the pregnant belly of some demoniac creature, ready to birth new horrors on the world.
Wrenching his eyes away from this lurid spectacle, Vincent went over the bodies of the orcs. Their food would be worthless, orcs ate raw and sometimes rotted meat to the exclusion of all else, but now and then they had some useful materials on them. They could at least tan leather, so he could get some material to fix his armor if he needed it. Sometimes they even used weapons scavenged from humans. These ones, however, had nothing useful on them, and Vincent kicked one of the bodies with a grunt.
He wondered if he should wait for daylight, or try making his way back to the road now. The moon was bright, and he knew which direction to go in. Taking stock of the area around him, Vincent decided that getting the hell out of this blasted swamp as soon as possible was the best decision, and he set off toward the road, watching where he put his feet. After an hour of hard trekking through briars and bushes, his boots scraped on cracked asphalt, and he looked up and down the road. This was a dangerous night, and he didn't want to run into any more of Warlord Buramog's patrols.
There was a settlement a few more miles down the road. He was hoping to reach it and get some gas for his motorcycle, which he'd been forced to leave a few miles back when it ran dry. He picked up his jerry can and attached it to his belt with some leather thongs. Dead leaves crunched under his heels as he started off down the road, machete in hand. He wasn't about to be taken unawares again.
Picture from: https://pixabay.com/en/swamp-bayou-louisiana-moss-cypress-169168/
If you enjoyed this story, you can find more of my work in the DimensionBucket Media anthology, Darkest of Dreams:
https://www.amazon.com/gp/product/B073WPKMDC/ref=as_li_tl?ie=UTF8&tag=jimfear138-20&camp=1789&creative=9325&linkCode=as2&creativeASIN=B073WPKMDC&linkId=0ef22a21e890a33c5fc0a8711774d068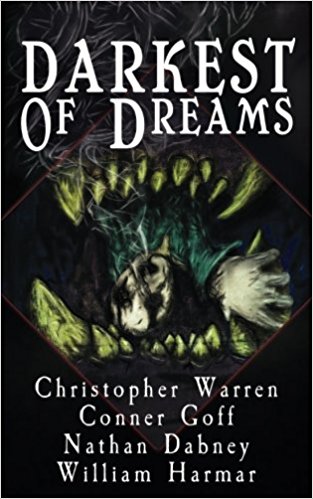 (Part 2 here: https://steemit.com/fiction/@jimfear138/fire-on-the-bayou-part-2)
(Part 3 here: https://steemit.com/fiction/@jimfear138/fire-on-the-bayou-part-3)