THE OTHERS 2 - The villagers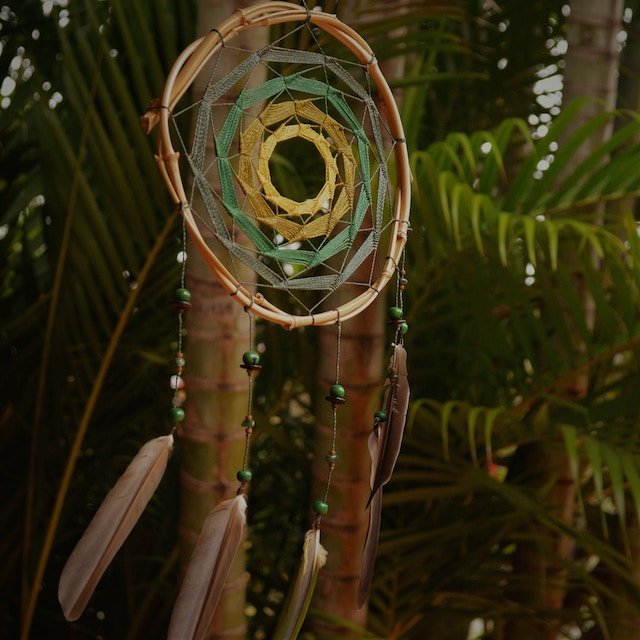 Years later, the hunters had just returned to the village and reported on their tracking by the fire, the man - his name was Nohan - interrupted himself in his story and said: "I think Remo is coming". The men and women looked up, all had felt more or less the arrival of the shaman. A short time later they saw his slim figure approaching the fire and when he reached the light, Remo said: "They are coming. Tomorrow, in the light of day, they'll be here ... if they don't change direction."
Already at the beginning of the year, the villagers had discussed the change in the structure when the hunters followed the herds. The animals had jerked off their usual paths in order to return to them later. At first, it was assumed whether a predator had caused a disturbance or whether the weather was responsible for the behaviour of the animals. But when the hunters said that they had not noticed any predator tracks and that there would be no change in the weather, everyone knew immediately that other people had entered the territory.
No one was worried about that in itself, but Remo had come down from the hill on his own and had said that this time they were "others".
"What do you mean, others?" Sama, one of the growing girls, had asked, Nohan's first-born daughter. "Those we don't know," Remo had answered. For a while, he had remained silent, as if to find a description for something unknown.
Finally, he had said, all eyes were on him: "I cannot see them properly. They have a strange scent. It is as if they were very clearly visible for a while and then they disappeared again. They take firm steps and yet it feels as if they don't know the direction." He shook his head a little at a loss, a gesture that Remo was only known for when he tried to joke.
"Is there anything we should watch out for," Berenger, one of the elders whose wife had died last winter, wanted to know. Remo nodded: "Do something like you do with a scared animal. You know, some of the animals we've had to kill weren't ready to give us their meat."
With a sign, Berenger gave his understanding to the expression although the younger ones did not know what the talk was about or had forgotten it. Sama said: "But why are these others... scared? And is it perhaps then necessary that we do not meet them?" Remo raised his shoulders and signaled that he did not know and that perhaps one should not consciously draw attention to oneself, perhaps then the others would not come in their direction. "We don't want to talk about it too much," said Einoah who was almost the same age as Sama.
In the middle of the year, Einoah had brought a wild dog with her to the village, a male dog who had moved away from his family to have adventures and was of a cheerful nature. So he had thrown himself on the ground, as Einoah whispered a joke into his ear and the children had screamed out loud and joined him and imitated him.
Sama had grabbed a stick and held it in front of the dog's snout, who tried to catch it again and again, stirring up the earth with his claws. When he had had enough of the children, he would sniff out into the forest and not be seen for a few days. He was not given anything to eat, but for his part, the dog had trotted into the village with a hunted rabbit in his muzzle and had laid him on the ground in front of Einoah's hut. She had come out beaming with joy, reached deep into his fur, scratched him and said: "Well, you heard me. Leg of hare!"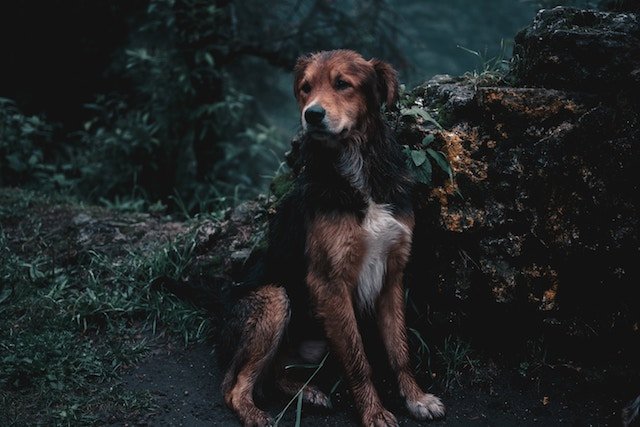 This was generally acknowledged as honourable proof of friendship. In return, the dog demanded to be petted extensively and even if he always returned to the wilderness, his visits to the village increased, so that Einoah finally spoke of allowing him to stay with the humans.
Berenger had looked at her. "This is your decision, Einoah, but as soon as you feed him, you are responsible for him and he may not want to return to his family. Is that what you want? Ask him what he thinks." So Einoah had spoken to the dog and she had come to Berenger a little sadly and said: "He says no." "Did he let you know why?" "I did not ask him about it," Einoah replied, but soon her sadness was haunting: "He is a strong and beautiful animal. Let him walk with his own kind!"
Now she said: "If we pay attention to these others, they become curious about our track. So it was with the dog. I watched him from a distance and he felt my thirst for knowledge. So he came to me and wanted to get to know me."
"They're people," Remo worried. "They've felt us for a long time, even if they may not know it."
With these words, he turned around and left. The villagers went to sleep a little more quietly than usual and woke up early that morning.
Nohan's wife Dilene, who had had two more children, had woken up before him and stepped out to do her nature needs and then lit the fire. While she was still blowing into the embers, Nohan came out and joined her. They greeted each other with glances. Dilene wrapped some tubers in large leaves and put them aside to cook them later under the embers in the earth. As she pounded herbs, Nohan said, "I don't think they're coming. I can no longer perceive them." "Me neither," Dilene continued her work. "It's all right. I don't want to know them", Nohan admitted and his wife nodded.
She felt relief, for the restlessness she had felt in the evening vanished with the dawning and after a while, she forgot this feeling and carried out her usual actions. The other villagers had also come out of their huts and no one spoke about Remo's announcement the night before.
Remo himself did not show up that day and life went on as usual after this brief breathing. But he sat up in his little hut, which he lived in alone, and followed the track of the others as they left again. He wasn't afraid of anything. Rarely has there been anything in the lives of the villagers that frightened them. Wild animals almost never approached their dwellings, and when a predator was too close, the inhabitants asked for it to move on and there was no need to get in the way of the hunt. Once a cat of prey wanted to know if it could eat one of the little creatures that could not speak and walk, but the people laughed at it and said: "No, it is our young ones that are not meant for you".
One day there had been an unusual situation with a wildcat. Dilene had just given birth to her second child, a son. He was only a few months old and she had put him aside to help Sama. The wildcat had approached very quietly and had taken the baby gently by a thigh between its jaws and pulled him into the forest. Dilene had noticed the absence of the baby a short time later and had followed the trail. When she finally saw what had happened and that the wildcat had laid down the baby close to her teats, she rushed to Remo. Her little son had not been afraid, for he had not made a sound. With his fingers, he had grasped the teats of the wildcat, who had licked him again and again with her tongue and made soft tones. Although this did not appear to have been a life-threatening incident, Dilene had been concerned and had lost the ability to talk to the animal in peace.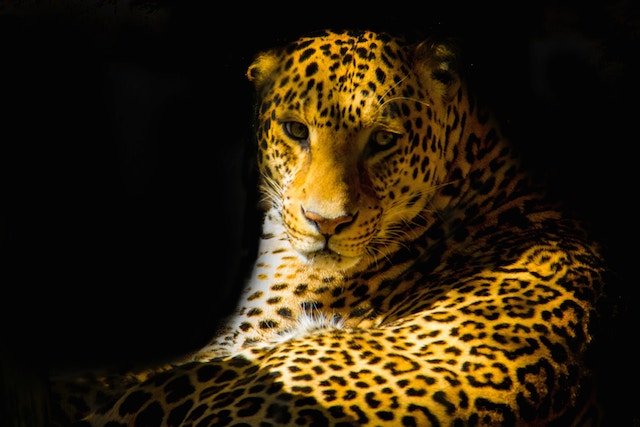 Remo had walked up to a few steps, the cat had immediately snarled at him, but did not move from the spot. He had sat carefully on the ground and remained there still. Finally, the animal had got up, walked around the baby a few times restlessly, had turned away from him and then disappeared into the trees. Remo had taken Dilene's son off the earth and handed him over to her. She had thanked him with relief. He had said: "The wildcat has lost its young here very close by. It died, I don't know why. She instinctively followed a smell that reminded her of her newborn. When she found your son, the desire was great to take him away and care for him. It's a good thing you came for me. She intended to keep your child with her and it was not easy to convince her to let go of her need."
Dilene had been wide-eyed: "Have you ever heard of it? That animals raise human children?"
"Yes, we shouldn't be surprised, Dilene. You feel the same way with young animals. You'd like to keep them with you and give them your milk when you meet them."
"That's true", Dilene had laughed and therefore the request of the cat mother had not seemed strange to her anymore.
"I think of her because she has lost her young," she had then said to Remo, but he had meant: "Tomorrow she will no longer know. And in a few weeks, she'll mate again. It is we humans who think about such things longer. Animals forget." "No," she had contradicted him. "You're wrong, Remo. They don't forget. They just don't hold on like we do."
When they returned to the village, they had to tell the children and adults about this event and it had been a story as good as it was exciting that they had kept their minds occupied all evening.
On the evening after the announcement about the others, who would not show up, after all, they also wanted to hear stories. The villagers sat around the fire and talked to tales from the time before they lived or from the days when the girls and boys were not yet born or their parents themselves were still young. The stories were about tracking experiences, about wild boars that came to people's fire in a particularly rainy month of an evening with their freshlings and simply stood around there.
Berengere spoke of an infinitely old tree and a man who spent thirty or more years of his life worming two sentences out of the tree and feeding solely on its fruits while moss grew on his skin. Berengere, who imitated the tree, croaked slowly:
"My roots are as big as my crown and I drink water that has rubbed against countless stones. Then he froze and, waving his hands, made it clear that one should guess what he represented. When nobody thought of it, he shouted: "You fools. I'm a rock!"
"Einoah, Einoah, tell us, what are the plants talking about?", they finally wanted to know and she said, "Well, what is it?" "We don't know, you tell us!" So it went back and forth for a while, while Einoah played around and wanted to be asked before she turned to the little Rohn: "The flower replied the other day when I asked her if the humming of the insects wasn't annoying to her: Oh, not at all. I feel kissed by every single wing. And the herb that bends into its water on the banks of the river dreamily speaks of an endless wave, of flashes of light that break on the surface, of how raindrops feel and that fish do not know that they live in the water."
"How does a spider look down on us humans?" Rohn asked, and Einoah began to squint terribly, which made everyone laugh.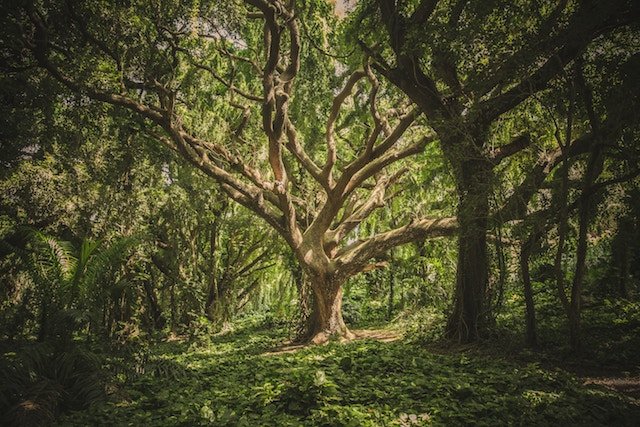 Little by little the conversations quieted down, the children yawned and people retired.
On the way to the hut, Sama turned to her father: "Has it always been so that people and plants and animals could talk to each other?"
"I think so, yes." Nohan replied.
This question seemed strange to him, for the matter-of-courseness of speaking to all beings did not receive any special emphasis. It would be like wondering if you were dreaming.
"Why would you ask that?" Nohan wanted to know from his daughter.
"The others can't."
"No, they can't." Nohan looked at Sama. "You're making me uneasy."
She shook her head and for the first time Nohan had his daughter worried. He put his arm around her and pressed her against him. So they went into the hut and lay down with Dilene and the other children who had already fallen asleep.
---
Photo by Eduardo padilha on Unsplash
Photo by Jorge Fernández on Unsplash
Photo by Nick Fewings on Unsplash
Photo by veeterzy on Unsplash
---
Deutsch
Einige Jahre später, die Jäger waren gerade erst ins Dorf zurückgekehrt und berichteten beim Feuer über ihre Fährtensuche, unterbrach sich der Mann – sein Name war Nohan - in seiner Erzählung und sagte: "Ich glaube, Remo kommt." Die Männer und Frauen blickten auf, alle hatten mehr oder weniger die Ankunft des Schamanen gespürt.
Kurze Zeit später sahen sie seine Gestalt sich dem Feuer nähern und als sie den Lichtschein erreicht hatte, sagte Remo: "Sie kommen. Morgen, im Licht des Tages werden sie hier sein, wenn sie nicht ihre Richtung ändern." Bereits zu Beginn des Jahres hatten die Dorfbewohner die Veränderung im Gefüge besprochen, als die Jäger den Herden gefolgt waren. Die Tiere hatten ihre gewohnten Pfade ruckartig verlassen, um später wieder zu ihnen zurückzukehren. Zunächst wurde gemutmaßt, ob ein Raubtier für Unruhe gesorgt hatte oder die Witterung für das Verhalten der Tiere verantwortlich sei. Als aber die Jäger sagten, dass sie keine Raubtierfährte wahrgenommen hätten und auch kein Wetterumschwung sich ankündigen würde, wusste gleich jeder, dass andere Menschen das Territorium betreten hatten.
Das an sich hatte niemanden beunruhigt, aber Remo war von sich aus vom Hügel heruntergekommen und hatte gesagt, dass es dieses Mal "Andere" seien.
"Was meinst du mit Andere?" hatte Sama, eines der heranwachsenden Mädchen gefragt, die erstgeborene Tochter Nohans. "Solche, die wir nicht kennen", hatte Remo zur Antwort gegeben. Eine Weile hatte er geschwiegen, wie um eine Beschreibung für etwas Unbekanntes zu finden.
Schließlich hatte er gesagt, aller Augen auf sich gerichtet: "Ich kann sie nicht richtig sehen. Sie haben eine eigenartige Fährte. Es ist, als wären sie eine Zeitlang sehr deutlich sichtbar und dann wieder sind sie verschwunden. Sie gehen festen Schritts und doch fühlt es sich so an als wüssten sie die Richtung nicht." Er schüttelte etwas ratlos den Kopf, eine Geste, die man bei Remo nur kannte, wenn er zu scherzen versuchte.
"Gibt es etwas, worauf wir achten sollten?", wollte Berenger wissen, einer der Älteren, dessen Frau im letzten Winter gestorben war. Remo nickte mit dem Kopf und sagte: "Verhaltet euch in etwa so, wie bei einem verängstigten Tier. Ihr wisst, manche der Tiere, die wir haben töten müssen, waren noch nicht bereit, uns ihr Fleisch zu geben." Berenger gab mit einem Zeichen sein Verstehen zum Ausdruck obschon die Jüngeren nicht wussten, wovon die Rede war oder es vergessen hatten. Sama sagte: "Aber wieso sind diese Anderen … verängstigt? Und ist es dann vielleicht nötig, dass wir ihnen besser nicht begegnen?" Remo hob die Schultern und sagte, er wisse es nicht und man solle vielleicht nicht bewusst auf sich aufmerksam machen, vielleicht würden die Anderen dann nicht in ihre Richtung kommen. "Wir wollen nicht zu viel davon reden", sagte da Einoah.
In der Mitte des Jahres hatte sie einen wilden Hund mit ins Dorf gebracht,
einen Rüden, der sich von seiner Sippe entfernt hatte, um Abenteuer zu erleben und von fröhlicher Natur war. So hatte er sich wie toll auf den Boden geworfen, als Einoah ihm einen Scherz ins Ohr flüsterte und die Kinder hatten laut gekreischt und sich dazugesellt und ihn nachgemacht.
Sama hatte sich einen Stock gegriffen und ihn vor die Schnauze des Hundes gehalten, der immer wieder danach zu schnappen versucht und dabei die Erde mit seinen Krallen aufgewühlt hatte. Wenn er genug von den Kindern hatte, entfernte er sich schnüffelnd in den Wald und man sah ihn für ein paar Tage nicht. Zu fressen gab man ihm nichts, dafür aber war der Hund seinerseits mit einem erlegten Hasen in der Schnauze ins Dorf getrottet und hatte ihn vor Einoahs Hütte auf den Boden gelegt. Freudestrahlend war sie herausgekommen, hatte ihm tief ins Fell gefasst, ihn gekrault und gesagt: "Na, hast du mich gehört. Hasenkeule!" Allgemein wurde dies als ehrenvoller Freundschaftsbeweis gewürdigt. Der Hund verlangte im Gegenzug ausgiebig gestreichelt zu werden und auch wenn er stets in die Wildnis zurückkehrte, so häuften sich doch seine Besuche im Dorf, so dass Einoah schließlich davon sprach, ihm zu erlauben, bei den Menschen zu bleiben.
Berenger hatte sie angesehen und gemeint "dies ist deine Entscheidung, Einoah, doch sobald du ihn fütterst, bist du für ihn verantwortlich und er wird vielleicht nicht mehr zu seiner Sippe zurückkehren wollen. Willst du das? Frage ihn doch, was er davon hält." So hatte Einoah Zwiesprache mit dem Hund gehalten und etwas traurig war sie zu Berenger gekommen und hatte gesagt: "Er sagt nein." "Ließ er dich wissen, weshalb nicht?" "Ich habe ihn nicht danach gefragt.", gab ihm Einoah zur Antwort, aber schnell war ihre Traurigkeit verfolgen und sie sagte: "Er ist ein starkes und schönes Tier. Er soll mit seinesgleichen laufen!"
Jetzt sagte sie: "Wenn wir diesen Anderen unsere Aufmerksamkeit schenken, werden sie neugierig auf unsere Fährte. So war es mit dem Hund. Ich habe ihn aus der Ferne beobachtet und er spürte meinen Wissensdurst. So kam er zu mir und wollte mich kennen lernen." "Es sind Menschen", gab Remo zu Bedenken. "Längst haben sie uns gespürt, auch wenn sie es vielleicht nicht wissen." Mit diesen Worten drehte er sich um und ging fort. Die Dorfbewohner legten sich in dieser Nacht etwas stiller als sonst schlafen und erwachten früh.
Nohans Frau Dilene, die zwei weitere Kinder bekommen hatte,
war vor ihm aufgewacht und war hinaus getreten, um ihre Notdurft zu verrichten und dann das Feuer anzufachen. Noch während sie in die Glut blies, kam Nohan heraus und gesellte sich zu ihr. Mit Blicken begrüßten sie sich. Dilene wickelte einige Knollen in große Blätter und legte sie beiseite, um sie später unter der Glut in der Erde zu garen. Als sie Kräuter zerstieß sagte Nohan: "Ich glaube, sie kommen doch nicht. Ich kann sie nicht mehr wahrnehmen." "Ich auch nicht", sagte Dilene. "Es ist gut so. Ich möchte sie nicht kennen", gab Nohan zu und seine Frau nickte.
Sie fühlte Erleichterung, denn die Unruhe, die sie am Abend gespürt hatte, verflüchtigte sich mit dem hereinbrechenden Morgen und nach einer Weile vergaß sie dieses Gefühl und verrichtete die gewohnten Handgriffe. Auch die anderen Dorfbewohner waren aus ihren Hütten gekommen und niemand verlor mehr ein Wort über die Ankündigung Remos vom Vorabend.
Remo selbst erschien an diesem Tag nicht und das Leben ging nach diesem kurzzeitigen Atemanhalten wie üblich weiter. Doch saß er oben in seiner kleinen Hütte, die er allein bewohnte und verfolgte die sich wieder entfernende Fährte der Anderen. Angst hatte er keine. Selten gab es etwas im Leben der Dörfler, was ihnen Furcht machte. Wilde Tiere näherten sich so gut wie nie ihren Behausungen und wenn doch ein Raubtier zu nahe war, so baten die Bewohner darum, es möge weiterziehen und man brauche sich bei der Jagd nicht in die Quere zu kommen. Einmal hatte eine Raubkatze wissen wollen, ob es eines der kleinen Wesen essen könne, die nicht sprechen und laufen konnten, doch die Menschen lachten dazu und sagten: "Nein, es sind unsere Jungen, die nicht für euch bestimmt sind."
Einmal hatte es es eine ungewöhnliche Situation mit einer Wildkatze gegeben.
Dilene hatte gerade ihr zweites Kind, einen Sohn geboren. Er war erst wenige Monate alt gewesen und sie hatte ihn zur Seite gelegt, um Sama zu helfen. Die Wildkatze war sehr leise herangekommen und hatte das Baby sachte an einem Oberschenkel zwischen seinen Kiefer genommen und es in den Wald gezogen. Dilene hatte kurze Zeit später das Fehlen des Babys bemerkt und war der Spur gefolgt. Als sie schließlich gesehen hatte, was passiert war und dass die Wildkatze sich so zum Baby gelegt hatte, dass es an ihre Zitzen herankam, war sie zu Remo geeilt.
Ihr kleiner Sohn hatte keine Angst gehabt, denn er hatte kein Geräusch von sich gegeben. Mit seinen Fingern hatte er nach den Zitzen der Wildkatze gefasst, die ihn immer wieder mit ihrer Zunge abgeleckt und leise Töne dabei gemacht hatte. Obschon dies kein lebensbedrohlicher Zwischenfall zu sein gewesen schien, war Dilene doch besorgt gewesen und hatte darüber die Fähigkeit verloren, in Ruhe mit dem Tier zu sprechen.
Remo war bis auf einige Schritte heran gegangen, die Katze hatte ihn sofort angefaucht, sich aber nicht von der Stelle gerührt. Er hatte sich vorsichtig auf den Boden gesetzt und war dort still sitzen geblieben. Schließlich war das Tier aufgestanden, ein paar Mal unruhig um das Baby herum gegangen, hatte sich von ihm abgewendet war dann zwischen den Bäumen verschwunden.
Remo hatte Dilenes Sohn vom Boden aufgenommen und ihn ihr übergeben. Erleichtert hatte sie ihm gedankt. Er hatte gesagt: "Die Wildkatze hat hier ganz in der Nähe ihr Junges verloren. Es ist gestorben, ich weiß nicht weshalb. Sie ist instinktiv einem Geruch gefolgt, der sie an ihr Kind erinnerte. Als sie deinen Sohn fand, war das Verlangen groß, ihn mitzunehmen und für ihn zu sorgen. Es ist gut, dass du mich geholt hast. Sie hat vorgehabt, dein Kind bei sich zu behalten und es war nicht ganz einfach, sie davon zu überzeugen, von ihrem Bedürfnis abzulassen."
Dilene hatte große Augen gemacht: "Hast du davon schon mal gehört? Dass Tiere Menschenkinder aufziehen?" "Ja", hatte Remo geantwortet, "es braucht uns nicht zu wundern, Dilene. Dir geht es ebenso mit Jungtieren. Du würdest sie doch am liebsten bei dir behalten und ihnen deine Milch geben, wenn du ihnen begegnest." "Das ist wahr", hatte Dilene gelacht und daher war ihr das Ansinnen der Katzenmutter schon nicht mehr merkwürdig vorgekommen. "Ich denke an sie, weil sie ihr Junges verloren hat", hatte sie dann zu Remo gesagt, aber dieser hatte gemeint: "Schon morgen wird sie es nicht mehr wissen. Und in ein paar Wochen wird sie sich erneut paaren. Wir Menschen sind es, die länger an solche Dinge denken. Tiere vergessen." "Nein," hatte sie ihm widersprochen. "Du irrst dich, Remo. Sie vergessen nicht. Sie halten nur nicht daran fest wie wir."
Als sie ins Dorf zurück gekommen waren, mussten sie den Kindern und den Erwachsenen von dieser Begebenheit erzählen und es war eine so gute wie spannende Geschichte gewesen, dass sie ihre Gemüter den ganzen Abend lang beschäftigt hatte.
Am Abend nach der Ankündigung über die Anderen, die augenscheinlich doch nicht auftauchen würden, wollte man ebenfalls Geschichten hören.
Die Dörfler saßen um das Feuer herum und unterhielten sich mit Erzählungen aus der Zeit bevor sie lebten oder aus den Tagen, als die Jungen noch nicht geboren waren oder ihre Eltern selbst noch jung gewesen waren. Die Erzählungen handelten von Fährten-Erlebnissen, von Wildschweinen, die in einem besonders verregneten Monat eines Abends mit ihren Frischlingen ans Feuer der Menschen kamen und dort einfach nur herumstanden.
Berengere sprach von einem unendlich alten Baum und einem Mann, der dreißig oder mehr Lebensjahre damit zubrachte, dem Baum zwei Sätze zu entlocken und sich allein von dessen Früchten ernährte. Berengere, der den Baum imitierte, krächzte langsam: "Meine Wurzeln sind so groß wie meine Krone und ich trinke Wasser, dass sich an unzähligen Steinen gerieben hat." Dann erstarrte er und gab händefuchtelnd zu verstehen, dass man raten solle, was er darstelle. Als niemand darauf kam, rief er: "Ihr Dummköpfe. Ich bin ein Felsen!"
"Einoah, Einoah, sag uns, was reden die Pflanzen?",
wollte man schließlich wissen und sie sagte: "Nun, was schon?" "Wir wissen es nicht, sag du es uns!" So ging es eine Weile hin und her, während sich Einoah gespielt zierte und erst lange bitten lassen wollte, bevor sie sich dem kleinen Rohn zuwandte und sagte: "Die Sonnenblume neulich, antwortete, als ich sie fragte, ob ihr das Gesumm der Insekten nicht lästig sei: Oh, ganz und gar nicht. Ich fühle mich geküsst von jedem einzelnen Flügeltier. Und das Kraut, das sich am Ufer des Flusses in sein Wasser beugt, spricht träumerisch von einem unendlichen Wogen, von Lichtblitzen, die sich auf der Oberfläche brechen, davon, wie sich Regentropfen anfühlen und dass Fische nicht wissen, dass sie im Wasser leben." "Wie sieht eine Spinne auf uns Menschen herab?", wollte Rohn wissen und Einoah fing fürchterlich an zu schielen, was alle zum Lachen brachte.
Nach und nach wurden die Gespräche leise, die Kinder müde und man begab sich zur Ruhe.
Auf dem Weg in die Hütte fragte Sama ihren Vater: "War es immer schon so, dass Menschen und Pflanzen und Tiere miteinander reden konnten?" "Ich glaube, ja.", antwortete Nohan. Ihm kam diese Frage seltsam vor, denn die Selbstverständlichkeit, mit allen Wesen zu sprechen, erfuhr keine besondere Betonung. Es wäre in etwa so als würde man sich darüber wundern, dass man träumte. "Wieso fragst du das?", wollte Nohan von seiner Tochter wissen. "Die Anderen, die können das nicht.", sagte sie. "Nein, das können sie nicht", antwortete Nohan und sah Sama an. "Sie machen mir Unruhe".
Sie schüttelte den Kopf und zum ersten Mal erlebte Nohan seine Tochter in Sorge. Er legte seinen Arm um sie und drückte sie an sich. So gingen sie in die Hütte und legten sich zu Dilene und den anderen Kindern, die bereits eingeschlafen waren.