Black Oak Sword, Chapter 15 -- Part 1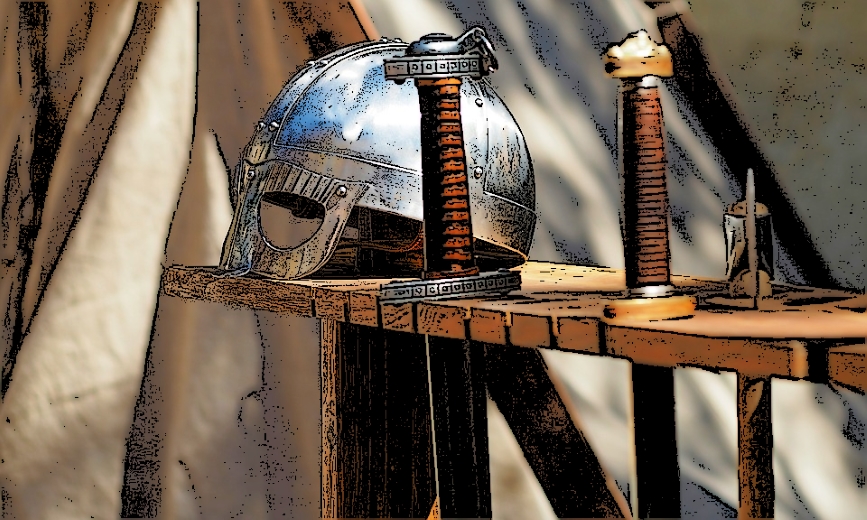 Grace hung her head and held it in her two hands. Her elbows on the table, her shoulders slumped. "What am I going to do?" she asked. "Dev and I aren't ready. And we really need the income from the farm." She sighed. "We just can't make ends meet with only the tavern."
Wilson paced between the door and the hearth. It had been several hours since Basden had come. They had discussed so much and come up with so little in terms of a solution. The day was waning. Dusk would be here soon and Wilson needed to get back to the tavern to discuss the day with Devon and Aella. Devon would be furious. Wilson hoped that he wouldn't try and assault the Baron's castle singlehandedly when he heard the news. Wilson stopped pacing. "I have an idea," he said.
Grace looked up. A hopeful look crossed her face. When Wilson saw it, he just knew he had to try his idea. "It is going to sound crazy. But I'm going to do it anyway. I have a few more days of leave. I'm going to visit the king and ask him to pardon Dad." He looked at Grace with a triumphant smile.
"I just don't see how that helps us," she said. "Besides," she added, "you believe Father was a traitor. How can you go to the King and ask him to declare otherwise?"
"There is that," he said softly as he sat down. "Do you think he was?" he asked.
"Not this again, Wil. If we talk about it, we'll just start to argue. And then it will be like it was before." Grace shook her head firmly. "No, let's not discuss this."
"We have to, Grace. This is the issue. Do you think he was?" he asked again.
"I don't."
"How can you believe that?" Wilson asked.
"I don't know for sure. But I know that Mother never once said a bad thing about Father. I just believe that since she had faith in him, I would too." She shook her finger at Wilson as he started to interrupt. "No, Wil, you're right. We do have to talk about this. I was so mad at him for leaving us. I still am angry. But I finally realized that if Mother believed him, I needed to give him the benefit of the doubt. Maybe he was a good man. Maybe we don't know the whole story," she said.
Wilson stood up and walked over to the hearth.
"You still pace when you are frustrated," Grace said.
"That I do. That I do," said Wilson. "It drives my platoon crazy when I pace. They prefer I sit still. I just think better when I move." He lifted the lid off the tea pot and poured himself some more. "If you can put the issue on hold in your mind, then I can do the same. It will be my gift to you and to Mother. I shall not say another bad thing about Father, until I find out the truth. And in the meantime, I will petition the King to declare him not a traitor."
"I'm still not sure it will work," said Grace.
"Don't you see. If the King declares our Father to not be a traitor, then the Baron has no basis for stealing the farm," he punched the air as he said this. Then, in his excitement, he began to pace again.
"I don't want to disappoint you," Grace said, "but won't the Baron just find some other pretext to steal the farm?" she asked.
Wilson nodded. "That is the beauty of my idea. If the King officially declares Father not a traitor, then there is no way the Baron can steal the land."
Grace nodded slowly. "Do you think you can make it to the Capitol and then back again for Mother's ceremony?" she asked.
"No, I don't. As much as I don't like it, I shall have to miss it," said Wilson. "But I think she would agree that this is much more important."
Grace poured herself even more tea. "If I keep drinking tea at this rate, I'm going to die of tea poisoning," she said. "Do you really think the King will agree to see you?" she asked.
"You may not know it, but as a student in the Academy, I did something for the King. He kind of owes me a favor."

The Black Oak Sword
Chapter 1: Part 1, Part 2, Part 3
Chapter 2: Part 1 , Part 2
Chapter 3: Part 1 , Part 2,Part 3
Chapter 4:Part 1,Part 2
Chapter 5: Part 1
Chapter 6: Part 1, Part 2
Chapter 7: Part 1, Part 2
Chapter 8
Chapter 9
Chapter 10
Chapter 11
Chapter 12
Chapter 13
Chapter 14:Part 1
Chapter 14:Part 2
© 2017, Stone Golem Publishing, All rights reserved--no part of this may be used without express written consent.
**All pictures used are labeled for reuse. They come from Pixabay
Follow @bigpanda for more flash fiction.