Calvary Cafe - Central Districts Hospital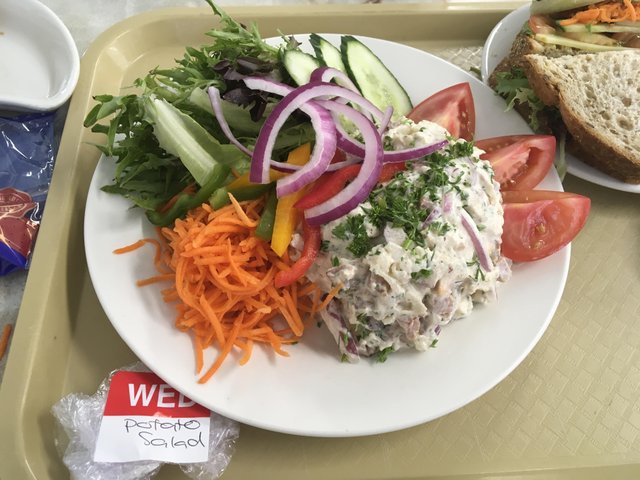 The sky above was the colour of the sea. No, not the deep dark blue, but rather the light blue you see on maps online to indicate the sea, and it was interspersed with a smattering of clouds strewn across the sky at random intervals.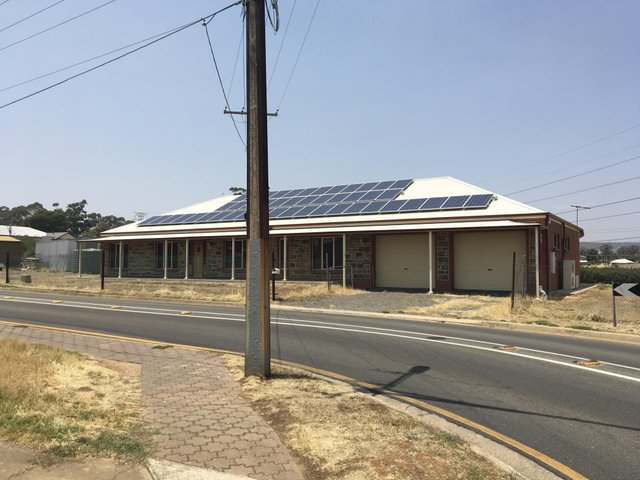 When you really, really don't want to pay for electricity...
I was sweating profusely from my forehead, half jogging, half running, while checking Google maps on my phone. I had just taken a wrong turn on the path leading to the hospital and I was already going to be late for an appointment. I found a spot where there was less wind and rang the hospital. The receptionist put me on hold, and when she came back online I let her know I was going to be about 20 minutes late. She said "That's O.K. See you when you get here." in a tone that was either dismissive or that implied I was giving her unnecessary information, but still pleasant.
When I arrived, I let her know I was there and I was asked to wait in the waiting room. I didn't have to wait long as I went to get a drink of water from a nearby water fountain and when I came back I sat down and my name was called.
I was asked to read the eye chart with my hand over my each eye, one at a time, but there was still sweat in my eyes so I messed up a little and didn't read as far down with my right eye as with my left, but I double checked and both eyes were the same two seconds after I gave the poor result. I couldn't be bothered correcting it.
I was there as a check up for my right eye but he put those painful stinging drop in that dilate your pupils in both eyes.
"Do you have a pair of sunglasses?" the assistant asked offering me a tissue.
"No, I'll be right." I said wiping the residual liquid from my eyes.
He used a machine to take a photo of my retinas and then I was to wait again for the doctor.
The eye examination doesn't take long, but is excruciatingly painful, largely because your eye is held open while they shine a light into it and you are told to move your eye around, up, upper right, right, lower right, down, lower left, left , upper left, etc. It looks like your eye is closed sometimes and you need at least a little vision to know which direction to point your eye in. It's all rather barbaric and I have resolved never to go back there. I have another final check up in 6 months. We'll see whether I bother doing this again.
After surviving that ordeal, it was time for lunch!
I figured that there had to be a restaurant or something at the hospital and went looking around. Pretty soon I saw a sign that pointed in the right direction. Yay!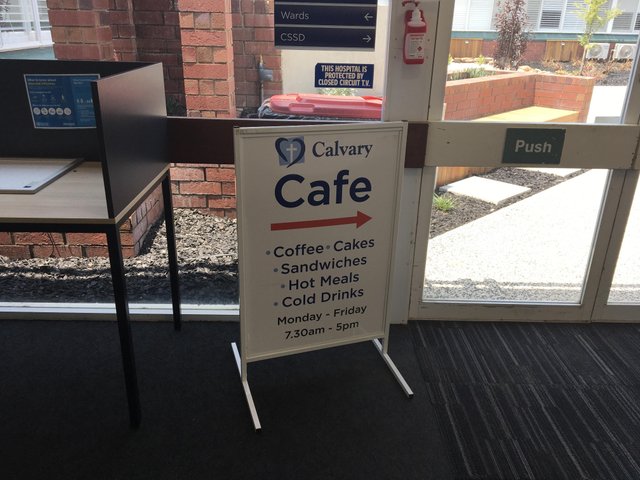 Bliss is just a few steps away
After following a few corridors and passing a few hospital beds, I found the Calvary Cafe!
I quickly found somewhere to recharge my depleted IPad Pro battery (if anyone knows of a cheap way to fix this, I would be grateful) that happened to be near this religious / Christmas display.
Baby Jesus' body language reminded me of a tradesperson telling you that he couldn't possibly fix something that day and maybe be able to fit something in next week. The less said about the dodgy 'wise man' behind the cow, the better..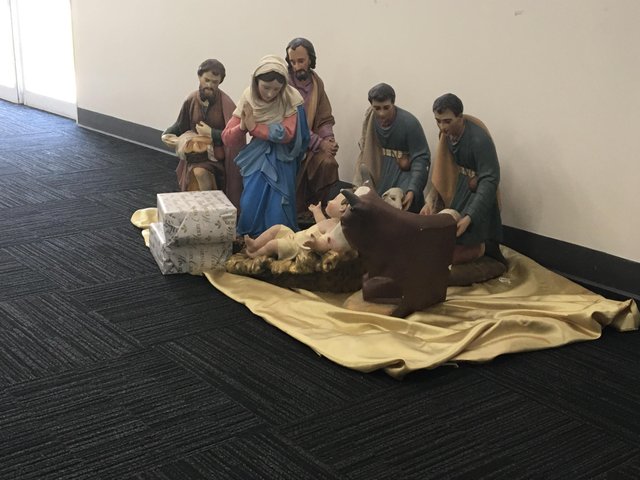 "Pray all you want, it would be a miracle to get parts before New Year's Day!"
While my IPad was charging, I proceeded to look around the Cafe.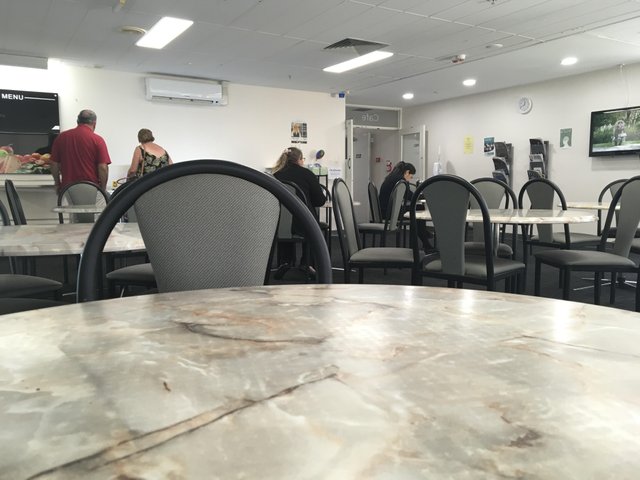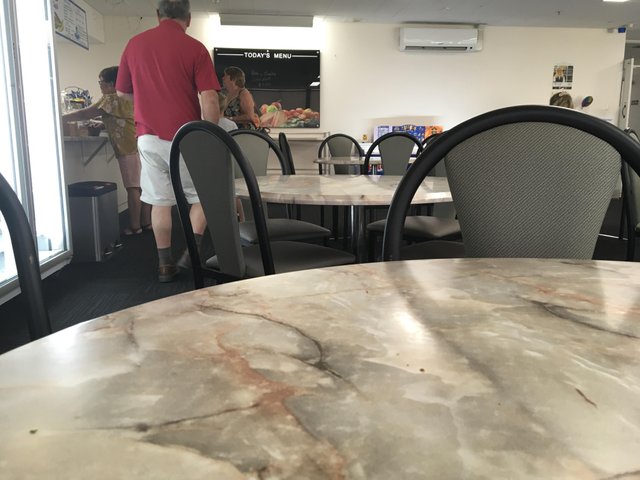 Pre-prepared meals were available from the fridge on the left side of the photo
These photos don't do the place justice, but it's difficult to be discrete with an iPad, unfortunately.
There was an Asian doctor and a few nurses came in on their lunch break, one feverishly typing on her phone to keep up with the latest news. And elderly couple were already sitting at a table. A family came in too. The TV was playing some children's programming, that looked educational.
I checked out the fridge, and aimed for the lowest glycemic indexed carbohydrate meal that I could.
This time being the potato salad and a cheese salad sandwich on multigrain bread.
I noticed that each of the plates was labelled and had stickers to say what day it had been made on. This day was Wednesday, so the food was made that day.
When I was confident with my choices, I took them to the counter where I was greeted by an absolutely fantastic woman with a great attitude and some of her other staff friends. She kept referring to me as
"My lovely" which I must admit made me want to speak in my friendliest and highest manners possible.
It really does cost nothing to be kind.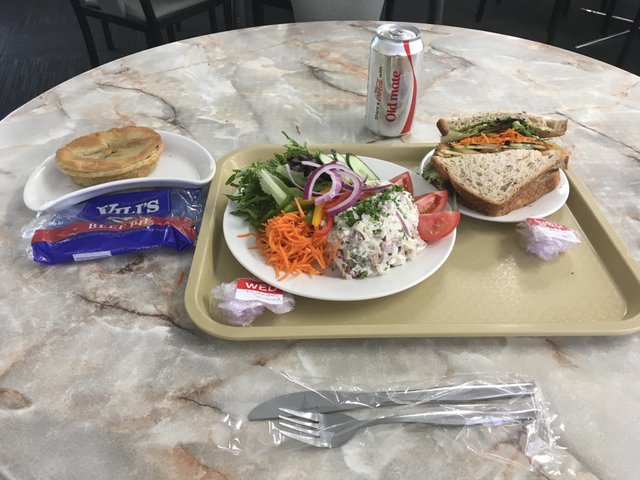 My choices: Potato salad, cheese salad sandwich on multigrain bread, Diet Coke,and a Beef Pie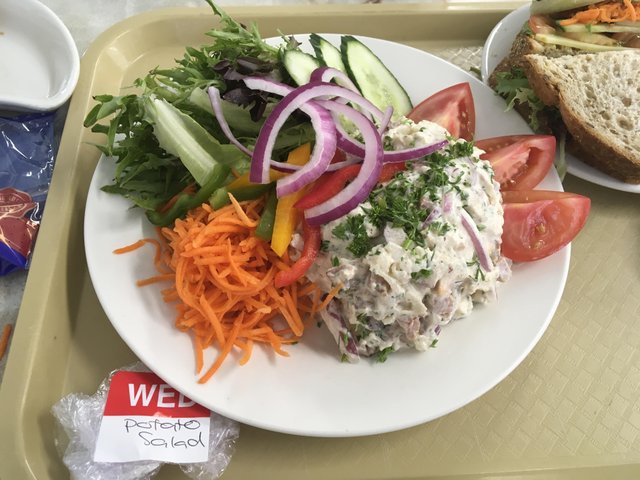 Portion controlled potato salad with bacon bits in it. Plenty of veggies.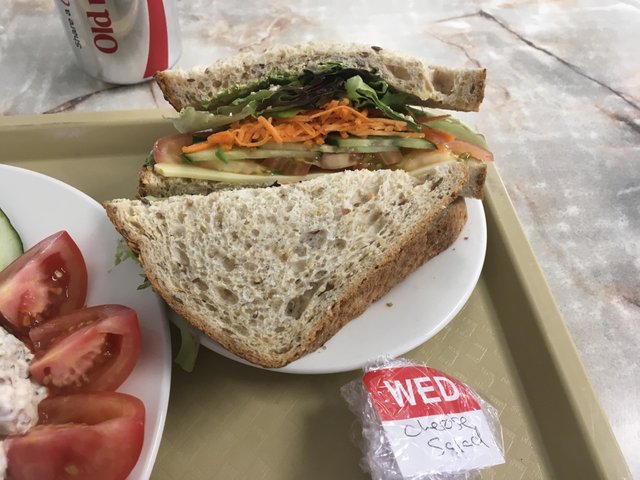 Cheese salad sandwich on multigrain bread. Notice the day sticker, it's fresh.
She asked me if I wanted anything else, so I also ordered a Vili's Beef Pie.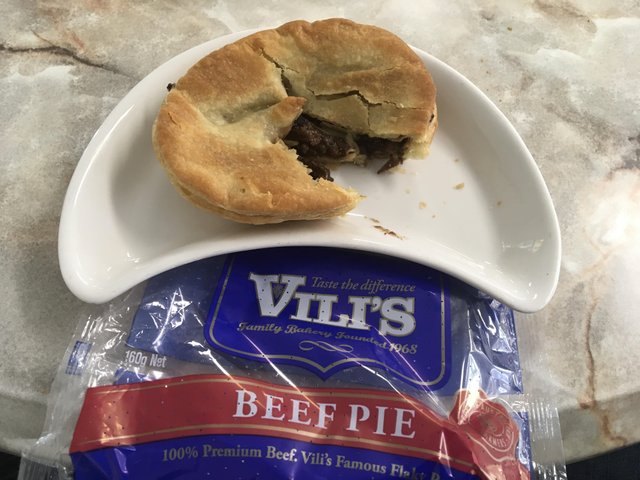 The pie was placed on this weird shaped plate for some unknown reason, but I didn't complain.
Also, it was good to get actual metal cutlery to eat with, placed in plastic for hygiene purposes, instead of the plastic forks I normally end up with.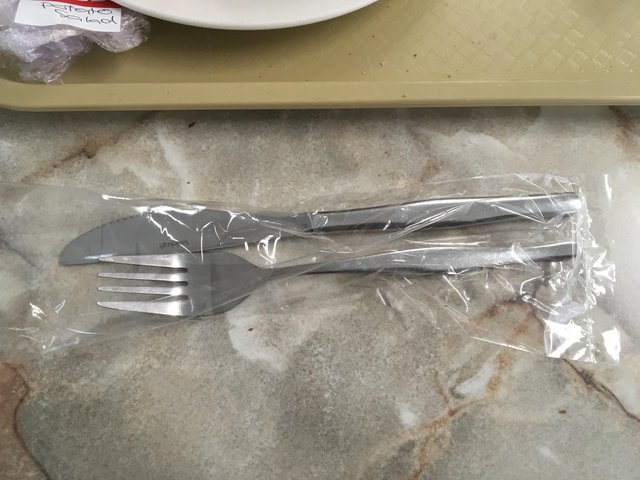 Smart thinking. Hospitals, eh?
Another thing I might mention is that Coca-Cola is doing a promotion where they are putting people's names and surnames on their cans and bottles.
They are even including Australian slang. The term "Old Mate" refers to someone who is a good friend if you know the person, but can be a derogatory, sarcastic insult if you are referring to a third person.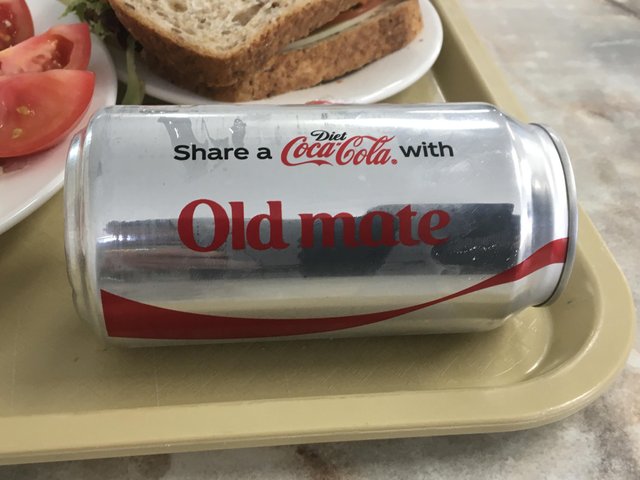 Take a look at old mate over there...
After I pulled out my credit card to pay, she looked around lost for the EFTPOS machine before finding it right in front of her. She said "Don't mind me!".
I made a joke about how it's usually men who lose things right in front of them.
She said that she'd been up since 4:30am to walk her dogs, and as it was just past 12pm she was a little over tired.
I couldn't blame her.
She was fantastic and I hope that she's there for a long time. It's people like that that can make the difference to not only your day, but your business too. I do wish more people could be as positive and uplifting as she was, or at least I wish I could be as jovial every day.
Is it wrong to start looking for justifications to go to hospital, just for the food and service?
Anyway, I hope you enjoyed this.
Until next time, see you in the kitchen...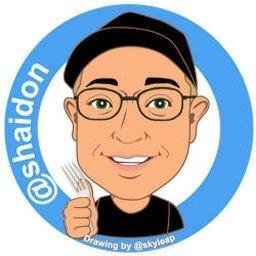 Shaidon's Seal Of Approval