I do know that I'm way overdue with this matter but still I can't help to love the past Met Gala innauguration party last May "Heavenly Bodies: Fashion and the Catholic Imagination".
I am not catholic, but I've always been exposed to it since primary shool and I do gotta say there are a few things of the catholic assemble worth saving: like gothic churches and Renaissance papal commisions... everything else is expendable.
In the other hand I'm a huge mtealhead and this is why, although I loved the celebrities display at the event, I already have seen all the looks before. And the place where I have seen it before, was on stage, wore by metal and rock bands.
Who said that everything's is a copy of a copy... of a copy? (It was in Fight Club, BTW).
Let's start this ranking, folks! Who wore it better... or better yet: who was already making catholics angry waaaay back in the day.
It's on!
1- Rihanna or Pope Emeritus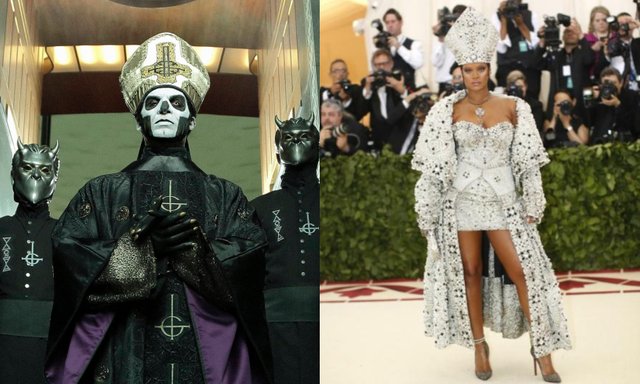 Source: InStyle, Horror Fuel
Now, I'm a fan of Rihanna, for real, no joke here. Truthfully haven't listened to Ghost BC, but they have been in the scene for a while... and by while I mean since 2008. So definetly the band Ghost wore it first and in my opinion WAY better than the Barbados born hip-hop singer.
Sorry Riri.
2- Rihanna or Marilyn Manson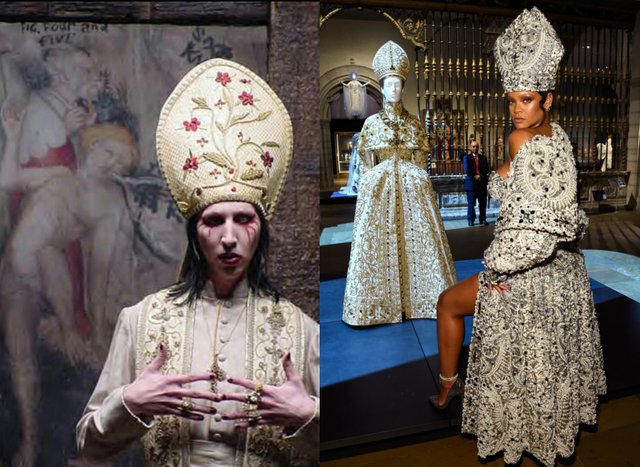 Source: InStyle, Metal Addicts
Rihanna has a another round! BUT 18 Years ago a slimmer and more energetic Marilyn Manson was dressed as a white pope for his music video "Disposable Teens". The Reverend got a lot of people pissed while Rihanna sexualized the papal attire wich... got a lot of people pissed.
What do you say?, I still find Manson more appealing tho.
3- Eiza González or Nina Hagen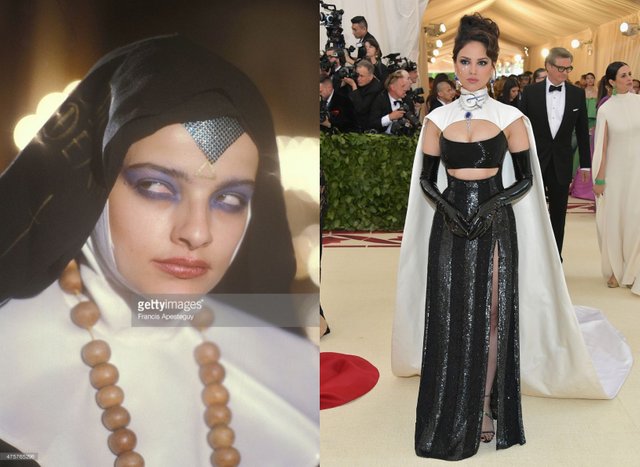 Source: Francis Apesteguy, Harper's Bazaar
Someone dared and took the "naughty nun" disguise to a whole haute couture level without being cheap... and that someone was mexican actress Eiza González. Still, the german singer Nina Hagen was already alienizing the nun rope back in 1982 in this Francis Apesteguy shoot.
Forgive us all, mother Hagen, but this thime the winner is Eiza... there's just too much going on... on your face. As usual.
4- Olivia Munn or Dolores O'Riordan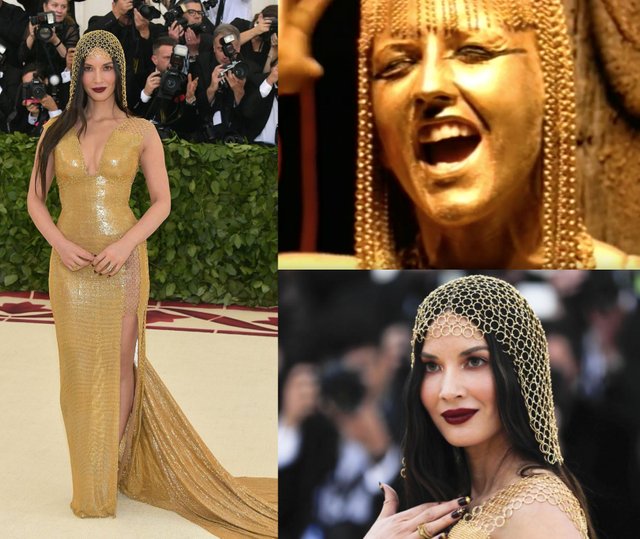 Source: Harper's Bazaar, Youtube
Gorgeous actress Olivia Munn wore a H&M golden dress with a coat of mail over her head that immediatly got me to the 1994 The Cranberries music video "Zombie". Frontwoman Dolores O'Riordan was painted in gold, head to toe, with a similar beaded wig... Even if O'Riordan might have looked more like an ancient egiptian goddess you gotta admit it's a memory popping.
I give my vote to Olivia, but, forever will remember Dolores' golden voice.
5- Lily Collins or Siouxsie Sioux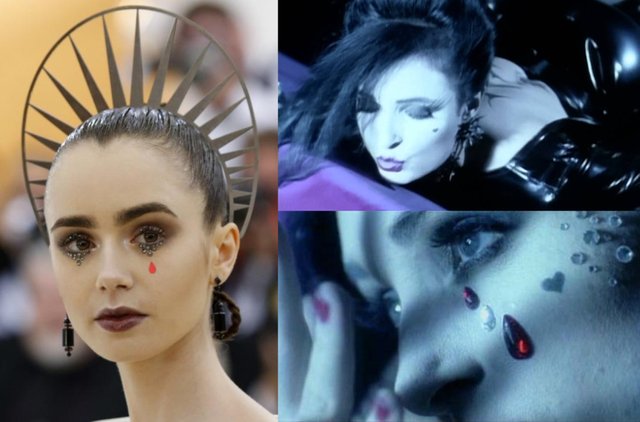 Source: Harper's Bazaar, Youtube
My Batman-fan knowledge was tingling with this one. Actress and daugther of musician Phil Collins, Lily, was wearing a Givenchy piece as a little nun/saint with a tull skirt, BUT I knew I have seen that red tear before.
And then it hit me: It was in the 1992 music video "Face to Face" of classic goth band Siouxsie and The Banshees were we saw a very sexy Siouxsie Sioux in a rubber black dress with face gems.
That song also happens to be Burton's Batman Returns soundtrack, so there it is, in case you were wondering what all the Batman fuss was about.
Lily, you are a dear, but Siouxsie is EVERYTHING.
6- Amber Heard or María Brinks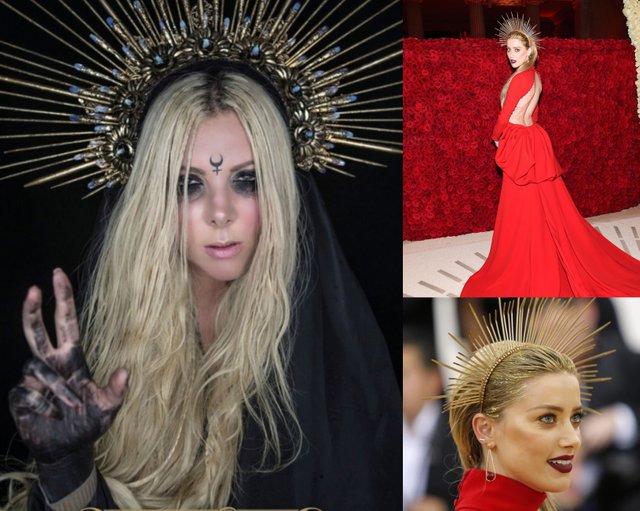 Source: Harper's Bazaar, Metal Hammer
This is a tought one, guys. Although I'm not a big fan of Amber Heard, you gotta be blind not to admit she's just gorgeous in this Carolina Herrera dress, but the thing that really got my attention was the head piece.
EVERYBODY was wearing headpieces, halos, and crowns... I just knew I have seen THIS ONE before, and it wasn't hard to remember where: The band In This Moment and its voice, María Brink0s head. She's a combination of Lady Gaga fashionista, a metalcore Beyonce and a Rob Zombie's witch.
I leave the winner up to y'all because I can't make up my mind.
7- Lana del Rey or Sharon den Andel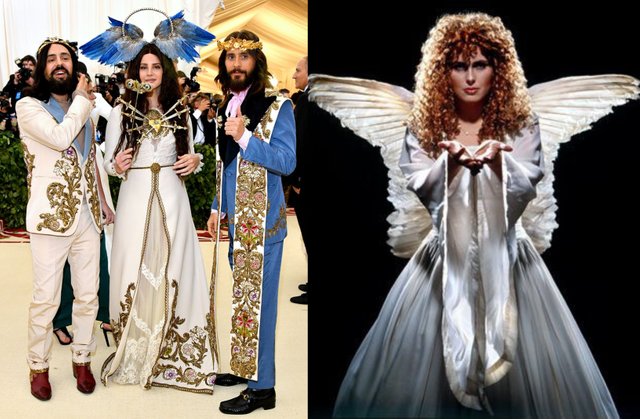 Source: Harper's Bazaar, Only Sharon den Andel Tumblr
There was a Holy Trinity in the Met Gala: Alessandro Michele, Lana del Rey and Jared Leto were a terrifying cool gang; but, if I ever have to think of an overdose of wings, feathers and corsets, Sharon den Andel of Within Temptation comes to mind. Always.
Sharon is the quintessence steriotype of a goth girl since 1996. Nevertheless, I have to give the bay to Lana because she killed it. Truth be told.
8- Madonna or Anne Nurmi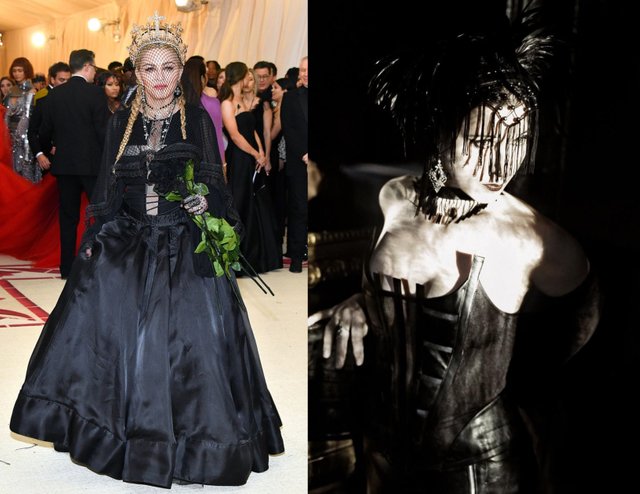 Source: Harper's Bazaar, angst-im-wald
Speaking of feathers, headpieces, veils and over-the-top style in general is sad to say that Madonna has failed, deeply. You can totally do that in a Jean Paul Gaultier apparently. The queen of pop's look just makes you say WHAT THE HELL?! when it really it's supossed to invoque heavenly creatures.
Listen, kids: When you wanna give a goth vibe to the party, all you must do is take a look at the finish singer and tecladist Anne Nurmi from Lacrimosa. She's been rocking every goth trend from fish nets to leather skirts since 1991 and is with no regrets the queen of pale aristocrat-spook style in cathedral-metal music, if there is such thing.
9- Kate Moss or Till Lindeman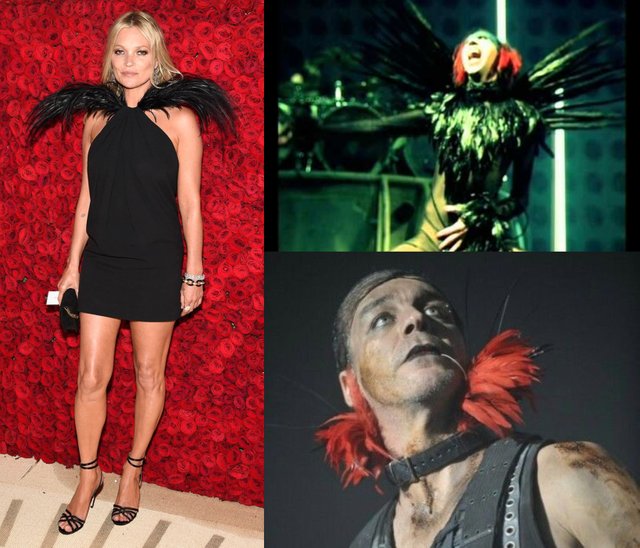 Source: Harper's Bazaar, Fanpop, Youtube
"Go big or go home" is the premise that Kate Moss decided to ignore when going to the Met Gala. Instead she opted for a simple little black dress from Saint Lauren house wih a little bit un feather fun (meaning boOoRING).
Never dissapointing the metal guys have been wearing feathers more stylishly that the top model for a time now. First, Marilyn Manson did it in 1998 Rock is Dead music video (The Matrix OST) with his see-trough jump suit. Then around 2010, Till Lindeman, a huge german hairy muscle man, decided to tour with his band Rammstein wearing a red feather choker around his neck. How delicate.
Guys, you rocked this one!
10. Mindy Kaling or Freddie Mercury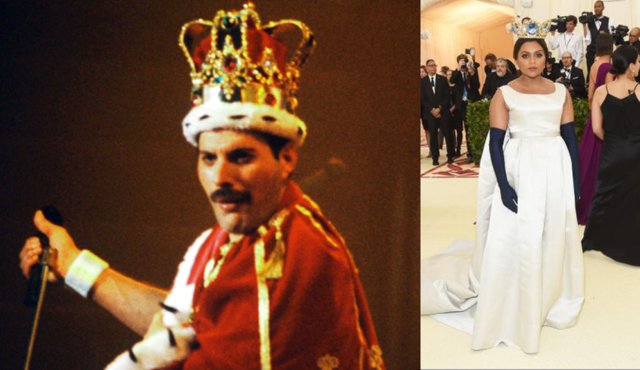 Source: El Comercio, KPFA
Not even the queen of England could wear a massive crown over her head without me comparing and excelling Freddie Mercury in every possible way. Sorry, Mindy, that's all I have to say about that. It's definitive: You just can't.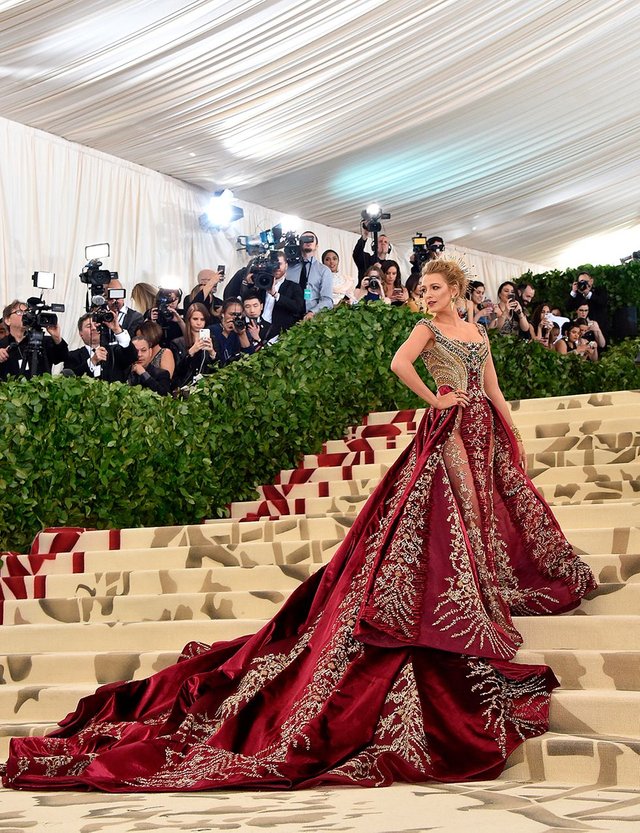 Source: Harper's Bazaar
Honorary Mention
She deserves her own mention because there is absolutely no comparison. You just have to check out Blake Lively (you know, Deadpool's wife) at the Met Gala: Diva, divine, sublime, stunning, majestic, magnificent, insurmountable, masterly perfect... doesn't sum up to the definition of what this woman really is.
Just wow.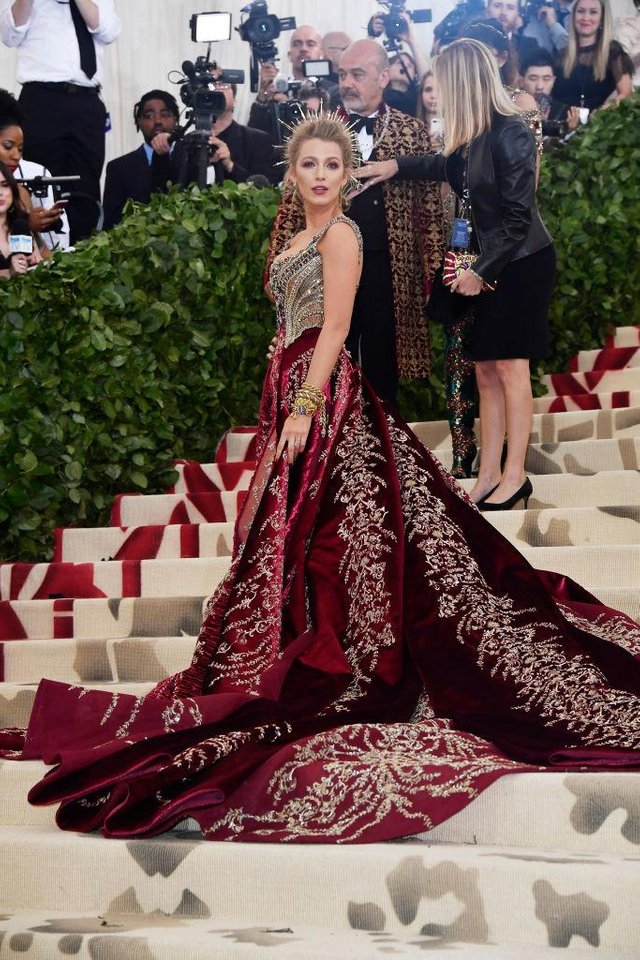 Source: Quién
What do you say? Agree with my results? Who else rings a bell?
Even though I loved the gala, wasn't much surprised because I have already seen it (it has taken me a lifetime of metal band fangirling, but knowledge is knowledge); excep for Blake, she's a new saint virgin indeed and must be phraised.
Can I get an Amen to that?!