Remember the lady who gave the passionate speech about forced adoption, to the EU committee? Sabine Mceil, but where is she now?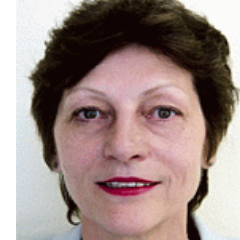 Yet again the NWO have silenced another whistle blower by using OUR POLICE SERVICE, to create a situation in which they can imprison her. This has happened to Melanie Shaw, it is now happening in Winnipeg, Toronto, to Tamara and now, after watching the latest episode of #ukcolumn, it seems, brave beyond the call of duty, Sabine McNeil, is now facing a long spell in prison.
I have previously reported on all three of these cases and to jog your memories, I have dug out this video, one that you all should recognise...
Yes, you remember her now. And how have we treated this courageous woman who has obviously put her neck on-the-line in order to help stop the huge Child slave trade, going on all over the globe.
The amazing headline, in the video above, was the revelation that "1000 children are being forced into care, every month". Which I hope you will agree, is the most important and worthy cause around.
If we allow the destruction of our children, we allow the destruction of the Human race.
As I was saying, this remarkable lady has re-entered the theater...
From my research, it appears that since Sabine, speech in 2014, she has been targeted by those she opposed and the authorities have been using all their usual dirty trick and arms of propaganda to besmirch the reputation of this remarkably intelligent woman.
This is one such, media, report. It starts with a positive introduction to Sabine and her remarkable career and then begins to warp her image with accusations of 'Getting in with the wrong crowd' and reporting on Satanic child abuse in Hampstead, London, that according to this article, doesn't exist. This article would have us believe that Sabine has reached for the tin-foil and secured it, tightly round her crazy head... As much as I do not want to give the web-page another view, it is too important to leave out.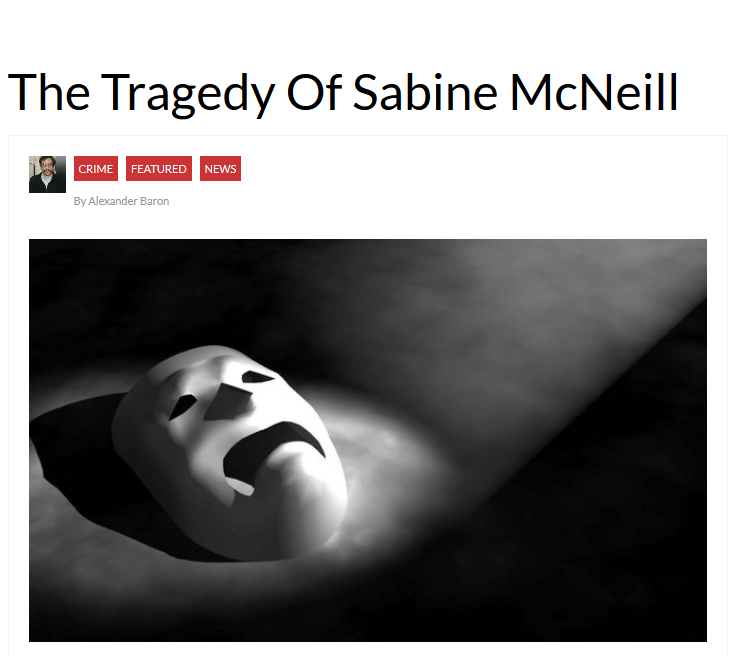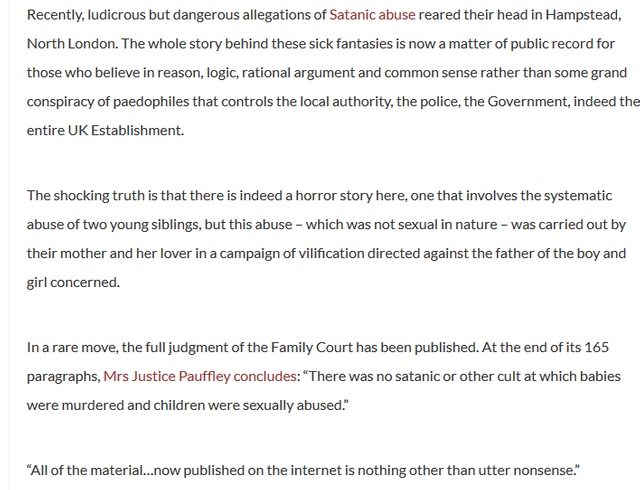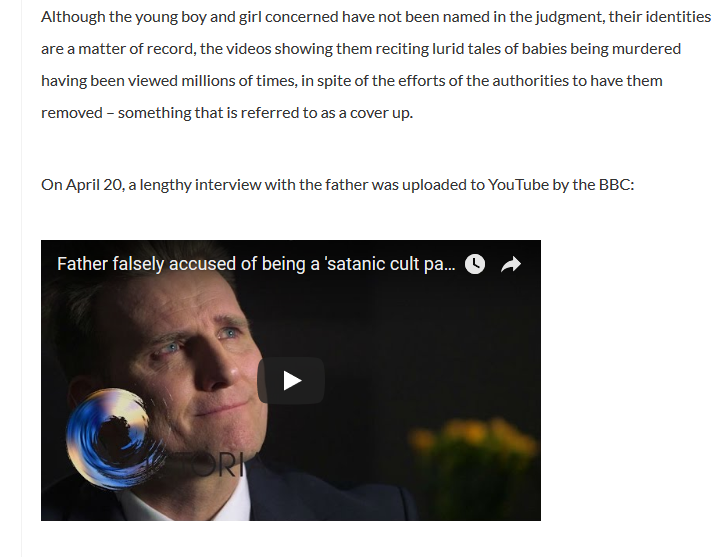 And whenever have the BBC lied or tried to cover up Child Abuse?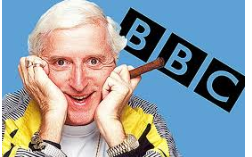 This incendiary article, after stating Sabine's huge intellect, goes on to refer to her as "a village idiot". After this point, the author then begins to give in 'the beans' and really lay into Sabine's theory. Stinks of desperation to me and when people give opinions without evidence to back up what they say, then that is merely an gossip and certainly not worthy to be labelled as 'News'.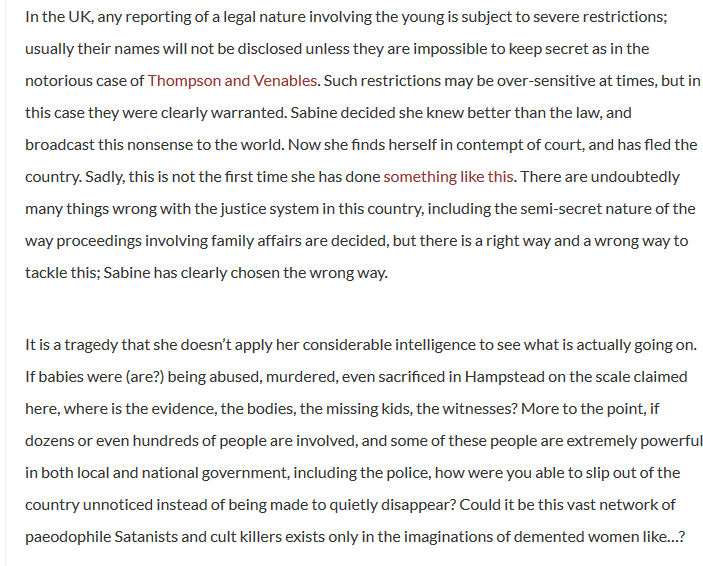 source - http://www.thelatestnews.com/the-tragedy-of-sabine-mcneill/
But it is now only fair to hear Sabine's side of the story, I imagine this part will have a little more evidence behind it, lets see...


source -https://punishmentwithoutcrime.wordpress.com/author/bombs/
This appears to be Sabine's own page on the subject. As you can see, there are plenty of links for you to follow.


source -http://hampsteadchristchurch.com/sabine/
Now you may want to sit down for this next part, as it is a little shocking to say the least. We must help this woman and bring her evidence onto the steemit block-chain. For all her efforts she has since been arrested by UK police. Here is the shocking video of her arrest.
So lets have a listen to Sabine and a comprehensive interview explaining exactly what has gone on here...
I would also like to add that this is the 19th month! MELANIE SHAW has been locked away, most of this incarseration being in solitary and not receiving proper medical help. This is a disgraceful cover-up of a government-run child trafficking organisation, supplying pedophiles all over the world. This must stop!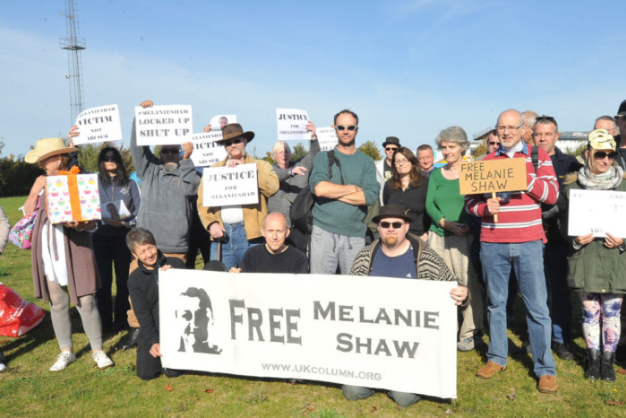 Please share this post as much as you can and get the word out. We are in the process of a government inquiry into historical child abuse, how are we supposed to have any hope of justice when this is what is happening behind the scenes.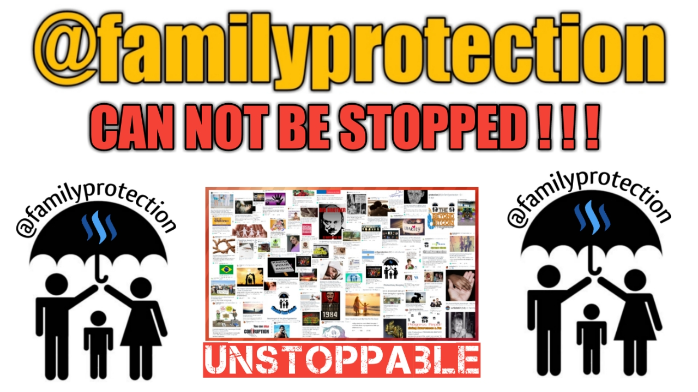 Rebel Dan @article61, @team-solutions, Man-in-the-Hat.
Videos supplied by