It all started in December 2000 when I purchased Everquest, the game. I have been a gamer since the early 1980s but had never played an MMO before.
In the next few weeks, @bingbabe would become an 'EQ Widow' as I was drawn into the harsh unforgiving world of Norrath, an obsession that would last for several years.
More recently I installed the Everquest client again on my PC. It's free to play now but a far cry from the heyday of the early noughties when adventurers banded together for quests and glory.
Many zones are now deserted as players have long since left the game for other ones with superior graphics, and easier gameplay.
This is the story replayed today as my level 66 Barbarian Shaman who can now freely roam through low and mid-level zones without fear of being killed.
If you are not a gamer and have never played an MMO (Massively Multiplayer Online Game) then you may not be able to relate to this at all.
Everquest was named 'Evercrack' due to its addictive nature and for good reason.
At level 5 I left the sanctuary of the Halas gates in search of greater adventure.
The bears had turned 'Blue' or even 'Green' when I hit the 'C' key to Con them and they were yielding me less experience per kill.
Rumours had spread to my ears about the city of the Gnolls. An underground labyrinth named Blackburrow. Gnoll pups would roam around Everfrost but at my level, they had all turned 'Green'.
EQ Maps, still here almost 20 years later though it's now Brewall's Everquest Maps today
As my world didn't have maps, I was forced to download them from 'http://www.eqmaps.info/eq-map-files/' and print them out. Getting lost in Everfrost was a huge deal, as many locations looked the same.
Valleys and Mountains were jagged, steep but my Shaman ran up and down all without changing speed whatsoever, fatigue was not a factor in Everquest.
I often cursed the ice, snow and low-resolution graphics.
Finding the entrance of Blackburrow was a terrifying ordeal for a level 5 Barbarian Shaman.
Vengeful Composers and Soloists were rife and an attack always meant death when far from the Halas gates if one happened to catch my scent.
Seeing something other than snow was strange to my eyes. The huge cave-like entrance at the edge of Blackburrow looked unworldly and alien, and then there was the problem of the two guards at the entrance.
'a gnoll' and 'a scrawny gnoll' became my prey for the next two levels of my life though I had to be careful not to catch the attention of both.
Standing at one side, I would use my new 'Sicken' spell which I learned was a DOT (Damage over time) spell to 'pull' them.
Today, they are called 'a gnoll guard', but other than that, little has changed in almost 20 years
Every tick (6 seconds), the gnoll would take some damage which greatly aided me while I whacked it over the head with a blunt club or some other crappy weapon I had managed to gain.
My weapon skills were increasing and every so often I would be rewarded with a message stating, 'Your skills in 1HB have improved too (23)' or something similar. I learned later that 1HB meant 1 handed blunt weapons.
While these gnolls were quite challenging, they had an annoying habit of running away when low on health. This sometimes meant toward the other gnoll.
The lost art of pulling mobs. They lived a lot longer when this Shaman was a lot younger than today
You might think this is not a big deal, but it took all my will, strength and concentration to kill even 'a scrawny gnoll' at level 5. I didn't want 'adds' as they were called by my Barbarian comrades, helping out.
Each fight took its toll and I had to sit somewhere safe to meditate else my mana would not be replenished.
This took around 5 minutes per fight, and I may go into the kitchen to make a cup of tea to stop the tedium setting in.
The gnolls, unlike most other monsters I had encountered so far, were 'aggro' to me. This means they would attack me if I moved too close to them. Using the 'C' key I could see their view of me.
'a gnoll guard scowls at you ready to attack.' They never used to tell me the level of the monster in the 'old days', but do now.
What had I personally done to these arseholes before we met? Noting at all, yet I was hated due to my race.
After what seemed an eternity I dinged level '7' and the puny gnolls at the entrance were no longer a serious challenge to me.
Don't get me wrong, I couldn't let me guard down but being only sometimes a Blue 'Con' and mostly 'Green' they were taking less effort to kill.
By now I had taken to peering into the tunnel as the guards took some time to respawn. I always wondered how that magic happened? I killed them and they came back after so long. I never used to resurrect in the same place. It hardly seemed fair.
The tunnel was very dark and my Barbarian eyes had trouble picking out details. Changing the brightness setting on my monitor helped some and my first few encounters in there had almost killed me.
Ultravision helps, but back then I couldn't see a damn thing in the tunnel. Fighting hand to hand would take forever as I still don't have the skills. The 'Sicken' spell helps things along nicely
Sneaky gnolls hid within the tunnel and I learned 2 of them lived in there both on the same spawn timer as the outside ones. They were no stronger than the original pair and it was more the shock of them being there that took me unawares.
Once all four were dispatched I went deeper into the tunnel and hit the zone line for Blackburrow proper. This was to be a completely new experience for me.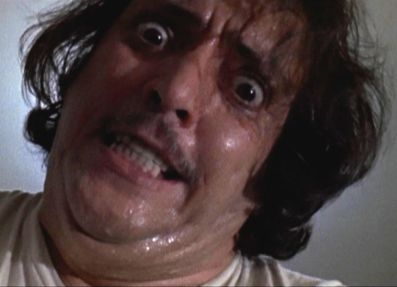 If you found this article so invigorating that you are now a positively googly-eyed, drooling lunatic with dripping saliva or even if you liked it just a bit, then please upvote, comment, resteem, engage me or all of these things.