Political Month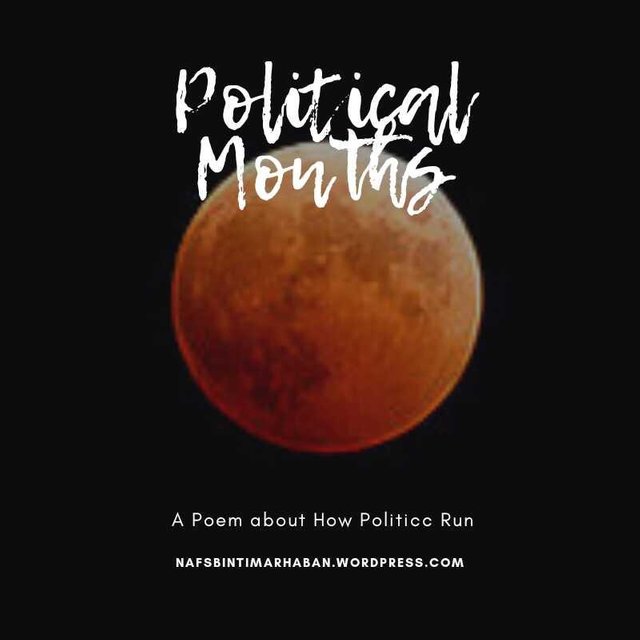 Political Months
Every eye raised,
Every eye sees,
Wherever the eye looks,
As if leaves were scattered about,
Various slogans for victory from politicians are plastered.
Whether on a street corner,
near a ditch,
next to a cemetery or inside a shaving shop, Always the slogan is seen,
When night,
swaying carried by cold winds,
When noon,
dragged in the heat of the sun,
Until it's torn apart.
Every shop,
coffee shop,
reading house, gym, All talk about their favorite politicians.
Talk anything, everywhere
The important thing is to attract people to support them.
No matter the money is drained,
Tired face.
Tired of looking for face.
Because if it's chosen,
everything will pay off perfectly.
It's different with people who are busy asking To anyone,
whether the father is a doctor, a school teacher, or even a noodle salesman
Who wants to be chosen Who does not harm Everyone is busy guessing Because,
there really is?
December, 2018
bold
Bulan politik
Setiap mata terangkat,
Setiap mata melihat,
Kemanapun mata memandang,
Seolah dedaunan yang berserakan,
Beragam slogan untuk kemenangan dari para politikus terpampang.
Baik di sudut jalan, dekat selokan, di samping kuburan atau di dalam toko cukur,
Selalu slogan itu terlihat,
Ketika malam, terayun-ayun dibawa angin dingin,
Ketika siang, terseret-seret dalam panas sinar matahari,
Sampai terkoyak sendiri.
Setiap toko, warung kopi, rumah baca, tempat olahraga,
Semua membicarakan politikus kesukaan mereka.
Bicara apa saja, dimana-mana
Yang penting menarik orang mendukung mereka.
Tak peduli uang terkuras,
Wajah lelah.
Lelah cari muka.
Karena kalau-kalau terpilih, semua akan terbayar sempurna.
Lain lagi dengan rakyat yang sibuk bertanya
Pada siapa saja, apakah bapak dokter, guru sekolah, atau bahkan tukang jualan mie
Siapa yang hendak dipilih
Siapa yang tidak merugikan
Semua sibuk menerka
Sebab, memang ada?
December, 2018