EASTER RAW TART 💙🐰💛🐣💙
Hello my Dearest Foodies,
I hope you are having wonderful Easter Friday, spending with your family and celebrating the spring and whatever traditions comes it. I was very busy last couple of days making this cake, shopping for the long weekend and we went also out with the boys. Yesterday was nice and warm, but today is gloomy and rain. Oh well, I have to catch up with all of you here on Steemit, so it worked out just fine.
Anyway, this tart is my expression of spring, when the sky is blue and sun shines on blossoming flowers. It also tastes delicious and it's absolutely guilt free. Not very difficult to make neither, if you follow my instructions carefully.
Happy Easter everyone 💙🐰💛🐣💙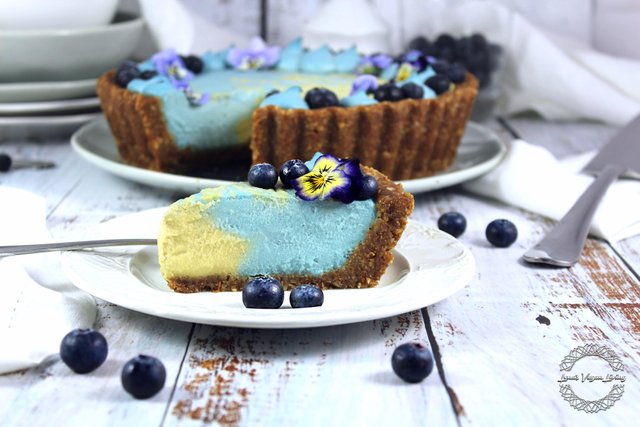 EASTER RAW TART
Cashew Tart with Mango & Blue Spirulina
Vegan – Gluten Free- Refined Sugar Free
Autor: Lena's Vegan Living
INGREDIENTS for the Crust
• Dates 2 cups (soaked for 15min and rinsed)
• Almonds 2 cups
• Almond flour 1 cup
• Raw coconut oil ¼ cup (melted above steam)
• Pure vanilla extract 2 tsp
• Himalayan pink salt 1tsp
• Fluted tart form 9.5" X 2" deep (with removable bottom)
• Glass with flat bottom about 2.5 "dia
• Plastic wrap
PROCESS
• Start blending the dates in the food processor by pressing the pulse button while scraping the sides.
• Add the coconut oil and bled full speed at the end until smooth.
• Add almonds and continue blend while pressing the pulse button and scraping the sides.
• Add vanilla with almond flour and blend little bit longer until is all mixed evenly.
• Cut 9" dia circle from the plastic wrap and set aside.
• Remove mixture from the food processor, make a ball and place it in the middle of your tart form.
• Start pressing down with your fingers, until you reach the edges.
• Centre the plastic circle as best as you can on the top of the crust.
• Take the glass and start pressing down until to crust reaches almost the edge of the form and the bottom is totally flat. Keep about ¼ " away from the edge.
• Remove the plastic circle and work your fingers around to smooth the sides.
• When ready, place in the freezer.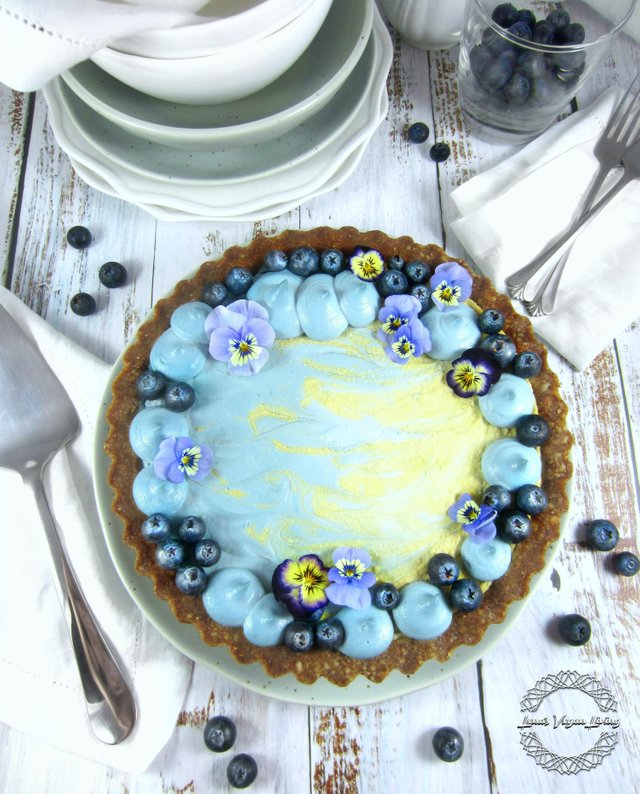 INGREDIENTS for the Filing
• Raw cashews 5 cups (soaked for min 4 hours and rinsed)
• Mango 3 (preferable Adaulfo, pealed and sliced)
• Blue Spirulina 1 ½ tsp
• Fat canned coconut cream 1 ½ cup (400ml)
• Raw coconut oil 2tbs cup (melted above the steam)
• Pure vanilla extract 2 tsp
• Juice from 1 lemon
• Maple syrup 1 /4 cup (you may add more if you like)
• Chopstick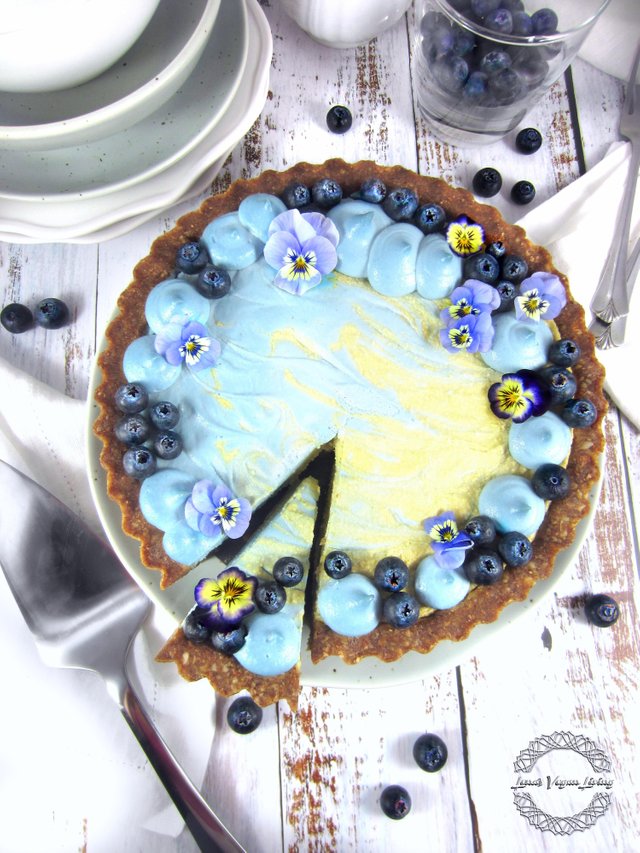 PROCESS
• Divide cashews in two portions; one little bigger (blue) than the other (yellow).
YELLOW
• In the food processor, blend the cashews with mango, 200ml coconut cream and 1tbs coconut oil until smooth.
• Transfer to a bowl and set aside.
BLUE
• Blend cashews with 200ml coconut cream, maple syrup, vanilla, spirulina, lemon juice and 1tbs coconut oil until smooth.
• Fill your tart form, one half with yellow and the other half with blue. Do the best making the surface smooth. When ready, make swirls with chop stick and place it in a freezer overnight.
• To remove the tart, from the form, it as to be out of the freezer for one hour.
• When ready, cover it with plastic wrap and turn it upside down on a smooth surface.
• With a butter knife, start lifting the removable bottom circle very carefully, going all the way around, until it will loosen up. After the tart will come out easily.
• You may decorate it with the leftover cream, blueberries and pansies or other edible flowers.
Note:
This tart must be stored in a refrigerator or in a freezer.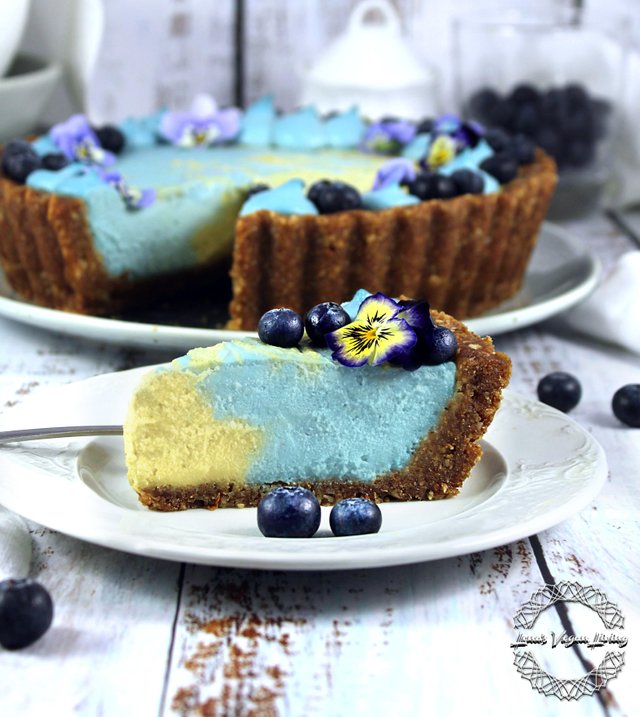 THANK YOU FOR VISITING & BON APPETIT
FOR RECIPES PLEASE VISIT MY Lena's Vegan Living Blog


|