BUTTERNUT SQUASH BISQUE 🧡😊🧡
Hello my Dearest Foodies,
It's been a long time since I made Butternut Squash Bisque, so I thought now is the perfect time to make it. Besides, I decided to try something different. Although my family loved the old recipe that was quite simple and easy, I am much more pleased with this new one.
Not only it's more flavorful, but also way more satisfying and higher in protein. Especially if you have your bowl with the roasted pumpkin seeds, which I highly recommend. They add delicious flavor to your bisque and fare amount of nutrients, including protein.
I wish you a happy Week 🧡😊🧡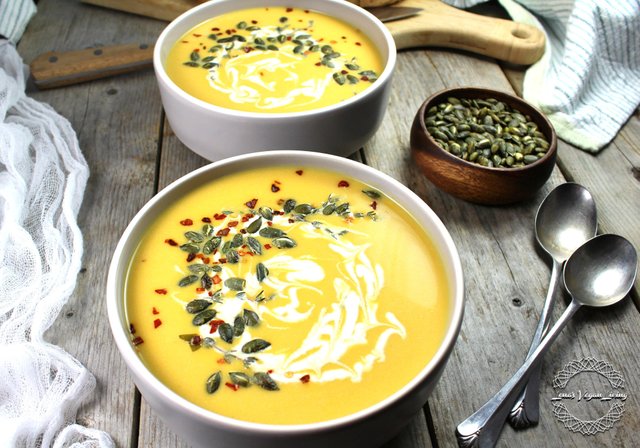 BUTTERNUT SQUASH BISQUE
Roasted Butternut Squash Bisque with Cashew Cream & Roasted Pumpkin Seeds
Vegan – Gluten Free
Author – Lena's Vegan Living
INGREDIENTS for 6 servings
• Butternut squash 1 large
• Garlic 1 whole
• Cashew Cream 1 ½ cup
• Organic low sodium vegetable broth 2 cups – 1L
• Nutritional yeast 2tbs
• Himalayan pink salt to taste
• Black pepper to taste
• Roasted pumpkin seeds 1 ½ cup
• Grape seed oil 2tbs
PROCESS
• Preheat the oven to 375F.
• Wash and cut the squash in half lengthwise.
• Scoop out the seeds and stringy flesh with ice cream scoop or spoon.
• Brush with oil and add salt with pepper.
• Turn them upside down and place on the baking sheet.
• Peal the outer layers of garlic, leaving only the skin of individual clove. Cut the top by using a sharp knife and brush with oil. Wrap in tinfoil and place next to the squash. Bake for 40min. When ready, scoop out the flesh with fork and set aside.
• Bake the squash for 60 to 70min. Depends on the size of your pumpkin. You'll know it's ready when you'll be able to pierce toothpick through the skin.
• Let it cool for 1o min and scoop the flesh with ice cream scoop or spoon.
• Blend in a blender with vegetable broth, roasted garlic, cashew cream and nutritional yeast. You may add more salt and pepper as well.
• Drizzle with cashew cram, top with roasted pumpkin seeds and serve.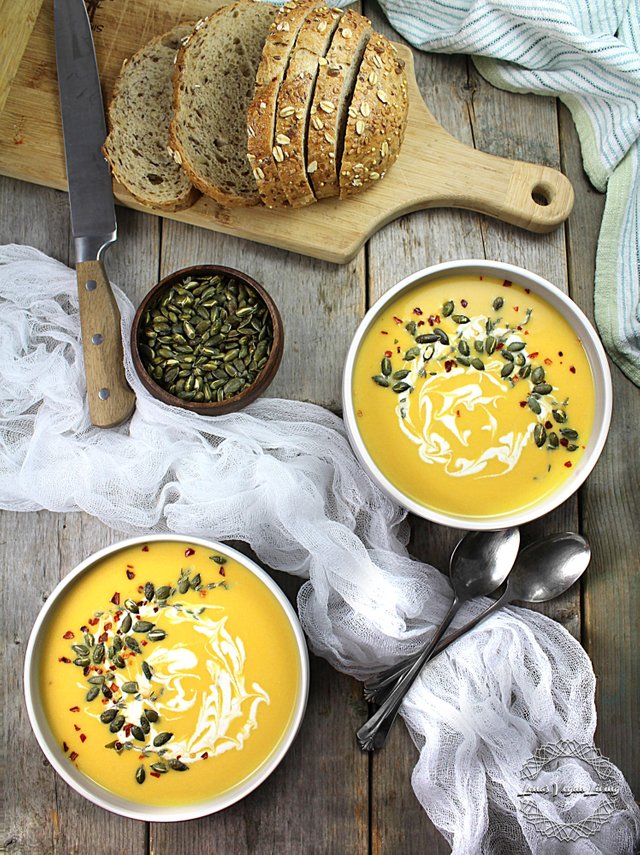 CASHEW CREAM
• Raw cashews 1 cup (soaked and rinsed)
• Water ¾ cup
• Himalayan pink salt 1tsp
Blend in a blender until smooth. Use 1 cup to blend with squash and rest while serving to drizzle on each portion.
ROASTED PUMPKIN SEEDS
• Raw hulled 1 ½ cups
• Preheat the oven to 375F
• Spread the pumpkin seeds on baking sheet lined with parchment paper.
• Bake for 5 to 7min.
• When they start popping like popcorn, reduce the temperature to 350F.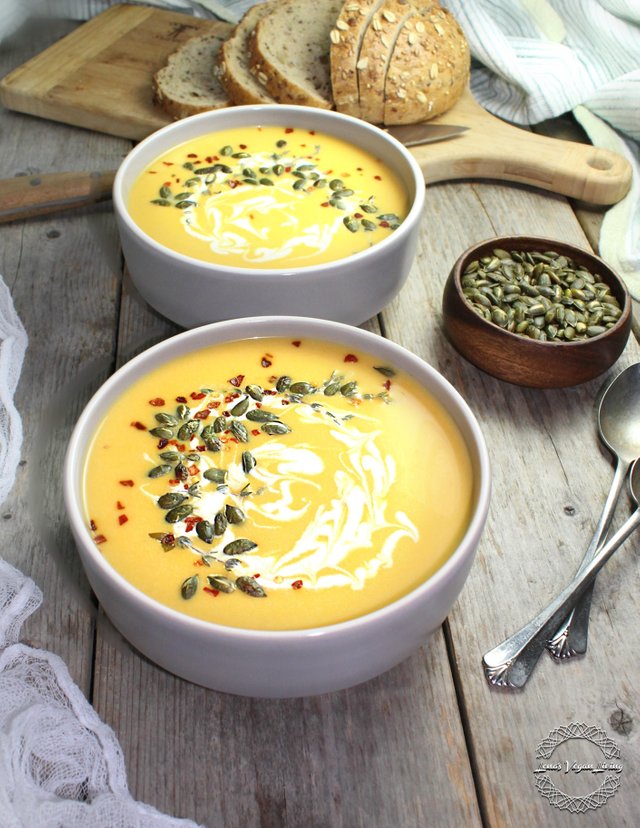 THANK YOU FOR VISITING & BON APPETIT
FOR RECIPES PLEASE VISIT MY Lena's Vegan Living Blog


|