Contest: How Would You Handle It When Steem/SBD Token Price Is Depreciating?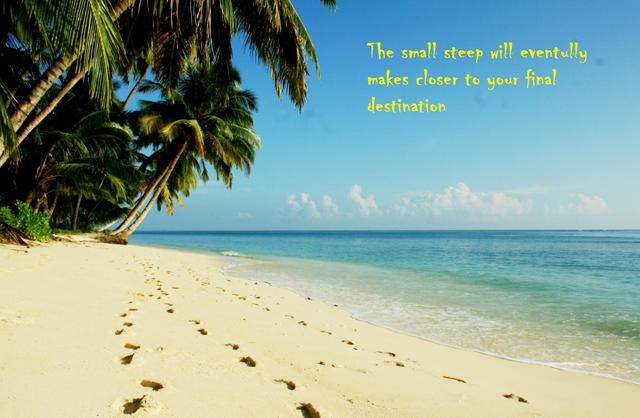 Talking about Steem/SBD price is talking about crypto market, I am not really good about that. So I won't talk about something I don't know well on this post. I have set long term commitment, it is shown from my way of powering up my account, and I have done it few days ago. My original SP has become 101 SP, and waiting to power it up again. It is truly amazing time for all steemians who has set long term commitment on this platform, and I am one of them.
As we are fully aware of steem price keep depreciating lately, and the contents is only rewarded with steem and steem power. Surely, for some user it is not really good time to earn, especially for cashing out SBD or Steem.
But on this post I would like to underline a few things for lighting up your spirit to steem on my friends. It is also the question from @legendchew; How Would You Handle It When Steem/SBD Token Price Is Depreciating?.
1. Keep posting good quality content
No matter what happen to the steem/sbd prices, but I keep creating and posting the best content I can, because this is the right time to grow up my account for the payout of the post will be paid in steem and steem power, so instead of having payout in SBD and need to convert it into steem, it is has been in steem and steem power already, with single click on "power-up" bottom, all of steem will be added into steem power. I have done it lately, and now still waiting the right time to power it up again.
2. Make no different
Make no different in quantity and quality of your contents, I try to make a post whenever I can, as usual. Indeed, I can not make one day one post as wish I could, many things have keep me away from steemit, but I try my best to stay up on this platform whenever I can. It is the time to press forward, when I am able to handle this kind of situation, it will be easier to manage myself when the price getting higher again.
3. Buy Steem and Power Up my Account
Whenever I have chance, I will buy steeem to power up my account, this is very crucial stage of keeping my commitment on track, powering up my account is an evidence of my commitment on this steemit platform and it fabulous community. As I have said in previous post, I will keep my commitment on steemi, then I will do it, and I am not bothered by the "SBD/STEEM" price. I am trying to power up my account not because I don't need money in my real life, but it is to support other people in need, sure I will cash some of my earn from this platform to support my "real" life as well, but not now. It is time to thank steemit for what steemit and this community have done to me. I have got a lot of support either in material and or immaterial matters. Encourages comment, advice or even little spirit booster will make my day become so bright.
4. Support Steemit Platform
Do you know if you keep SBD or Steem internally on this platform is actually supporting this platform?, or maybe it is only my thought. Some people will convert SBD into another crypto to gain benefit of it, that is absolutely fine and right to do, but it is only to get self-benefit without taking a chance of supporting this steemit platform, but if you do it to increase your chance to have bigger steem power, then you are the man with honor. I keep my SBD and Steem in my account with a plan that I will use it to power up my account when the time is right to do so. I have promoted steemit into outside community through Whatsapp group. Perhaps, that will help this platform grow up and have more loyal user.
5. Support community
Steemit platform is built base on the power of community, so if I support community then that means I support this platform as well. Stronger community will be able make this platform stronger, don't you think so?, I do think so. I support @pifc regularly not only to get connection and support from them, but also to contribute into changing the world to be a better place to stay. We may come from different world or societies but don't let it be a barrier to stop us making friendship and support each other, no mater of race, faith, believe, or gender. Thinking of bigger picture of the peaceful world will make you stay up on steemit and will do your best to protect this platform. It is my thought to handle the depreciating of STEEM and SBD price.
I don't have power to reinforce this steemit platform, but a little wish that I can make by keeping myself on this platform is the only way I can do so far. I hope more people will do the same, not only for their own benefit, but benefit for all. To whom it may concern: I encourage you to do your best to protect this platform by supporting each other, give value for whoever add value to this platform, no matter who they are.
Let's make steemit as our home, the place to share good things, spread love by showing our support.
This is an Invitation to join #ccc for Guaranteed 👍 Daily Income 💵 and Payout 💸 for Newbies (2.0) 🐟
🐜 🐛 in #ccc 👣 and Follow 👣 the Honor Code 🏅 - the Creed (Conditions and Limits Inside) <<< _please click to read.
Thank you for reading to the end of my article, keep your spirit light up.