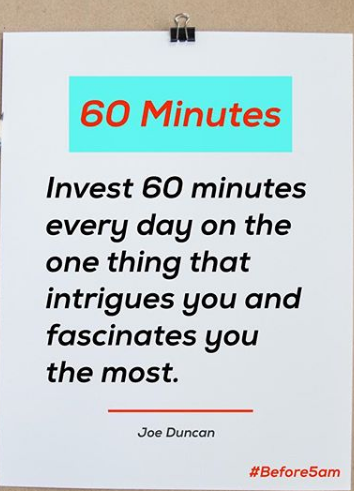 I'm on a mission this week to help you find your passion and start something you love.
~
What I want you to start doing, is having some imagination, living with some passion and doing the things which would simply blow your mind.... not the same old boring stuff, that's usually the problem.
~
You've got to have something to look forward to, things you want to create or build or try. Life is too short to not be fascinated and intrigued by things.
~
So, this week I want you to invest an hour every day researching and working on the one thing that absolutely intrigues you and fascinates you the most. The one thing you so badly would love to get involved in or do if money or whatever excuse you can think of simply wasn't in the way!
~
It doesn't have to make money or be a business or even change the world, this is your blank canvas and you can paint and create whatever you want!
~
It's time to Channel your inner 5 year old (in my case that's not hard) and start looking into those things that just fascinate you and make you feel alive when you start reading about it or watching videos, etc.
~
It can be whatever you love or feel passionate about, you might want to create a car company or a racing team, you might want to write books or become an artist or fashion designer or you may simply just be fascinated by planes and maybe want to see how you can join a club or get your pilots license.
~
It's time to start living! It's time to work on the things which interest you and let's see where that takes you...
~
When I started @before5am I just simply explored something I was fascinated by and thought I might be good at. I didn't really care about creating a business and making money - I just wanted to create something I believed in and was passionate about!
~
So you never know where this road will take you, so go explore and have some fun!