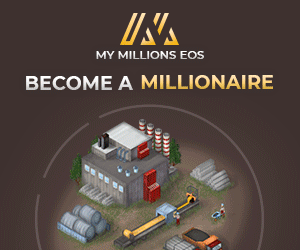 Application for the participation in Bounty to the MyMillions EOS program
The participant form in Bounty to the http://www.mymillions.one/ program.
Good afternoon dear investors! We start the first Bounty program for video bloggers. Make a video review about our project and receive up to 10 EOS on your account. Order of the Bountry participation program:
Fill in the form
We look through it and contact you asap.
You make the video review on our smart contract and the review for our project and place it on youtube
Our expert checks the video and we transfer EOS to your account!Order of selection of the participants:
The most interesting video bloggers will receive the answer within 48 hours from the moment of application. If we did not answer you – don't be upset, cause we will regularly carry out Bounty company and next time everything surely will turn out!
Awarding order:
Upon video placement on youtube, each of the participants receives 1 EOS on the purse. After 10 days from the moment of loading of video we send you 1 more EOS. This transfer is made on the basis of participants selection.
We pay your attention that it is our first Bounty company. Further such actions will be regularly carried out, and prizes will grow in process of growth of our marketing budget. Good luck and let the strongest win!!)