Getting started with EOS Knights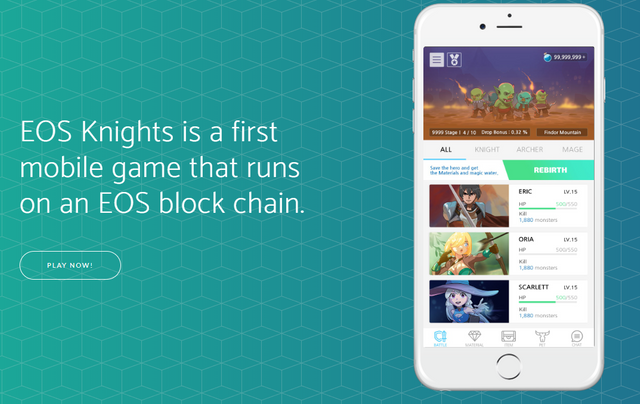 I was introduced to EOS Knights about a month ago by a fellow Steemian, and have been playing it actively ever since. I actually think it's currently the best game in the DApp space when it comes to long-term fun. In this post, I'd like to give you a little intro to the game and how to best get started.
What's EOS Knights?
EOS Knights is a so-called "idle" game. This means you make some actions, and then you can wait until you accumulate some stuff, then do some actions again, etc. The core element is waiting, that's why you call them "idle" :-)
More specifically, you have up to 3 knights that are on a mission to fight as many goblins attacking a village as possible. The "story" is almost negligible, as you don't get to feel much of it. Your knights fight against goblins until they die, and then you can revive ("rebirth") them to start a new fight. Every time you rebirth, you get the loot your knights have collected from the goblins they've killed in the last battle; the more goblins they've killed, the more likely it is to get better loot.
Your knights gain experience and can be leveled up, but more importantly, you can equip them with items (weapon, armor, accessory) to make them stronger - meaning they last longer in battle or can kill more goblins.
The interesting part about items is that you craft them from material, the latter you get as loot from battle. You can also buy and sell material and items on the internal market, which is an integral part of the game, especially in later stages.
There's also pets: you can buy tickets to kind of a lottery to buy random pets. Pets can accompany your knights, but also be sent on Expedition to find loot.
That's about the core game mechanics. Let's get you started.
Prerequisites
EOS account
In order to play EOS Knights, you first need an EOS account. Getting one can be ridiculously clumsy, but apparently EOS Lynx can give you an EOS account for as little as 0.99€. Google for tutorials if that doesn't work; I can't link any good ones because I myself used the Scatter Chrome extension which is now deprecated.
Get some EOS
You need EOS to play EOS Knights. Sounds crazy? Of course not. To play the game, you have to have a bit of EOS staked for CPU and NET. I started off with 3 EOS for CPU and 0.5 for NET, but got quickly frustrated with the high CPU load on the network so I staked up more. Much more. Most of the time it's not needed, though, so right now I'm at 0.051s (used) out of 0.938s (available) CPU time for 58 EOS CPU stake. A lot, I know. NET hasn't been as scarce so far, so you should be fine with 0.1 EOS staked for NET.
In addition to the resources on the EOS network, you will have to - and want to! - spend a little EOS on the actual game.
You can get started with as little as 0.1 EOS to buy your first knight, but as the game is much more fun with 3 knights, I advise you to have at least 1, maybe 2 EOS to spend on the game. The knights double in price for each one you bought, so buying all three will cost you 0.7 EOS (= 0.1 + 0.2 + 0.4 EOS). In addition, you might want to spend some EOS to buy magic water, additional slots in your stash (we'll get to that) or stuff on the marketplace.
To buy EOS, again use one of the many tutorials on the web; I've been using the CEX.io app to buy ETH, transfer it to Binance and flip for EOS (as there's a ETH / EOS market on Binance).
Get the app
The most convenient way to play EOS Knights is via the mobile apps for iOS and Android, but if you have Scatter up and running, you can easily do so via web, as well.
The Android mobile wallet supports Scatter and MEET.ONE as well as a "Built-in Wallet". I had tried with MEET.ONE which didn't work at all, but the issue supposedly has been fixed now. Using the Built-in Wallet is obviously highly discouraged (you don't want all kinds of apps to know your private key), so ideally try to get one of the other options to work.
Getting started
As written above, it makes to start with all three knights right from the beginning; it's likely you buy them anyway. They will start fighting immediately, but won't last long because of their poor stats.
Pets
Next, you should get a pet for each of your knights. They basically improve the stats of your knights. There are "Normal", "Rare", "Unique" and "Legendary" pets, and the rarer they are, the better. It's much less likely to get a unique pet than a normal one, though. I would recommend to buy a couple of "Advanced Gacha" tickets that guarantee you rare pets, so that you can equip your knights with some powerful pets (helps a lot). It also makes sense to have more pets than you need, because you can send them to expeditions.
Expeditions typically last 8 hours, and your pets have a cooldown of 8 hours (12 or 16 hours for rarer pets). Upon the end of an expedition, pets bring home loot and magic water, depending on their rarity and level. You'll get the twist once you start a bunch of expeditions. However, it means you need more pets. In the beginning, you've got 2 expedition slots, so with 2 pets on expedition and 2 pets resting (in addition to your 3 pets for the knights), make sure you have at least 7 different pets; buy normal Gacha tickets to fill that up.
You'll get a lot of duplicates. That's not a bad thing, as you can level them up. The higher the level, the more pets you need per level (it doubles with every level). That way, high-level rare pets can be better than low-level unique ones. Leveling up costs magic water, but you have a positive ROI on that because they'll bring home more magic water per expedition.
Items
Items come in 3 types and 5 rarities:
Weapon (Sword, Axe, Bow and Staff)
Armor (Leather Armor and Plate Armor)
Accessory (Ring and Amulet)
and
Normal
Rare
Unique
Legendary
Ancient
It's important to know that Swords can be worn by all knights, but axes are only for your Knight (ERIC), bows only for your archer (ORIA) and staffs only for you mage (SCARLETT). There is no such limitation for armors and accessories.
In general, due to their specialized nature, axes, bows and staffs have slightly better stats than a comparable sword. This will matter in the long run, but in the beginning it's handy to use swords which you can swap between your knights.
How do you get items? You can buy them on the market or craft them from material.
Material and crafting
I won't post an entire list of all material here (maybe some other post, if requested), but in general there's the same 5 grades here, as well. In the beginning, you'll mostly have normal ones, and that's ok. Make sure you craft the best items you can get for your knights, and don't be scared of duplicates. If you tap "Craft" in your material view, you'll see which items you can craft from the material you currently have. Tapping one of your material will also show you what else you could possibly craft using that very material.
You can trash your items and material to obtain a bit of magic water. The rarer the material (or the material used to craft an item), the more magic water you get.
Floors and Stages
For every 10 goblins you kill, you advance one floor. Higher floors give you better chances of obtaining good loot and more magic water. In addition, you can choose the stage, which also changes the likelihood for loot in general and the type of loot specifically. Click the location pin in the upper left corner to choose the stage.
That's it for starters
I suppose that should be enough to get going with the game. I'll put up a more advanced guide in the next days.
NB: If you want to get a free 1000 Magic Water, go to Settings -> Referral Bonus and enter my account name "guztsnrqhage". Both of us will get 1000 Magic Water upon that. Alternative, leave a comment with your account name so I can take care (you'll also get a 100% upvote).