See you in South Korea!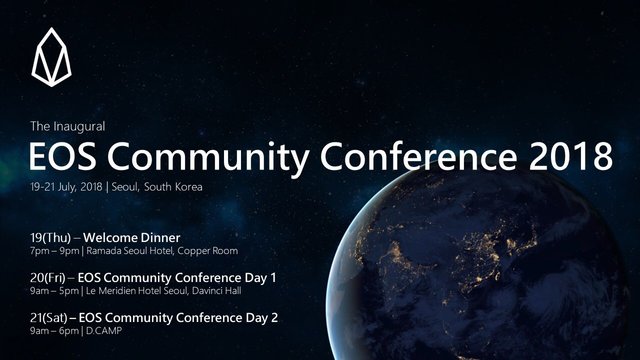 Our friends at Node One are hosting their Inaugural EOS Community Conference later this month from the 19th to the 21st of July in Seoul, South Korea.
Learn more about Node One here:
EOS Dublin CTO Sam Noble will be in attendance. Would you like to go? RSVP by filling out this questionnaire:
https://docs.google.com/forms/d/e/1FAIpQLSedgaZaAqMn7z5JXGqs-aMwop-LnWwYt2ahc9cEEJll_JutZg/viewform
We'd love to see you there! EOS Dublin are committed to building international relationships and doing our part to support the vision of EOSIO as a geographically diverse international community. We believe we can accomplish our goals by working together. Join us in Seoul if you can, the Community Conference features generous accommodations and the Node One team will even help you with the process of getting a visa to attend. It's just a little more than two weeks away, so be sure to make your plans now!

We want to hear from you!
Everything we do is with the token-holders and greater global community in mind. Let's make it great together!
EOS Dublin On Telegram:
https://t.me/eosdb
EOS Dublin Online:
https://www.eosdublin.com/
EOS Dublin On Twitter:
https://twitter.com/eosdublin
EOS Dublin On Steemit:
https://steemit.com/@eosdublin
EOS Dublin On Medium:
https://medium.com/@eosdublin/
EOS Dublin On Meetup:
https://www.meetup.com/EOS-Dublin/
EOS Dublin On Everipedia:
https://everipedia.org/wiki/eos-dublin/