Securing a Decentralized and Prosperous EOS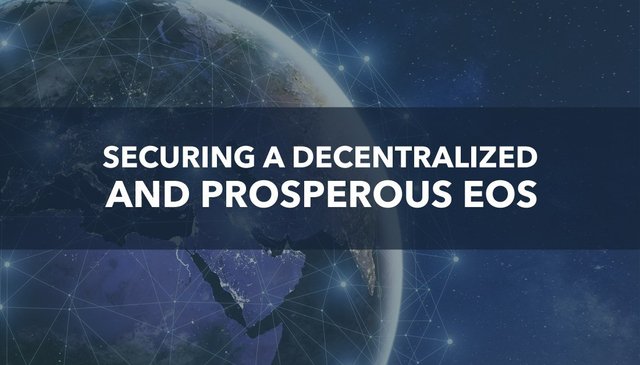 Currently, EOS has a very top-heavy vote distribution.
Many highly qualified BP's are not making the cut-off for Standby.
As a result, we are in danger of losing entire teams of Block Producers.
Voters must take action now to avoid a significant loss of talent and infrastructure which has been deployed to support the network.
---
Chinese - 点击这里阅读中文版本
Korean - 한국어로 읽기
Spanish - Pulsa aquí para la versión en español
---
In EOS, voting is the critical first pillar of governance.
Stakeholders must select the best Block Producer candidates from a sizeable pool of contenders measured by several criteria such as competence, integrity, transparency, geography, benevolence, and other factors.
The current top 70 block producer vote distribution reveals a poor distribution of votes, resulting in a high concentration of voting power at the top.
At the time of writing, there are 21 elected and 31 backup BP's. EBP's average about 51 Million votes per BP, the backup BPs an average of 24 Million votes per BP.
As it stands, there are numerous unfilled backup BP positions.
The average number of candidates per vote is currently 13. Conversely then, the average number of unused votes per voter is 17.
"If you are not voting for at least 15 Block Producers, you are leaving the network vulnerable to attacks."

– Dan Larimer
Where We Are Headed If We Don't Resolve This Soon
BP's are now having to face the harsh reality of shutting their doors permanently as a result of not making the minimum 0.5% vote threshold.
These are qualified BP's that were involved in testing for many months and bringing EOS live; many of them have made considerable investment in bare-metal / hybrid infrastructure, and ultimately, all these teams represent vast amounts of talent and experience that we as a community simply cannot afford to sacrifice.
We believe in EOS and want to see it succeed for the collective benefit. We by no means wish to detract from the success of the BP's that have garnered widespread support. The fact of the matter is simply that having more teams able to maintain and continue to run block producer infrastructure will make EOS a more resilient and decentralized network.
For the network to benefit from a greater breadth of development, bring more top talent, alternative visions, and a wealth of innovation to the ecosystem as a whole, to energize and draw from diverse populations around the world, we need to ensure that competent BP's are occupying a greater number of the 100 backup positions.
What You Can Do About It Now
First and foremost, if you have voted for less than 30 BP's, we as a group strongly recommend adding additional BP's to your vote. This does not even require that you change your existing vote, but it will help add diversity to the network. Many BP's and community members have come out in support of their top 30 picks.
Even better, you can look at the rankings and identify BP's that are below 11 million votes, these are the BP's that require votes the most in order to remain active on the network.
BP's with over 44 million votes will not suffer from this rebalancing and everyone wins with a more diverse network.
Here is a list of top-quality block producer candidates under the minimum vote threshold for backup, that we urge you to consider voting for.
To EOS Community Members who;
Wish to improve the health of the EOS network;
Have not voted for 30 block producers;
Have not voted at all;
& Have already voted.
We ask you to please consider your votes, with a wider distribution in mind!
The long term success of the EOS Blockchain may well depend on it.
Signed,
Aloha EOS, Block Matrix, DutchEOS, EOSAmericas, EOS Blocksmith, EOS Costa Rica, EOS Detroit, EOS Metal, EOS SOCAL, EOS the World, EOS UK, EOSVIBES, EosMeso, BLCKCHND, BlockGenic, EOS ADENSO, EOS Barcelona, EOS Germany, EOS Mediterranean, EOS ONO, EOS Singapore, EOS Titan, EOS WTZ, SaltBlock, EOS Romania, DenEOS, EOS REAL, EOSGreen, EOS Arabia, EOS Van
---
Stay In Touch With Us!
Website
Facebook
Twitter
Telegram
Reddit
Medium
Steemit
Meetup
Github