Spaghetti carbonara without cream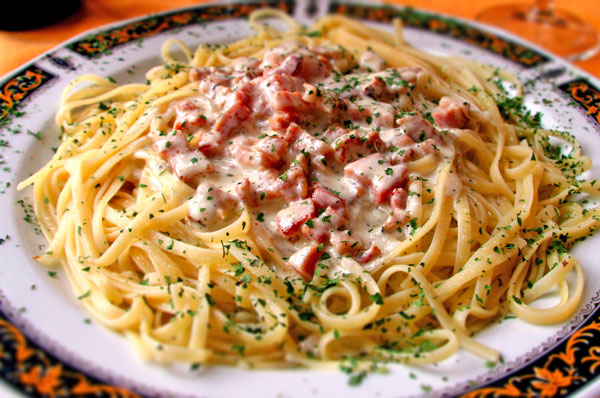 The dish we bring you today is typical of the Lazio region of Italy, and more specifically of the city of Rome. The original carbonara consists of a dish made from eggs, bacon, cheese, black pepper and olive oil. These ingredients are used to prepare a garnish that is usually used to accompany various types of pasta. Although, according to the purists, carbonara does not have cream in it, there are numerous versions in which it is included, thus obtaining a cream with a creamier texture and with more body.
Ingredients for 2 people
Tagliatelle - 250 grams
Egg - 1 unit
Egg yolk - 1 unit
Bacon - 150 grams
Olive oil - 3 large tablespoons
Salt - to taste
Parmesan cheese bought in block for grating - 40 grams
Black pepper - to taste
Preparation of the Recipe.
When the oil is hot, add the bacon and cook until it is slightly browned. In a medium saucepan, heat a little water with a pinch of salt. When the water comes to the boil, add the pasta and cook for 12 to 15 minutes. The cooking time depends on the type of pasta. Once the pasta is ready, we put it to drain and set it aside; in a bowl, beat the egg with a pinch of salt. Add the yolk of the other egg and continue beating. Next, add the grated Parmesan cheese and a pinch of ground black pepper to the bowl. Mix well. Heat the frying pan in which you cooked the bacon again. Add the pasta and the egg and cheese mixture. Cook for a few minutes, until the egg sets, add the reserved bacon to the frying pan and cook for a couple of minutes, remove the frying pan from the heat and serve immediately.