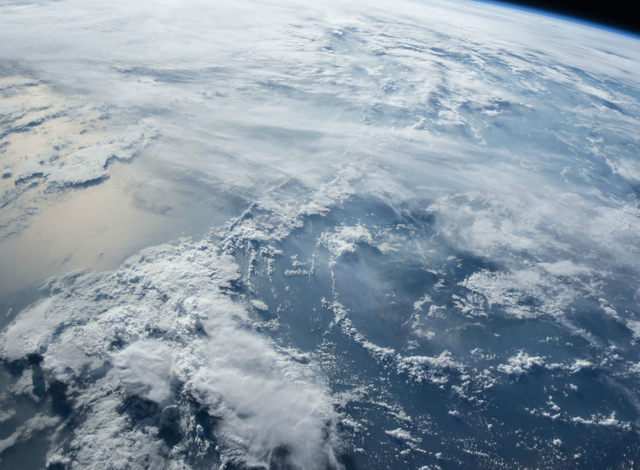 Last week I stared into the flat earth abyss in the shape of the brilliantly made Behind The Curve, a film documenting the lives of protagonists, Mark Sargent and Patricia Steere, two prominent members in the flat earth community.
Behind The Curve provides a kind of through the looking glass view of a world that is as intriguing as it is baffling, and may well end up being one of the most important documentary films for years to come.
Through The Lens
The film highlights more than just an unbelievable world of people who just refuse to see the evidence in front of their eyes, it also shows something for which I have been lamenting, and indeed writing about for some time now, an absolute inability to think critically.
The problem arises because flat earthers think they're being sceptical by dismissing things they thought they knew about a globe earth.
However this isn't scepticism because they have already made up their minds that the world is flat, and nothing, and I mean nothing will convince them otherwise.
As the film went on, it became clear that you can show the average flat earther a thousand individual pieces of evidence, from a sunrise happening below them from a high vantage point, to the moon eclipsing the sun in broad daylight, and it won't make one single bit of difference to their beliefs. Indeed Mark Sargent reported the sun as self eclipsing after witnessing a solar eclipse in 2017.
This is evidence that the flat earth movement, is in actuality the fastest growing and scariest religion that has ever been unleashed on the citizens of planet earth.
Faith Trumps Evidence
If you believe the earth is 10,000 years old, and you are subsequently shown dinosaur remains that are hundreds of millions of years old, you will either let go of your previous beliefs, or create a fantastical story in order to fit the new evidence into your narrative. For instance you might say something along the lines of God put those bones there to test my faith.
I used to think that was a pretty amusing explanation for dinosaur bones, however in the face of the flat earthers' explanation, it sounds like the most rational thing ever said. They insist that dinosaurs are simply made up, in other words every archaeological dig, from Victorian times to present day has been faked.
All the dinosaur bones in Natural History museums around the world have been put there by a secret cabal to fool everyone about the true nature of the earth.
What was much more disturbing is the way that they could dismiss evidence that they themselves said wouldn't exist.
Halfway through the film we were introduced to Bob Knodel who explained to us that if the world really is a globe, completing one rotation every 24 hours, then a gyroscope, which always points up when spinning, should drift by around 15 degrees every hour.
This, Knodel said, would be evidence of a spinning globe, however if the gyroscope does not deviate from its upright spinning position, then this would prove the earth is flat.
Okay great, a flat earther willing to test his assertions and actually employ scientific thinking to his hypothesis.
We were shown a twenty thousand dollar laser gyroscope, used in the aviation industry for its unerring accuracy.
Knodel did the experiment and to no one's surprise but his own, the gyroscope drifted by fifteen degrees per hour.
Great! End of flat earth right?
Wrong.
Instead of accepting the evidence they were sure they wouldn't find, Knodel and his team went about trying to prove that the gyroscope was registering the movement of the sky.
Okay I thought, at least they're trying to be rigorous...
So they put the equipment into various chambers trying to shield it from the energies of the sky (yes really), and took the readings again.
Unless you are a flat earther yourself, you will not be surprised to read that no matter what they did to that gyroscope, it always registered the spinning of the earth at exactly 15 degrees per hour.
So now surely this would end the theory for at least the people who had done the experiment?
Nope.
They simply dismissed it with the words;
That's not good.
Bob Knodel was even shown speaking to another flat earther at a barbecue, telling him about the experiment and saying that they were going to keep the findings quiet because they didn't fit in with the theory.
He justified this by saying that they had proved other "elements" of the flat earth model so weren't going to throw out the whole theory because of one tiny bit of rock solid, irrefutable evidence. He declined to say what those elements were, and simply brushed away the fact that he had found evidence of a spinning globe earth.
The End Of Rationalism
What made Behind The Curve such a great film, is it wasn't just a 96 minute mock-fest, the viewer wasn't simply invited to laugh at these poor deluded people. Rather the film made more than a valiant attempt to explain why people believe in this absurd theory.
By looking at the reasons behind flat earth beliefs they shone a light on a growing amount of people who are brought up to not trust anything they are told by authority. Whether that authority is the government, an education board, or a bunch of scientists, they will not take anything they say as true, and disturbingly won't accept any proof to the contrary.
As mentioned, this is not scepticism, because when asked; is there a single piece of evidence that would change your worldview? the answer is a resounding no.
Indeed we saw another flat earther, Jeran Campanella founder of the Globe Busters youtube channel, performing an experiment with a torch, some bits of cardboard with holes, and a camera. Beforehand he predicted what would happen in a round earth model, and what should happen on a flat earth.
He did the experiment and, as you've already guessed, got the round earth results. He then performed the experiment again in many different ways, getting the same results every time, yet simply dismissed it as something going wrong and inconclusive.
Flat Earth Thinking
Behind The Curve showed that this type of non critical thinking is not just reserved for flat earthers. We are beginning to see this everywhere, to the point whereby we have the President of the United States believing that climate change is a hoax, and parents denying their children life saving medicines because of conspiratorial beliefs.
The film showed that believing that the earth is flat, or that vaccines give you autism or that global warming is a Rothschild-inspired conspiracy in themselves are not necessarily the problem.
It is absolutely refusing to challenge your own views as rigorously as you challenge the evidence in front of your eyes.
More and more people are prepared to ignore mountains of evidence and are set in their ways so much, that they call that very same evidence, dogma. In other words, they are impossible to debate with.
So why should the rest of us care? So what if someone wants to believe the Queen of England is a lizard and that NASA are an ancient secret society tasked with fooling the world?
We should care because the more this kind of thinking pervades our society, the more chance they have of changing reality and halting all scientific progress.
The two saddest things I saw in Behind The Curve, was a twelve year old boy at the Flat Earth International Conference (FEIC), he was there with his parents who had indoctrinated him with flat earth ideas and had taught him to accept those ideas without question.
The next thing was when I watched Mark Sargent, who was talking at the conference, read out a letter from a parent saying that when the teacher in her child's school told the class that the earth is a spinning globe, around one third of the class shouted out; "no it isn't!"
The people at the conference clapped as I sat there with my head in my hands.
If enough people believe a ridiculous claim, then that claim becomes the truth, a completely unworkable truth that serves no practical purpose but to confuse, but still a truth by proxy. No progress can be made using this truth, you can't draw accurate maps, you can't create medicines that work, you can't create policies to help the environment.
In that sense we should be afraid, very afraid.
Redemption
As full of despair I was by seeing a 12 year old boy asking questions about how high the dome is, I was somewhat encouraged by a small gathering of NASA scientists and science graduates, talking about how they could engage people more.
They accepted that flat earth thinking is the fault of people who know better, looking down on those that believe these and other strange ideas. Behind The Curve showed that the more you push people away with ridicule, the more isolated they become, the more surrounded by people who only think the same way as them.
In that sense the path to redemption is clear, engage, welcome, educate, do not shun, do not spurn, do not ridicule.
For those already entrenched in the flat earth movement, who are surrounded daily by nothing other than that claim, perhaps redemption is not an option. However for those on the edges, the ones who still have a grip on the real world, and are just wondering, it is they who need to be nurtured, and kept away from ridicule.
For they are the future, and without them, the war is lost.
IN THE SPIRIT OF THIS ARTICLE, I AM HAPPY TO DEBATE WITH ANYONE ABOUT FLAT EARTH OR ANY OTHER CONSPIRACY THEORIES. I PROMISE TO LISTEN AND NOT RIDICULE, TO PRESENT EVIDENCE IN A WAY THAT IS EASY TO DIGEST AND UNDERSTAND.


WHAT ARE YOUR EXPERIENCES WITH FLAT EARTH THINKING? HAVE YOU ENCOUNTERED ANYONE WHO BELIEVES THIS, OR OTHER OUT THERE THEORIES? AS EVER, LET ME KNOW BELOW!
Title image: NASA on Unsplash