By now, it is no secret that EmpowermeEos is driven by a vision of helping marginalised youths in Africa get in touch with the changing times and be at the forefront of the cryptocurrency and blockchain revolution of the 21st century. We do this by providing smartphones, internet connection, education and mentorship for young people who do not have the means to access the internet and by extension, blockchain technology. This is all done with the help of our numerous sponsors from the Eos blockchain community.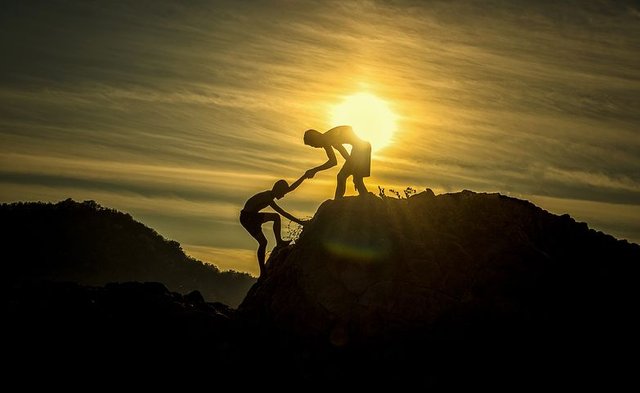 Image from Pixabay
We have a goal of reaching 1,000 youths by 2020 and day by day, we inch closer and closer to our vision and we have no intention of relaxing or giving up anytime soon. It is in this light that we gladly announce the admission of yet another student, Blessing Umana, into our program. Thanks to donations from Bonz Manifest, of Prospectors.io, we were able to get him a smartphone and he has started his EOS journey, is gaining knowledge and is well on on his way to attaining financial freedom in about 3-6 months from now.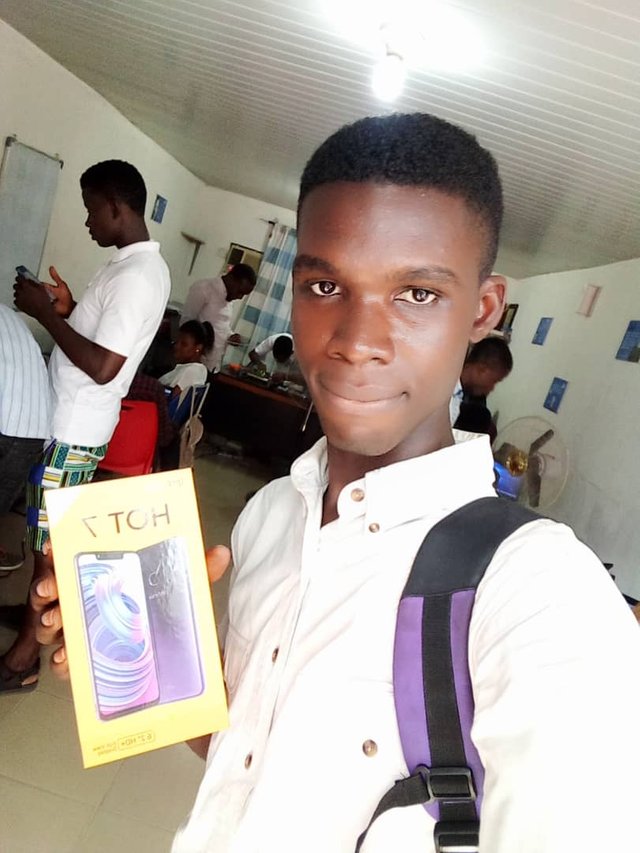 Blessing with his newly purchased smartphone
---
---
Moments after his admission into the program and purchase of his smartphone, he is interviewed the EmpowermeEos Community Manager concerning his thoughts and views on this recent occurrence and this was how it went.
JEREMY:
Hello, I'm Jeremy, the community manager for EmpowermeEos. I was hoping to get a chance to interview you on what you feel about joining the program.
BLESSING:
Oh, I'm super excited
JEREMY:
So, can you tell us your name and anything you think we need to know about you?
BLESSING:
My name is Umana Blessing. I school in Uniuyo.
JEREMY:
So, how did you get to know about EmpowermeEOS?
BLESSING:
I heard about empowermeEOS from davidzoe.
JEREMY:
So what motivated you to become a part of the EmpowermeEos program?
BLESSING:
I found out that EmpowermeEos actually empowers people and enables them participate in the eos blockchain. During the meet-up organised by David Zoe, I saw the potentials in EOS
JEREMY:
So far, so good, what do you know about EOS?
BLESSING:
I know Eos is fast in transfer with a speed of about 3 seconds and there are different platforms on EOS like Karma, Prospectors, Sensechat etc built on the EOS blockchain.
JEREMY:
So. What was life like before you joined EmpowermeEos?
BLESSING:
OK, I haven't really gotten know or do much with EmpowermeEos but before now, I really didn't know how I was going get involved or understand the blockchain environment because I didn't have with a smartphone and really had no way of getting a smartphone. When I was in the meet-up with him (David Zoe), I was learning all about blockchain but couldn't put the knowledge to practice.
JEREMY:
What do you hope to bring to the Eos community. What can we expect from you after the course of your study?
BLESSING:
I hope to improve and look out for any opportunity to apply my skills. Also, I would love to help in empowering others when the opportunity arises.
JEREMY:
What do you have to say to the facilitators, mentors and sponsors of the EmpowermeEos program?
BLESSING:
I would like to say a big thank you....
I'm amazed and also inspired that some set of people still believe in and have hope for the future of others.
JEREMY:
Okay, thanks for your time, man. I hope you have an awesome time on the platform.
BLESSING:
Thank you!
---
---
JOIN US
We are glad to have yet another student in our community and you can help us reach even more people.
You can partner with this initiative by sponsoring a students.

You can make donations to the following EOS account: empowermeeos.

$160 can sponsor a smartphone and internet subscription (for three months) for an EmpowermeEOS Student.

Remember that if you sponsor a student you are not sponsoring one person as your seed would be replicated.

Our students are mandated to buy a smartphone and subscription for someone else at the end of their study.

There would be a chain reaction because as your beneficiary graduates from the program, he is mandated to sponsor someone else.

Our students are acquainted with their sponsors and the student's educational progress can be tracked via the EOS blockchain.

Our target is to empower 1000 teenagers/youths with this initiative before the end of 2020.

We also hope to accumulate 10 million Karma tokens so that we can effectively give incentives to our students and EmpowermeEOS volunteers/mentors in the form of upvotes.
---
---
You can learn more about EmpowermeEOS via the following mediums:
Our Website: https://empowermeeos.org
Twitter: https://twitter.com/empowermeeos
Telegram: t.me/empowermeeos
Instagram: https://instagram.com/empowermeeos
Facebook: https://facebook.com/empowermeeos
Email: [email protected]
Steemit: https://steemit.com/empowermeeos
---
---
Written by Owolabi Jeremy,
EmpowermeEOS Student.