Ellcrys is a blockchain being developed to allow organizations to start, join, manage and co-own software products. Ellcrys has been in development since 2018 and has made some impressive steps towards deploying products that users can interact with.
The team at Ellcrys has released several tools that will make sure we roll out a platform for shared ownership and collaboration without censorship within the next 1 year. Our goal is to build a fully decentralized blockchain ecosystem where developers can build and deploy software products on a decentralized git hosting platform.
Protocol:
ELLCRYS will make use of a hybrid (proof-of-work & proof-of-stake) consensus protocol. The proof of work miners has the responsibility of producing blocks on the network, while the proof-of-stake miners validate the blocks produced. A block is not valid until it has been voted by the majority of PoS miners. Invalid blocks naturally don't receive reward Block rewards.
The hybrid consensus protocol further increases the security of our network by requiring 50% network hash rate from Proof-of-work miners and 50% voting tickets from proof-of-stake miners to perform a majority attack on the network.
What we have built:
In October 2018, the roadmap for the development of Ellcrys was released, which detailed the four development phases for Ellcrys' blockchain. The different phases will issue several test networks and tools to enable the community to test the efficiency of what we are building before the mainnet is ready.
Four Stages of Release
1. Inception
This is the first version of Ellcrys' in the development phase of Ellcrys' inception. Ellcrys offers cryptocurrency functionalities and mining capabilities. Inception also gave birth to Ellscan; a web-based mobile explorer for the alphabet of Ellcrys blockchain. With this first release, users will be able to mine new blocks and send/receive the ELL coin on the network. See the repository here.
2. Wonkru
This next release will feature a Hybrid PoW /PoS Consensus & Mining Protocol. We are making efforts to reducing the central power, miners on most POW chains have, by giving the duties of block production to POW miners and duties of block confirmation to POS miners. This release paves the way for the implementation of collaborative tools, self-executing functions (smart contracts) and other features. Read more here.
3. BitRest
BitRest release comes right after several comprehensive testing has been done on INCEPTION, all bugs noticed in INCEPTION, will be fixed and released with BitRest. BitRest will also bring the ability to create, host, and serve decentralised git repositories with Onchcain governance. Organisations will be able to decentralise their code repositories and distribute ownership of their project to their community members.
4. BitKick
BitKick will be the final stage of development that will include the ability to load self-executing functions (aka smart contracts). BitKick will allow developers to create self-executing functions without the need to learn new languages, thereby making adoption easier for developers across the world. Once BitKick gets enough testing from the community and dev team, then the MainNet will be launched by Q1 2020.
---
Safehold:
After the release of inception, we started thinking about a way to make an average user interact with INCEPTION, then came "safehold". The team behind Ellcrys released Safehold, which is a desktop wallet/miner that allows users to send transactions, receive transactions and mine blocks on the Ellcrys network. You can read more about safehold here.
Ellcrys's Bounty and Airdrop:
It is important that you understand that there is a lot that needs to be done by our team before the launch of Ellcrys' mainnet and we are right on it. In order to continue the healthy growth of the Ellcrys community, while creating greater value and influence, we kick-started the launch of the Ellcrys Bounty Campaign.
Through this campaign, community members can help build a more active, friendly, and valuable community by fulfilling the several tasks we published on our ANN and get community cumulative stakes as a reward. The more contribution one makes, the more rewards one will receive.
Please register here in order to get stakes and share from the total tokens made available for the Bounty. If you have any questions, please contact us on telegram: https://t.me/EllcrysHQ.
How to join the Bounty:
Step 1: You must/should have an account with the following platforms:
Safehold or Suite
Facebook
Twitter
Telegram
Steemit (not compulsory)
Reddit
Discord
LinkedIn
Step 2: There are several bounty campaigns to participate in, make sure you follow the general rules and specific rules stated for each individual bounty as seen on the ANN.
Step 3: Endeavour to submit your weekly report on the form, for updates on your activities. You can contact any of the admins via t.me/ellcrys if you have questions.
Step4:
Constantly check the spreadsheet to confirm your update and bounty progress. If you find any inappropriate info or details about your bounty participation, please contact any of the admins via t.me/ellcrys if you have questions.
Before participating in the bounty, you need to also have an account either on Safehold or Suite Visit here to know more about the bounty.
Ellcrys IEO: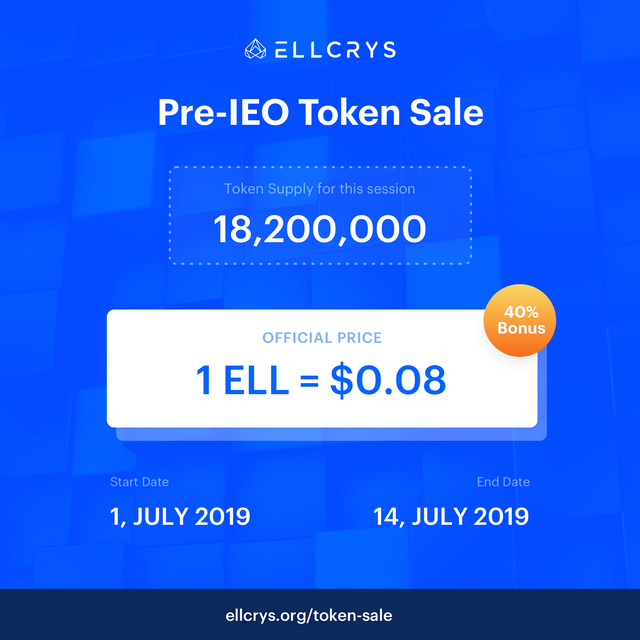 To get Ellcrys to the next stage of development, we have decided to begin the next round of funding for Ellcrys's development. This next round will be done through an IEO (Initial Exchange Offering). The IEO will start on the 1st of July 2019.
You can also keep up with what is happening on Ellcrys via
Telegram: https://t.me/EllcrysHQ
Discord: https://discord.gg/PdeJcUD
Twitter: https://twitter.com/EllcrysHQ
Facebook: https://fb.me/EllcrysHQ