Taking a step back in order to move forward - Moving mountains
Good evening/morning/night my dear Steemian friends!
It's been quite the week(s) again. It's funny because sometimes my mind can be so occupied and stress levels rise because so much is going on and I don't get much done because of it. Then there are moments where the average normal human being would get down on their knees and beg the universe to make things slow down for a bit and that's when I thrive! Somehow being busy to the edge of stress and beyond brings out the best in me.
Realizing that sometimes I need to take a step back and just 'be'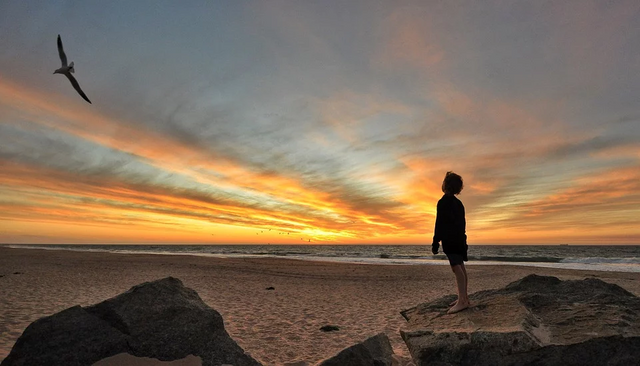 source
When my eldest daughter was about 7 years old, she was staying at her grandparents' house for the night. I was supposed to get her for a carnival party in the afternoon when her grandmother called me and told me they were at the hospital because my daughter had caught her finger in the door. When I got to the hospital and walked into the room, she was surprisingly calm but I could see that she was in pain and had been crying. My poor little girl. The doctor walked past me and said he needed to stitch her finger but I couldn't see what was going on because she had her finger covered. I tried to comfort her as best as I could because I knew she was terrified of needles. But then the doctor came back in and uncovered the finger. The flesh on the tip of her finger had slipped off with nail and all and her bone was sticking out! After seeing that, all I could do was mumble: 'Be right back' signal grandmother to stay with her and I had to walk the long hallway to the nearest toilet. While walking, I felt all the blood leaving my head and this strange feeling when you're about to faint. I banged into the wall a few times before I reached the toilet! After splashing some water in my face and drinking a bit of water, I felt better and had no issues staying with my girl and keeping my arms around her until her fingertip was stitched back on.
But that experience was so odd to me, and I even felt a bit guilty for leaving her in that moment. But I know that if I wouldn't have done so, I would have been on the floor. Strange. Very strange.
Fast forward quite a few years. The same daughter and I were dragging an old reclining chair from the house to the shed. When I wanted to get a better grip and changed the position of one hand, it suddenly flipped open and my finger got caught in one of the hinges! I pulled my finger out in shock, but in doing so I ripped the skin on the top knuckle. Now, if I wouldn't have pulled the finger out when I did, the hinge would have cut my finger clean off. So I had done the best I could to prevent worse damage. I was holding my finger with my other hand, while blood was gushing down my wrist and arm. At this point, it was my daughter who was ready to faint.
I was in pain, of course, but I knew she was reliving the trauma from having her fingertip almost cut off so I covered the bleeding finger with part of my t-shirt. But not before I had seen my bone shining through...
Now, after the experience with her in the hospital, you'd expect me to faint right there and then. Nothing like that happened. Somehow, instinct took over from my mind. I told her to run ahead to the house and ask my friend, who was there at the time, to get the first aid kit out. I followed. When I walked into the kitchen, the sight of all that blood triggered some panic in him and he suggested I needed to go to the hospital for stitches. I heard it but instead told him to help me by cutting small pieces of plaster so I could tape the wound shut. Then, as calm as I'd ever been, I proceeded to do just that, put some extra plasters around that, and bandage the finger. The bleeding had not stopped completely, but it was under control.
I wasn't in my mind during all of that. It was my body that instinctively knew exactly what needed to be done. No panic on my side. After I had taken care of that, I went into the living room and sat down. It was then when I felt that rushing to my head again, and knew (again instinctively) that I needed to lie down. So I did. On the floor. The cold tiles felt amazing! My kids were surprisingly quiet but they must have felt that this was needed. While I was flat on the floor with a pillow under my head, they all came to give me a kiss. Even my youngest, who was 2 at the time, and usually bouncing around like Tigger, was just stroking my forehead and asked if I was OK. I felt my blood sugar drop. So I asked my friend to make me a cup of tea with lots of sugar. I drank it while lying on the floor, and within minutes I felt well enough to get back up and eat something.
This was one heck of an experience! From the moment I saw the bone until I was drinking the tea almost felt like an out-of-body experience. Like I was looking at myself from the outside while doing what needed to be done. In retrospect, I look at it as a good experience. Yes, there was pain, but my consciousness was stronger than that.
The reason why I'm sharing these two stories is that these past few weeks have been very similar to that.
Granted, without the pain and blood. There was so much going on, I had more things to do than I had time to do them, so the 'me' stepped out for a moment to let the other me take the wheel. Somehow, I got more done in less time and it all worked out better than I thought it would before I started.
I'd say that the fact that I've started to do 20 minutes of yoga and 10 minutes of meditation in the morning might have something to do with it. I am just more focussed, with a clear mind and less stressed during a challenging day. Maybe it's also that I have a clear picture of where I'm going. Physically and mentally. We're moving house next month, and that alone would usually have my stress levels rise but this time it doesn't. I'm looking forward to getting rid of the old and start something new. I guess it's actually just pieces falling into place.
Just be - here and now...
Sometimes that's all it takes to move a mountain.