DLine V2: Retention and Acceleration Initiative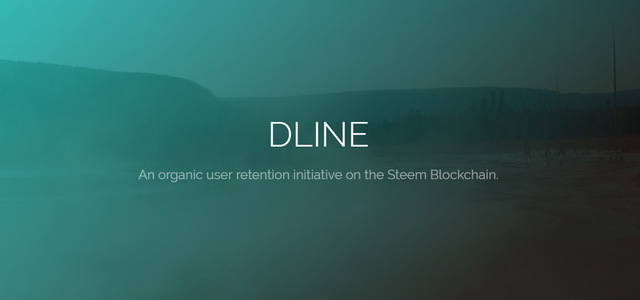 DLine was launched last year as a small project centred around encouraging existing Steem users who are discouraged or on the verge of giving up. It has since evolved into a full-fledged initiative to address the question of retention.
https://dline.xyz/
Organic User Retention
DLine seeks to retain, recognise and encourage potential outstanding content creators by sending them a life line.
Retention via Encouragement
DLine will connect with demoralised and forgotten content creators and will pass their work down a line of manual curators. This is done in accordance with our original scope and process, as outlined in our first post. We have gone past manual curation to shift towards pure encouragement and retention; giving them the type of reward a simple upvote can't buy.
Accelerating Innovation
DLine will seek out positive segments of innovation and accelerate them through mentorship and connection. We work with the existing businesses and innovative products developed on the Steem blockchain by Steem users and provide them with guidance, assistance and mentorship.
Connected Communities
DLine will strive to openly collaborate with other user empowerment, onboarding, retention and curation communities and initiatives. We are not in competition with anyone and will focus on strengthening the bonds of collaboration for the greater good for the ecosystem.
Streams Explained
We have developed and tested the following retention and acceleration process.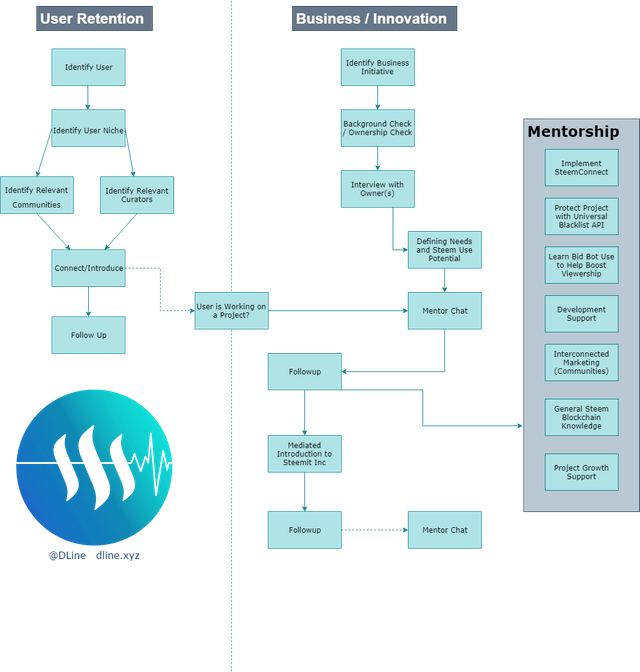 User Retention Stream
Identify user in need
↓
Identify niche in which the user engages in
↓
Identify relevant communities that could fit the user | Identify relevant curators who may be interested in the user
↓
Introduce and connect them
↓
Follow up with the user
Is the user working on a project that they may need assistance with? Proceed with Business/Innovation Stream
Business/Innovation Stream
Identify business or product initiative
↓
Verify ownership and their current/past activities1
↓
Interview/friendly chat with owner(s)
↓
Define business/product needs, existing gaps, and potential utility in conjunction with the Steem blockchain
↓
Mentor chat
↓
Follow up to see how the venture is doing
↓
Introduce to Steemit Inc if necessary
↓
Follow up again
↓
Mentor follow up (if needed)
1 This includes checking if the owner(s) have a history of scamming, deceit, exit scams, or any other fraudulent activities that have or may negatively impact Steem in the future.
General Details
Where do I sign up?
You don't. We will find you.
Intake Rate
To ensure we can follow up, our goal is to help an average of 1-2 users a week and 1-2 businesses/product ventures a month.
Funding
We do not fund businesses/product development/projects at this point in time.
Remuneration
We do not ask for or accept any remuneration for helping others. Funds earned by DLine through posting will be used to create contests and other positive, inclusive, initiatives for the community to partake in.
Statement of Intent
DLine is a non-divisive project: it treats all users, irrespective of their time in the Steem ecosystem and the amount of STEEM they have in their wallets, on an equal level as human beings. It cohabits with and supports other segments of the user engagement niche where inclusivity is key. It's goal is to foster encouragement and improve retention in the Steem ecosystem. DLine is not about providing rewards; it is an organic retention initiative.
Clarification
This project in all its streams aims to empower the existing Steem userbase, including long-term users, new users, businesses, off-chain apps, etc. It is not a straight-forward onboarding project but goes off existing links. The ultimate goal is to retain users and support innovation growth. Delegation and curation are out of scope.
Thank You
We look forward to working with all of you. ~ https://discord.gg/2wK53Bu