MY VOTE IS WORTH 7 CENTS! | dreamvlog #39 [DTubeDaily]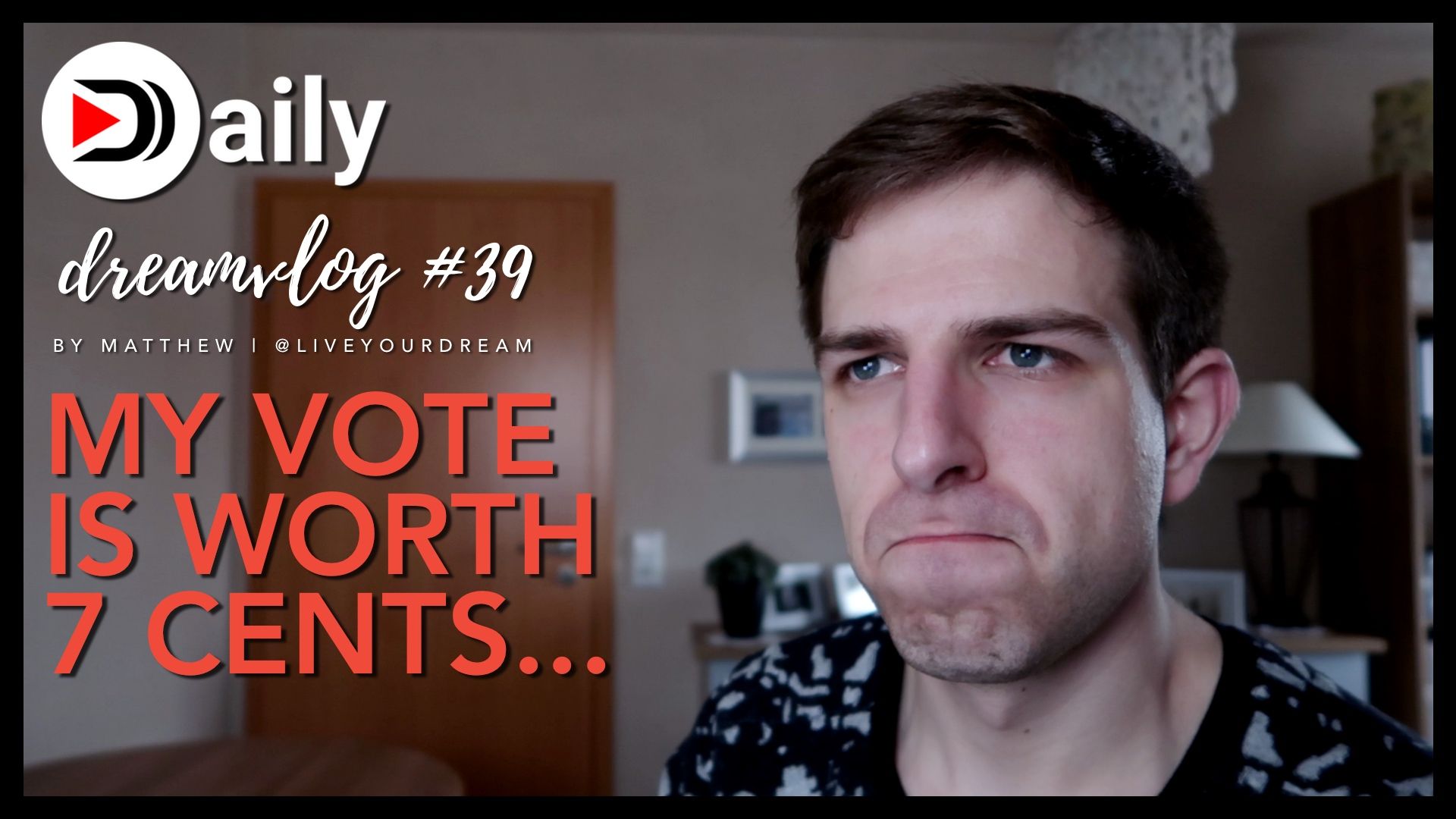 ---
Yesterday, I had another small throwback again. After I had read a great article on steemit I wanted to support this person with my full 100% upvote and I was pretty surprised as I haven't seen a big difference on this article's overall votes after mine…
We're going backwards
I headed over to steemnow and it said "Your 100% vote is currently worth $0.07". WHAT?! That's horrible! I mean when I started on this platform my vote was worth $0.01. Of course, all of us started like this.
Then I invested some money and got something around 48 Steem Power which was worth $0.02. Not much of an increase I know…
After a few weeks I took all of my Bitcoins and swapped them into Steem and powered it up which gave me something around 300 Steem Power. At this time my 100% vote was already worth something around $0.14.
And today? Well, my Steem Power has doubled to over 600 and the value of my vote was cut into half. Pretty frustrating...
APPICS ICO with no effect on Steem value
Some of you hoped for an increase of Steem value with the start of the APPICS ICO. I already told @adetorrent a few days ago my doubts and that I didn't believe in a significant increase with the ICO only. And it seemed like I was right. Steem is all red again.
If this should really have an influence on the value of Steem I guess we will have to wait until the actual launch of SMTs and the release of the final APPICS app.
These were just my thoughts and a quick update for today.
If you enjoy my content and you don't want to miss the next video make sure to follow. Don't mind to upvote and resteem as well and what's most important…
…live your dream!
---
Music & Sound Effects by Epidemic Sound
http://www.epidemicsound.com
---
▶️ DTube
▶️ IPFS