RED SEA DVING, Turtle beach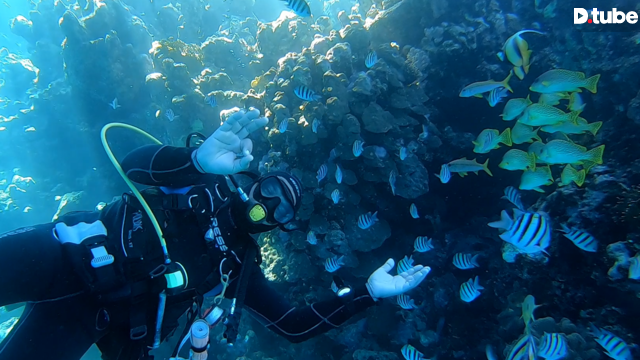 ---
Spoilt with colour and variety in Turtle Beach during my first open water dive after getting my PADI.
I (Tall) got my PADI in Sharm el Sheikd which was an amazing experience! The first ever couple of breaths underneath the water is such a magical feeling - floating underneath the water, weightless, in such clear waters as The Red Sea...wow! Although I loved learning and gaining diving skills, diving more freely and playing around was my favorite!
This dive is right at the coast from Sharm el Sheikh. We dived with just the three of us, perfect for a beginner like me! Pirates Bay in Sharm el Sheikh has great instructors and the possibility to do boat dives, drift dives, shore dives and much more! I wasn't picky and tagged along with anything and everything that was available.
As you will see in the video, right from the get go this dive offered some beautiful sights. The fish right underneath the jetty were already worth the dive - so many and which such a great diversity!
During the dive, I was really impressed by all the beautiful colours of the corals but, without a filter on the GoPro, it doesn't really pop in this video. It does give you a good idea of the beauty though.
My diving buddy and I tried to pick a favourite coral
Okay, so it's really hard to pick a favourite! In real life, all the yellow soft coral was super vibrant but it doesn't really show on the GoPro footage. The big blue clams were amazing to swim above and watch them close up when you got too close! I also loved the 'towers' of coral with the halo of golden fish around.
Any divers here have an all-time favourite coral?
Same question for the fish ofcourse!
The 'Nemos' (Anenome fish) are an easy pick! They seem super curious but all they're really do is defending their territory - they are really brave little fish going up against us divers. Besides the 'nemos', the Blue Spotted Stingray is so cool to see gliding effortlessly through the water. The bright blue dots on their brown skin (scales?!) really stand out.
What's your favorite fish to see while diving?
The instructors did say that the colours of the corals are fading rapidly due to the raising temperature of the water and, ofcourse, the human influence on that. I was really happy to see that they were super strict on not touching or impacting anything in the water. They all carried bags on the dives to clean up any rubbish they saw floating around.
While small actions, if everyone would clean up the rubbish they see every single dive, snorkle or swim, together we could make a big difference to the health of our reefs.
---