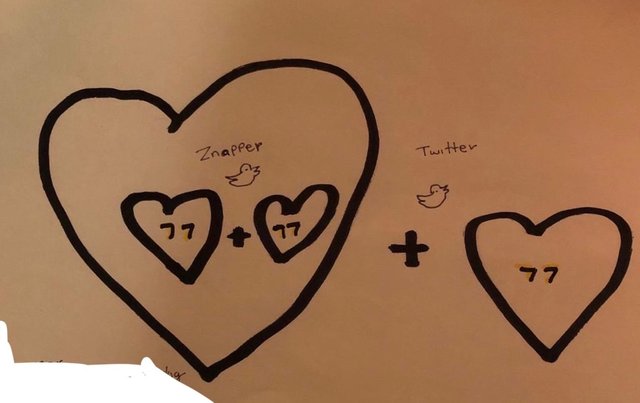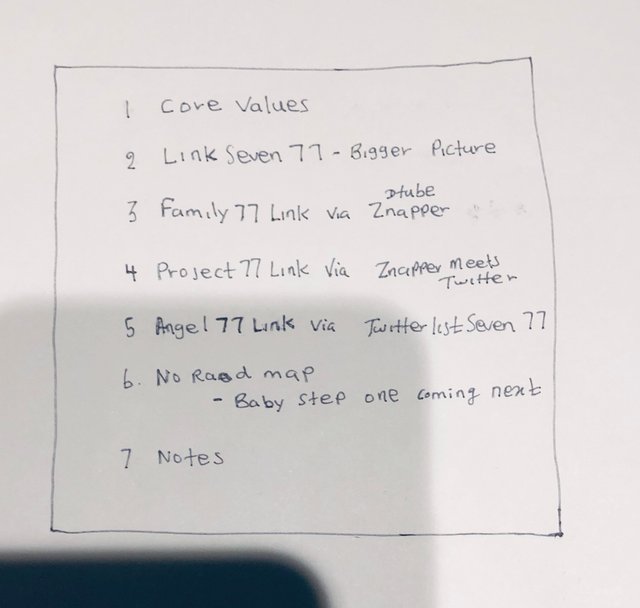 1 Core Values
We focused on thinking long term and put passionate people at the centre of our universe and empower their personal values, their communities, their ideas and projects, while encouraging collaboration, contribution, networking and innovation
We treat everyone with fairness, protect their values and privacy while, giving opportunity to everyone to grow.
It'll be always day one at LinkSeven77 and we'll remain as a start-up forever
We add love and kindness with everything we do
2 LinkSeven77 (7% LinkedIn + 7% Kickstarter + 7% Y Combinator + Innovations + Experiments )
The Bigger picture and Elevator pitch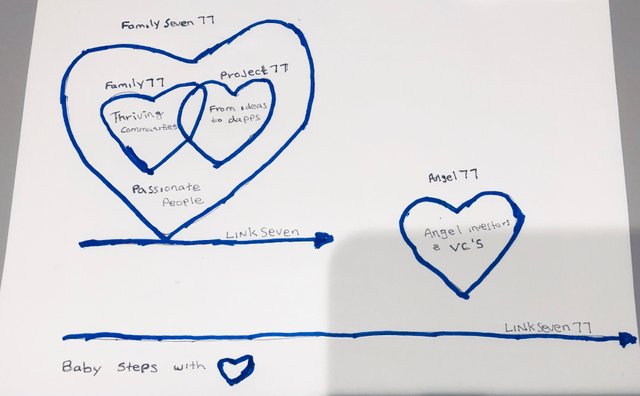 3 LinkFamily77 via DtubeZnapper
Znapp77 - Coming soon
Znapx - Coming soon
Znap+Zap and ZnapRule24/3
* Znap is a maximum 3 minutes long dtube vlog that contains question/s or seeking feedback from entire steem communities. It designed to get some feedback for your ideas and projects and it can be also used to ask genuine and authentic question/s regarding anything and everything
* #Zap is the comment that responding to Znap content. #Zap comment is only recommended to used for answering questions or to provide feedback/s
* Znap is restricted to maximum one per one individual in any given 24 hours and you must receive at least 3 #zaps from unique individuals on your previous Znap in order to create a new Znap
4 LinkProject77 via ZnapperMeetsTwitter
We recommend all the members of FamilySeven77 to have Twitter account, So that we can collectively grab the attention of Angel investors and Venture Capitalist to fund your ideas, project and dApps and empower your own communities directly.
Whenever possible, please kindly share any steem dApps content that you enjoyed consuming on Twitter to put our blockchain in the centre of the crypto universe and be patient until we build the next generations Twitter alike killer dApp here on STEEM. Please kindly use #STEEM hashtag when sharing on Twitter.
Get guaranteed upvote for your Znap from @nathanmars and many others in the future by sharing your own Znap contents on Twitter by mentioning @ NathanMars7 and one more from the TwitterListSeven77. You must be a member of FamilySeven77 to enjoy this benefit. Please kindly use #STEEM hashtag when sharing on Twitter.
Get guaranteed upvote for your #Zap - Coming soon
Get guaranteed Resteem - Coming soon
5 LinkAngel77 via TwitterListSeven77
https://twitter.com/realnedscott
https://twitter.com/XformationDan
https://twitter.com/PartikoTeam
https://twitter.com/musing_io
https://twitter.com/steemhunt
https://twitter.com/Jon_G_Olson
https://twitter.com/DtubeTweets
6 No Roadmap for LinkSeven77 and it'll be all baby steps
Baby Steps one, Two and Three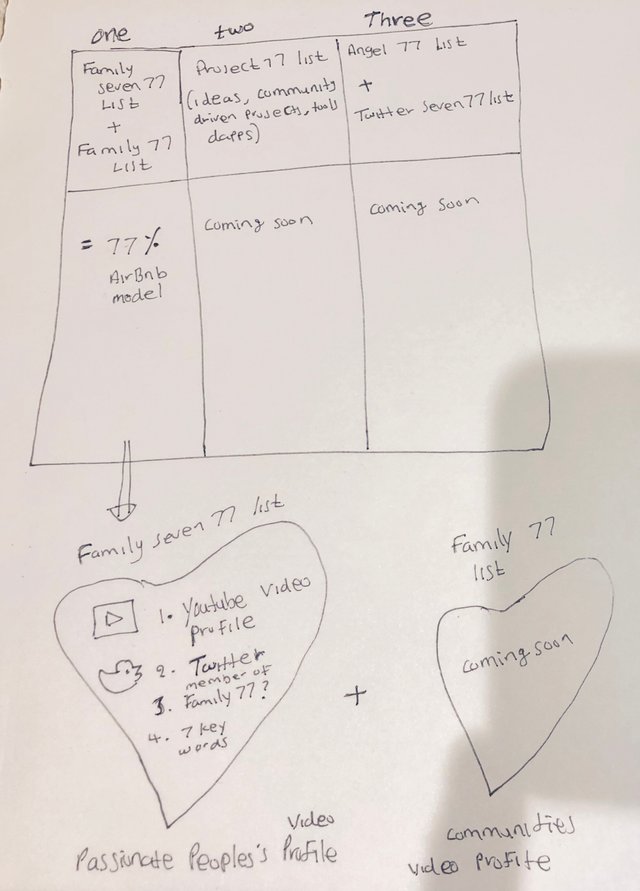 LinkSeven77 Baby Step one - Coming next....
7 Notes
You can become and remain as a member of FamilySeven77 by having 100 SP (Skin in our Blockchain) and leaving minimum 3 #Zap comments daily on other FamilySeven77 member's Znap contents (Daily contribution)
LinkSeven77 will operate as a platform and provide valuable ongoing services to its members that are similar what LinkedIN, Kickstarter, Y Combinator offer.
Members of LinkSeven77 can leave at any time and no questions will be asked.
LinkSeven77 is currently forming a team that contains 17 co-founders and 7 advisors and this hiring will be on going process and team members can maintain their privacy at all time. We'll prioritise protecting our team members.
All my (@nathanmars) previous initiatives are completely withdrawn immediately from today and Please stop using DtubeSnap, DtubeSnapPlus, DtubeSnapx, DtubeSnapQ, DtubeSnapR, #SNAPcomment, #SNAPPluscomment and #SNAPfeedback.
If anyone interested in becoming member of FamilySeven77 and have less than 100 SP then please get in touch with
@jongolson (https://twitter.com/Jon_G_Olson) and LinkSeven77 and https://steemsavvy.com are collaborating
Roadto100SP initiative. (https://steemit.com/dtube/@jongolson/azq2fqoa)
LinkSeven77 will collaborate, cooperate and merge with many other projects within our Blockchain and also outside of our Blockchain to empower passionate people, empower community and empower ideas and projects.
Thanks 🙏
Twitter nathanmars7
Telegram nathanmars7
WhatsApp +447901003594
Discord @nathanmars#2708
WeChat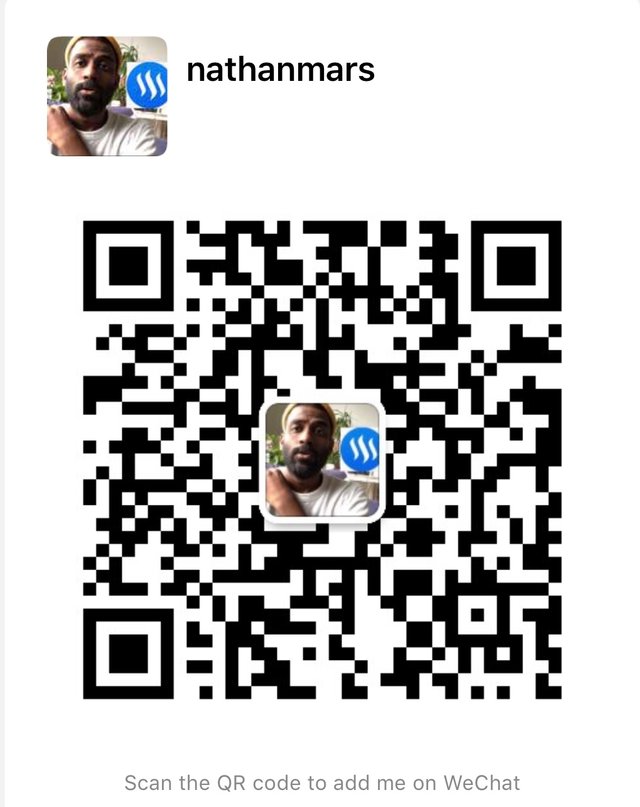 ---
▶️ DTube
▶️ IPFS