The 2nd YouTube Ad For STEEMIT in 2018!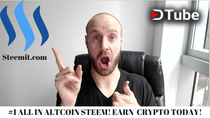 ---
Hi Steemit Community,
Today I am humbled to ask (with your support and the support of the Steemit Budget Proposal System and @budgets) to advertise our second Steemit video on YouTube!
This ad shows viewers how to sign up for Steemit in the first two minutes of the video! After that, I provide more than an hours worth of high quality educational tutorials showing the basics of steemit, the interface, how to post, earn rewards, and most importantly how to INVEST in STEEM the Cryptocurrency!
The goal of this ad? Bring more people to Steemit! We are seeing a record number of new YouTubers coming to steemit / Dtube and bringing their following! Youtube gets BILLIONS of views everyday!
The Steemit Budget Proposal System (which is where I have delegated almost all of my STEEM POWER) helps grow our community and bring awareness to Steemit!
Check out the original article posted by @jerrybanfield here: https://steemit.com/budget/@jerrybanfield/50-million-ads-for-steem-on-facebook-google-and-youtube and the new article here https://steemit.com/steem/@jerrybanfield/65wju0wr
With the help of @budgets and @jerrybanfield we have reached thousands of new users from all around the world. Our collective advertising efforts have helped Steemit reach new heights with my last YouTube Ad Reaching more than 69,000+ Views in one short month! (click here to see my first post https://steemit.com/dtube/@joeparys/zm1p9aij)
I am seeking 1,000 STEEM as an advertisement budget from @budgets with the help of @jerrybanfield to spend it through the existing ad budget which will eliminate the need for me to make the ads and target them.
Our goal is to reach more people, share our community, and get people excited about the amazing and unique opportunity Steeimit offers.
How will this video directly help you and our community?
-Increased awareness will lead to more people joining Steemit, more investors, and more engagement than ever before.
-More users and engagement will lead to the rise in Steem the Cryptocurrency
-More users can lead to more followers, bigger reward pools, and better development for the whole community
Thank you for all of your support!
Watch the new YouTube Ad video here: