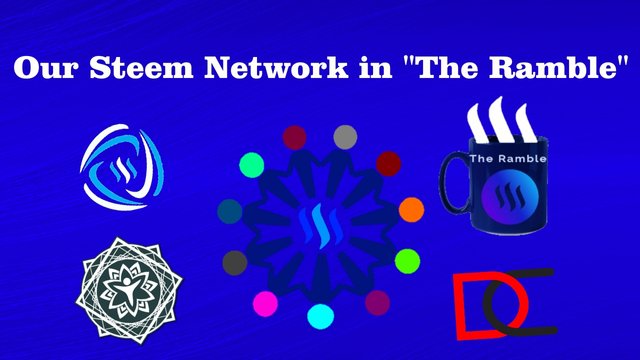 ---
In the video you can listen to the recording of the show we recently had in ''The Ramble'' community created by @shadowspub and hosted and even recorded by her. She also gave the permission to @dcooperation community to upload the recording to @dtube and that's the most awesome part.
In the recording you can hear me @clixmoney hosting the show. Our guest is @binkyprod - a youtuber and a writer.
@shadowspub with @thekittygirl - the editor in ''The Ramble''. @freedompoint - the founder of @theinnerblocks community and also there were members from @steemsavvy community and other awesome steemians who were active in the show like @blind-spot, @solominer, @priyanarc, @thehive, @roger.remix and many more.
Our main topic was about dapps, so we discussed them all a lot. Then we talked about @theinnerblocks , it's a new application created on steem, you can check the website here : https://www.theinnerblocks.com/ ( the founder is @freedompoint).
I also promoted a bit another application called @dcontest created by @freecrypto.
We talked a little as well about @actifit , @appics, @onelovedtube , @dtube.forum , @steemmonsters and other awesome applications and tools used in steem blockchain.
I also shared a tool that can show us only the posts which are organically upvoted without showing the posts upvoted by upvote bots : https://steemliber.herokuapp.com/index.html
So, the show was really productive and useful for everybody.
---
A little prehistory about the show :
---
I'm @clixmoney the founder of @dcooperation community.
Recently I've created a new show called ''Our Steem''.
First I shared the idea in @msp-waves with @pennsif who was hosting the show of Steem Tank with @theycallmedan.
The show meant to be hosted in different communities to make them work together and collaborate.
We started it in @steemsavvy with the founder @jongolson and the admin @richardtaylor and members like @ericburgoyne , @ph1102 , @pixiepost , @mytechtrail and others.
Then we did this one in ''The Ramble'' and the next week we will have the show in @theinnerblocks with @freedompoint.
---
I had a great feedback about the show when we finished and @freedompoint gave us a great idea to support more communities and to work together now, so @shadowspub decided to call that union ''Our Steem Network''.
This is how Our Steem Network was created and, as I wrote before, such shows are real brainstorms that help us come up with really great ideas.
---
This is how Our Steem Network works :
---
Any steem community can host the show called ''Our Steem''. We discuss with the team of the community a topic that we will need to raise. We will talk about each community and how it works. We create channels in each discord with the names of the communities that are participating. We give a role to founders or admins to be able to manage messages in their channel, to pin a post they want, so all the members will be aware of what each community is doing. All steem communities will have the same right in this. If you're a community leader or a member wanting to promote your community, you're welcome to contact us and join Our Steem Network.
All this is discussable and any community leader can add anything that will be useful for all communities.
We welcome any support, any feedback or propositions.
Our Steem Network is an initiative started by communities and for communities.
Now 5 steem communities involved and we will have more in the future.
Let's make steem even greater.
You can watch the youtube version here :