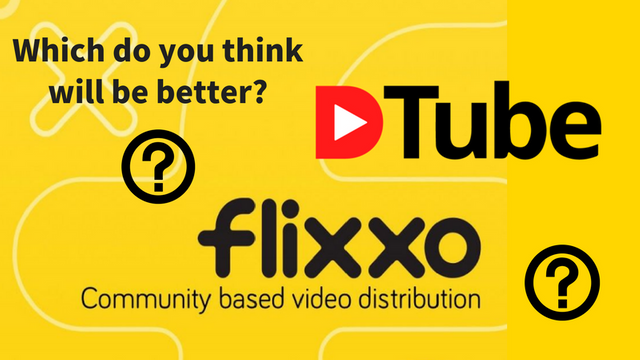 I know, I know, all Steemians should love DTube for DTube uses STEEM as a database and enables all of us to earn rewards from uploading our videos and upvoting ourselves and other video creators.
---
But... DTube is not perfect yet, members are often getting something like this, even on a Chrome browser
---
So a little competition from Flixxo can do DTube only some good, could help to speed up the developments and bring more wonderful ideas ;-)
The Flixxo platform will have full functionality around Q2 2018, but there is already a demo which you can find here: https://www.flixxo.com/demo/
The demo it is not how the platform will look and there are many functionalities missing, it is just to show Flixo concept in action.
Flixxo uses the digital token Flixx, which is already traded on the market, and aims to be the number one social video platform! This is how they see themselves in comparison with their competitors, DTube included: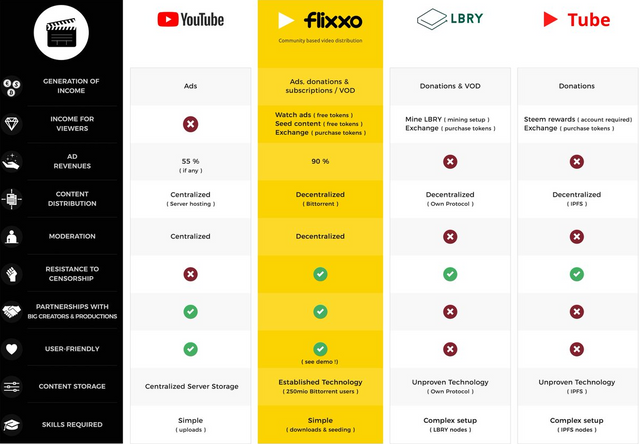 Flixxo plans to completely eliminate any intermediaries by letting advertisers, viewers, and content creators engage with each other directly. Their digital money, Flixx, will be used by users to watch videos, by producers to monetize their work and incentivize the network, and by advertisers to pay for a moment of our attention. The advertisers will need to buy Flixx from content producers, creating a complete, closed and an organic token economy.
You can read about Flixxo latest news here:
https://medium.com/@flixxo/flixxo-2018-state-of-the-project-858d8fc17f0f
Here learn more about FLIXX circulating supply:
https://medium.com/@flixxo/circulating-supply-a03960bb0f07
And here is a whole collection of all kinds of useful links and info:
Flixxo + iExec Partnership:
https://goo.gl/Wi1zu7
Flixxo CEO Adrián Garelik: Blockchain and P2P Networks are Revolutionizing Online Video Streaming:
https://goo.gl/bdJw3m
Coinomi and Flixxo, an awesome partnership:
https://goo.gl/srpFSz
Live Q&A With Flixxo's CEO Adrián Garelik:
https://goo.gl/icjyfR
Adrián Garelik's presentation at d10e:
https://goo.gl/B9X9AR
Local groups:
Indonesian: https://t.me/flixxo_indonesia
French: https://t.me/FlixxoFrenchDiscussion
German: https://t.me/FlixxoDE
Chinese: https://t.me/Flixxo_Chinese
Portuguese: https://t.me/flixxo_pt
Arabic: https://t.me/Flixxo_Arabic
Russian: https://t.me/flixxo_ru
Spanish: https://t.me/Flixxo_ES
Italian: https://t.me/Flixxo_ITA
Turkish: https://t.me/Flixxo_turkish
You can follow Flixxo on:
Twitter: https://twitter.com/flixxo
Facebook: https://www.facebook.com/flixxoOK/
Web: http://www.flixxo.com/
Reddit: https://www.reddit.com/r/flixxo
Telegram: https://t.me/flixxo
Bitcointalk: https://bitcointalk.org/index.php?topic=2168758
Official Trading channel: https://t.me/FlixxoTrading
Content Creators channel: https://t.me/FlixxoCreators
Last but definitely not least, Flixx token is listed on Livecoin, Gatecoin, Etherdelta
and on my favorite exchange Kucoin
(and...it was officially announced that there are more exchanges coming to Flixxo shortly)
In my humble opinion, Flixx tokens offer us solid, long-term, steady growth investment.
Please take a look how they are doing on CoinMarketCap
and consider purchasing some on Kucoin