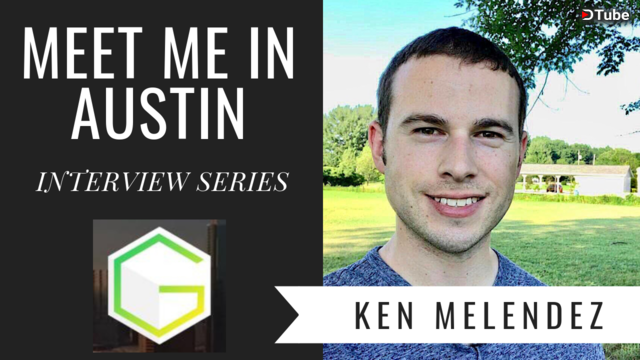 ---
Hi Friends!
Welcome back to another episode of "Meet in Austin". An interview series where I'll be chatting with various speakers for the Global Blockbuilders Event so that you can get a little taste of the awesome people that you will get to meet, learn from, and connect with at the conference.
Today I am interviewing @kenmelendez. I've had the pleasure of meeting him in person a few times now, and so it was a such a treat to chat with him today and learn more about his story! He has been on the Steem blockchain since December 2017 and has been a huge part of the community - especially as a content creator on @dtube. He has now partnered up Global Block Builders and will be working as their Director of Communications.
We chat all about how he found Steemit, what his journey has looked like, why he's excited for the upcoming conference, how much fun these events are, and why he thinks attending conferences like this are a must for anyone interested in getting more involved in the world of crypto.
---
Event Details

Social Channels for Global Block Builders
https://facebook.com/globalblockbuilders
https://twitter.com/@global_block
https://instagram.com/globalblockbuilders
https://youtube.com/channel/UCs4twHGJdZZbqYwfgYq7bfw
https://steemit.com/@blockbuilders
https://discord.gg/P6SfJ42
https://t.me/globalblockbuilders
---
I really hope you guys enjoy this interview with Ken and hearing more of his backstory with both crypto and Steem. Stay tuned for more episodes of Meet me in Austin coming soon.
---
Previous Meet me in Austin Interviews
Episode 1 – Interview with Larry Morrison – Co-founder of Global Blockbuilders
Episode 2 - Interview with Elizabeth Powell - Managing Director of Steemit Inc.
Episode 3 - Interview with Andrew Levine - Head of Communications for Steemit Inc.