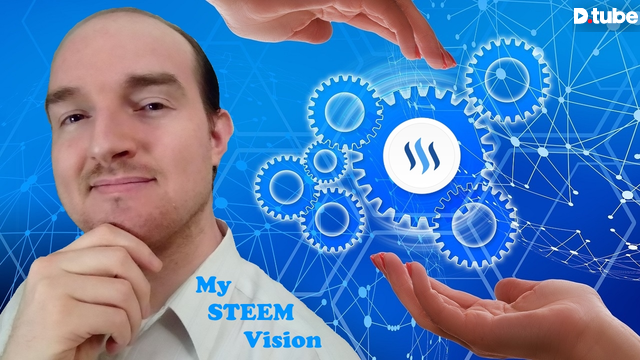 ---
It's an initiative run by @llfarms ( @justineh ).
My vision about steem :
What is it ?
---
For me steem is a platform where you can create communities. You can create applications. It's a place for everyone. Anyone can join steem, no matter what you do in life.
What does it do ?
---
It empowers people, communities, creators, so you will never be lost. You will always find something that you are looking for. If you are looking for content, you will find it. You want to create, you can do it here. If you are a developer, you can create applications on steem. If you want to invest, we have a lot of projects to invest in. If you want to promote, we have a huge community, if you need traffic, you will find it here. You can find anything that inspires you to be useful to the world. So, it's a great place and it does a lot of things.
What's the goal ?
---
The goal of steem is mostly freedom. Because it's a blockchain where your content will never be deleted. If we compare steem to bitcoin, it's also a blockchain where all the information about transactions stay forever. But in steem we have also a lot of content stored forever and no one is able to remove it. It's better than bitcoin as well in terms of fast transactions, so you can send steem to anyone in the world during 3 seconds and also with no fees. If you send to someone a dollar, he/she will receive a dollar. So, sending money is free, you are free to create anything you want, you are free to say anything you want. That's the complete freedom. Not like in other social media where they can remove your content or even ban your account.
What does it have to offer ?
---
It does offer a lot of things. The first thing that's coming to my mind is the future. You will build your future here, as you see it. No one can tell you what to do, so your future is all up to you. It offers a lot of opportunities also. If you are a vlogger, use @dtube ( http://d.tube/ ). If you are a musician or like to create podcasts or anything related to audio, use @dsound ( https://dsound.audio/ ). If you are a writer, you can write in @busy.org. If you are a developer, you can contribute to @utopian-io ( https://utopian.io/ ). If you are a professional content creator, go to @oracle-d (https://oracle-d.com/) and make tasks for them. If you want to review products, go to @steemhunt ( https://steemhunt.com/ ) and earn some rewards doing so. If you are sportsman, go to @actifit (https://actifit.io/). And there are a lot of other dapps to explore and learn about, check them all here : https://steemapps.com/.
So, there are a lot of opportunities. There are a lot of communities created on steem. Including the community I'm building called @dcooperation and behind each application there is a community. Behind each niche there are a few communities created.
It also offers relations, you connect with people, you learn from them. You even meet people in real life. I personally met two steemians. @cryptospa from Bulgaria and @steemcafe from Las Vegas. And I'm living in Russia. So, steem is connecting people from all around the world. So, you build connections and the more people you meet, the better you live. I think like this. The great thing that I learned from those people, I'm still in touch with them and that's the great thing.
You can also check all steemfests we had created by @roelandp. So, many people met each other in those three fests that we had. Check @steemfest ( https://steemfest.com/ ) . You can even find videos there about places where steemians met and those are Amsterdam in 2016, Lisbon in 2017, Kraków in 2018.
You can see in this youtube channel how many people met and all the presentations of applications and communities built on steem. Steemfest youtube channel
Steem is that great.
What is it to me ?
---
To make it easy to join, I would say it's a place. To meet people. To build relationships. To earn some money. To invest in my future. To help others and myself by creating a community and I'm the founder of @dcooperation. It's a community to make steemians collaborate with each other, with other steem communities and even crypto communities. We have also shows where native speakers help non native speakers to practise English and we have other shows to support newcomers.
Steem is also a place to be creative with no limits. To learn something new and you can always learn something new.
Steem is as well a place to make a change in the world.
I've been on steem blockchain for almost 2 years and I feel the change. Steem really changed me for the better and it is changing a lot of people here. The greatest thing I've learned is to live for others and to be more useful for the community.
You can also check the visions of other steemians here :
From @andrarchy the Head of Communications and Advocacy for Steemit.
From @justineh who created this initiative here :