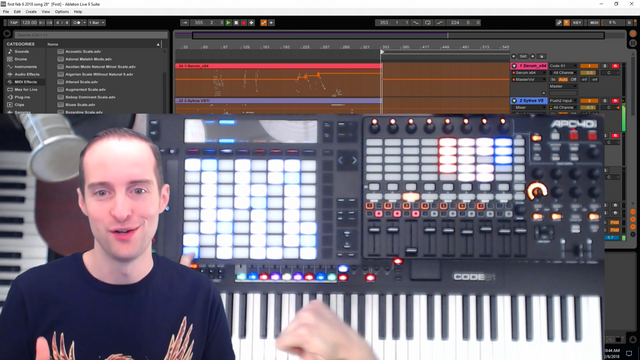 ---
Will we listen to my sixth song for
@dsound
because this is my favorite so far? The name is Detuned Sleepy Trance Saw because these are the names of the presets I used in the Serum, Morphine, and Sytrus synthesizers to make the track in Ableton Live 9!
What might be more amazing is to watch me compose the song in real time in the matching video on YouTube!
Watch Me Make It Live!
---
Notice how the notes I hit exactly match the sounds in the song with the exception of the drum loops which I added afterwards! For fellow musicians (which still sounds weird identifying with after having no music talent or interest prior to 2017), here is how I composed this track!
Creative Process!
---
Total start to finish time for picking the synthesizers, playing the music, editing, adding drum loops, rendering the WAV/MP4 files, and uploading to @dsound, YouTube, and Facebook was less than 2 hours.
I composed everything in the Ableton 9 Live Suite arrangement view using Serum, Sytrus, and Morphine synthesizers with my M-Audio Code 61 Black | 61-Key USB MIDI Keyboard Controller with X/Y Touch Pad (16 Drum Pads / 9 Faders / 8 Encoders), M-Audio Oxygen 25 MK IV USB Pad/Keyboard MIDI Controller, and the Ableton Push 2.
With Serum I used Synthhacker's pluck 22 preset out of the trance and progressive house folder on the M-Audio Code 61 combined with an F Major MIDI effect in Ableton to ensure every stroke is in key.
In Sytrus, I used the Detuned Saw preset on the Ableton Push 2 and selected F Major as the key on the Push to ensure only the F Major keys would light up.
Using the Morphine additive synthesizer, I picked the PAD sleepy preset played in with the M-Audio Oxygen 25 using MIDI effects for F Major and an Arpeggiator set to 1/6 style random.
For recording, I played everything in with one take in real time into the arrangement view and then rendered the audio out in a WAV file. At the same time I recorded the video with Wirecast 8 on my Mac Pro to mix with the finished audio for the first time in this new music production process. On my way to my AA meeting, I listened to this initial recording with no drum loops and loved it unlike the last song I made.
Switching sets to my Ableton Live forever music setup which has 400+ drum loops, I added the new audio file and randomly played in about 9 minutes worth of alternating drum loops and silence finishing with rendering that to another WAV file.
In Camtasia 2 on my Mac Pro, I combined the full audio file in with the original recording to upload to YouTube and Facebook.
On @dsound I uploaded the audio file and wrote this description while the video processed on YouTube. The purpose of explaining
Let Me Explain?
---
Why explain the creative process in detail?
Taking the extra 30 minutes to write this out helps other listeners and musicians find Steem, @dsound, and my music on YouTube and Facebook because this longer detailed description gives google more data to ensure this is relevant compared to the majority of other music online. For example, putting this in on YouTube helps musicians making similar music or fans listening to something similar by another artist find my music.
When musicians search for help with the exact tools I use, my post on Steem and @dsound is likely to come up.
As listeners share with friends, having the entire creative process in helps my music to be more relevant.
Two years ago I believed I had no musical talent or hope of making music. I hope showing how I do it helps to demystify the process and inspire more of us to make electronic music with no lyrics, words, or vocals because this is the music that helps me remember my divinity in a world full of noise!
Reviewing how I made the song helps me to learn what I did and to do it again faster as well as improve. The improvements I have made over the last year making music have absolutely blown me away.
Showing what I am doing helps inspire me to make more and helps me be open to any feedback whether it is "Wow that song is amazing" to "OMG EARS BLEEDING WTF" which is the most common response on YouTube.
We Do Nothing Alone!
---
Thank you to @tomasgeorge with digitalmusicmasters.com for showing me how to do everything I did today in his Ableton 9 course and answering my questions each week about producing music!
I am very grateful for the upvotes on Steem from @dsound which is a project lead by @prc because this gives my rational mind a clear reason to follow what my heart wants to do which is make music! @prc is a witness for Steem and I am voting for him along with 29 other witnesses. Will you add @prc to your witness votes to support @dsound and/or set me as a proxy at steemit.com/~witnesses because witness votes are the most important we make on Steem?
I appreciate you taking the time to read some/all of this! When you listen to the song, I hope you understand how honored I am to share the musicial experience with you! I LOVE this song I made today and I hope you feel the same way I do listening to it!
Love,
Jerry Banfield
---
► Listen on DSound
► Listen from source (IPFS)