Welcome to Episode 15 of The STEEM Engine Express podcast.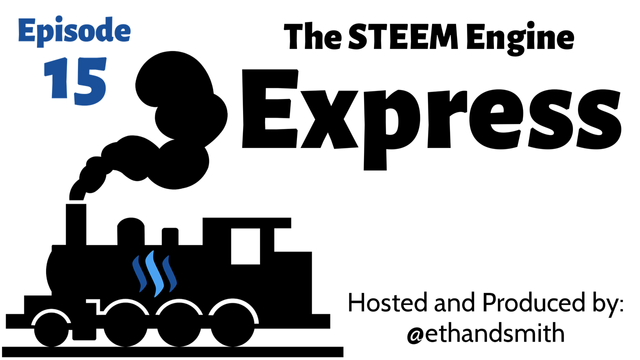 The STEEM Engine Express is a podcast produced by Ethan D. Smith that features short summaries of five posts recently shared in the Discord community, The STEEM Engine. Today, I want to remind users of the importance of witness voting. If you don't know what witnesses do for Steemit, head over to steemian.info/witness-faq for more information.
For more information about the group, visit the Steemit account @thesteemengine.
Listen to the podcast in one of the following ways:
► Listen on DSound
► Listen from source (IPFS)
► Download mp3 Version
Listen on YouTube:
Intro music is "Biking in the Park" by Lee Rosevere. Used under a Creative Commons Attribution 4.0 International License
Background tracks are "Crushin'" and "Wheels" by Jason Shaw. Used under a Creative Commons Attribution 3.0 Unported License
Other audio clips obtained via the Internet Archive and also used under a Creative Commons Attribution 3.0 Unported License
Read more about the making of the intro HERE.
Today's featured posts:
Full transcript:
I'm Ethan Smith, and this is the STEEM Engine Express.
---
We begin today with a fun walk through Cape Town with zoologist passenger @holothewise. Along the way, you'll see some great sights, including an encounter with a horse on the way to visit an alpaca farm. @holothewise captures many great photos of the alpacas running, posing, and even sleeping. You're sure to be entertained by the account of the visit to the farm, and you can even spot a spinning wheel used to produce fibers from the alpaca wool. I hope you'll enjoy the photos of this adventure as much as I did.
---
What happens to plastics when you don't recycle? Chances are they end up in the ocean. STEEM Engine passenger @branbello shares an informative post about the dangers of plastics in the oceans, including many staggering statistics about just how much plastic is already there. The post features several explanations of phenomena that cause buildup of plastics in specific locations, as well as @branbello's thoughts on what can be done. If you're interested in learning more about this subject, I encourage you to check out this post, which will hopefully encourage you to recycle plastics.
---
In other environmental issues, the electricity costs of Bitcoin mining have been a subject of recent scrutiny. STEEM Engine newcomer @daan tells us about a new initiative seeking to help offset some of the environmental issues occurring due to Bitcoin mining. The project, called Offset Bitcoin, seeks to raise funds to help protect rainforest resources which roughly correspond to the carbon footprint of Bitcoin mining. The project has a long way to go, but is worth consdering due to the continual energy requirement of digital currency mining. If you want to support the initiative, an easy way is to visit this blog and upvote it since @daan is donating post rewards to the organization. If you want to learn more, head over to this blog and check out all of the details!
---
Most everyone has at least one hobby. For many of us, it's interacting with others on Steemit, but as her name would imply, passenger @gabrielatravels considers traveling to be her favorite hobby. In her recent blog, Gabriela discusses the reasons she considers traveling to be an incredible hobby, including many great photos and descriptions of her experiences. If you've ever considered traveling more or taking up this hobby yourself, I encourage you to read this post and consider Gabriela's perspective. You may just decide to implement more traveling into your life in the near future!
---
Finally today, The Express returns to @oen's Exploration series, where we travel to one of the most recognizable buildings in the world- The Sydney Opera House. As in his other posts, @oen offers several unique views that are not what you'd expect when you think of the Opera House. The interesting photography angles shed new light on some of the fascinating architectural features of the Opera House, so I encourage you to take the time to read this post and enjoy a new and unique look at some of the lesser-known features of the building.
---
That's all for today's curation segment. While there's no Featured Station today, I want to take a moment to remind everyone of the importance of witness voting. Witnesses are vital to the Steemit ecosystem, so if you haven't cast your 30 votes for witnesses and would like to learn more, visit steemian.info/witness-faq for a guide to what witnesses do, and then visit steemian.info/witnesses to view all Steemit witnesses and cast your votes today. If you have questions, feel free to comment on this podcast!
---
The STEEM Engine Express features five of the best posts curated by the STEEM Engine each week across the Steemit platform. The Express is produced by Ethan D. Smith exclusively for The STEEM Engine initiative on Steemit.com, and is featured throughout the week on the SteemStar.net radio network.
That's all for this week's episode! To read posts mentioned in today's Express or to listen to past episodes, visit steemit.com/@ethandsmith. I hope you'll catch the next Express!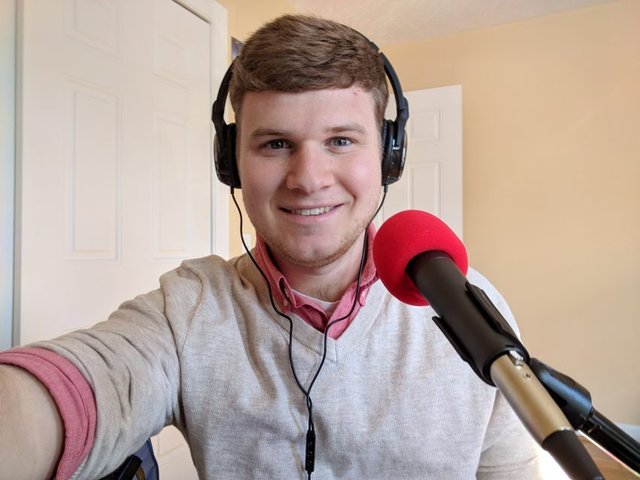 Thanks for listening!



---
► Listen on DSound
► Listen from source (IPFS)