Regarding Witness votes and Public Statement Commitment
---
Dear witness and steemians who have set me as a proxy concerning witness votes:
After reading @timcliff post , @therealwolf post , @liberosist post , @blockbrothers post , @lukestokes post and many more that I am sure will come, finding that this is a very important step that would release the doubts and uncertainties of steemians, I have taken the decision to review all my Witness Votes in order not only for verifying the performance and abilities but also to check if the Public Commitment Statement specifying the "no-implementation, support, or condone of any proposed hard fork that effects the balances, keys, or security of any accounts on the current chain."...
So, in a few days I will check, if there is some witness not clearly stating the previous statement, I am sorry, but I will reject my vote.
My Current list of Voted witnesses is:
@abit
@actifit
@arcange
@blockbrothers
@blocktrades
@cervantes
@cryptopassion
@curie
@demotruk
@dragosroua
@drakos
@emrebeyler
@fulltimegeek
@fyrst-witness
@good-karma
@gtg
@holger80
@mahdiyari
@partiko
@pharesim
@quochuy
@roelandp
@sc-steemit
@steemitboard
@steempeak
@swisswitness
@themarkymark
@therealwolf
@utopian-io
@yabapmatt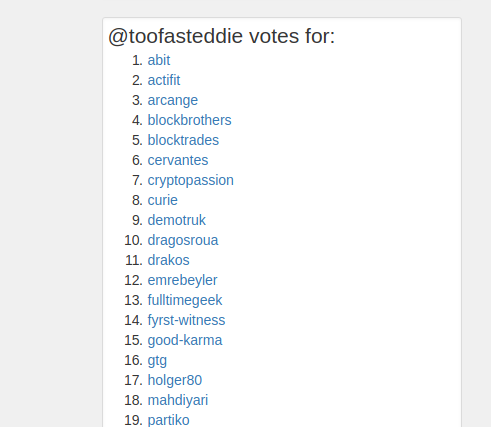 What about you? Are you going to do the same?
Please vote the poll.
---
Yes, this must be part of the "specifications" to be voted as a witness and it must be a compulsory requirement for all of them.
---
---
Answer the question at dpoll.xyz.