dPoll Weekly 45
dPoll Report: Weekend Edition
Table of Contents
About dPoll
dPoll Witness
What happened on dPoll last week?
Our wonderful group of Sponsors
About dPoll
dPoll is a polling application on top of Steem. It utilizes an account based voting system and stores poll and voting data on the blockchain. You can find it at dPoll.io.
Here is a handy How-to for creating dPolls.
dPoll Witness
In a time where witnesses are shutting their servers because of economic reasons, dPoll is ready to support the Steem blockchain as a platform witness.
If you have a free spot in your witness list consider voting for @dpoll.witness via this handy link.

If you have any feedback, go to our issues page at Github, check out the source code at github repository. or drop by at our Discord server.
What happened on dPoll last week?
You will remember that @theycallmedan ran a contest last week:
#NewSteem Twitter Memes & Gif Contest DPoll
The poll is closed, result is in. Aaaaand the winners are:
Congratulations and thanks for all the memes!
---
@phctop3 was at it again with an extensive movie poll:
Vote For Your Favourite Extraterrestrial Movies!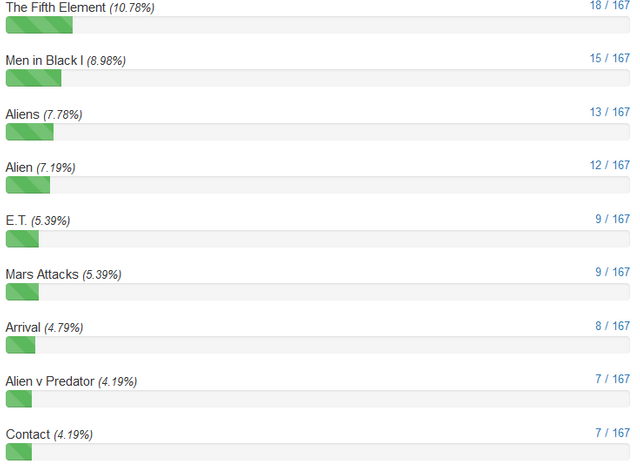 ---
@glenalbrethsen would like to know what you prefer to vote on:
What Kind Of Dpolls Do You Like?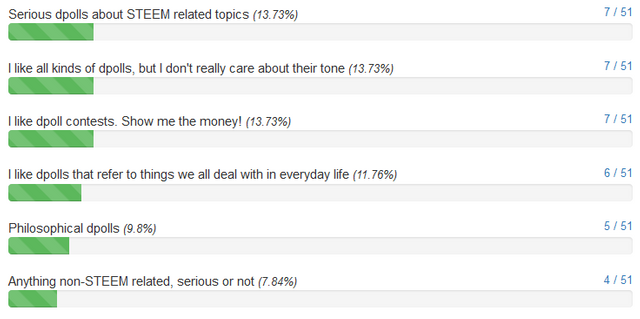 ---
Our trusty witness @isnochys is dilligently rating trending posts. This is crucial work for Steem. But how often does it need to be done?
Should I wait for Trending to be cleared?
94% want to see it as often as possible and @kanrat borked the answer ;)
---
@enforcer48 wanted to make a post for @lordbutterfly and @isnochys. Along the way you guys got dragged into this: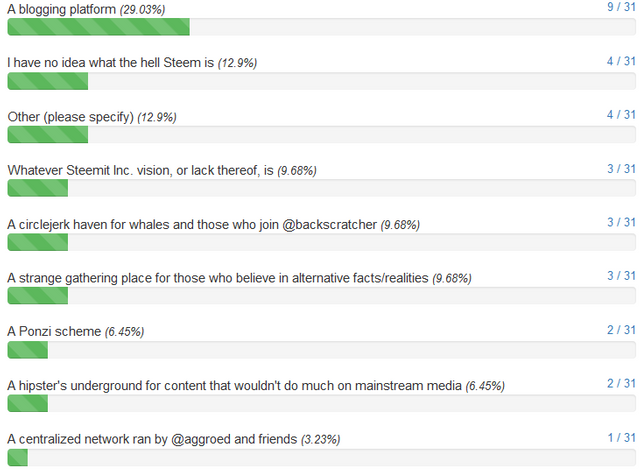 ---
@vimukthi has a few thoughts about the duration of a Steem powerdown and is looking for feedback:
What Do You Think About A STEEM "Lite" Power Up?
---
@crowdwisdom has put an observation in front of you:
DO you find people over a certain intelligence threshold tend to care LESS about politics?

---
@aschatria wants to find out the current favourites among SE tokens:
Out of the listed tokens - which one is your favorite?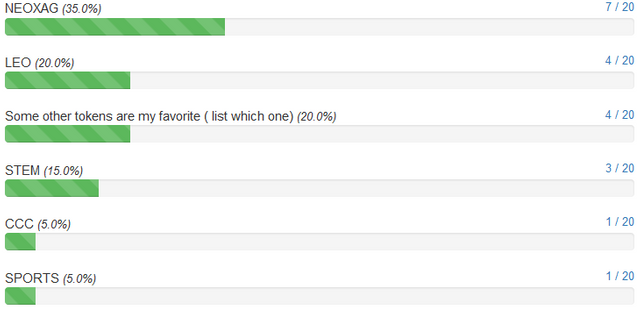 ---
There is so much talk about the viability of electric cars but they are hardly visible in the real world. @cryptorg is wondering when will they show up in a meaningful way:
When electric cars will sell better than fuel based cars?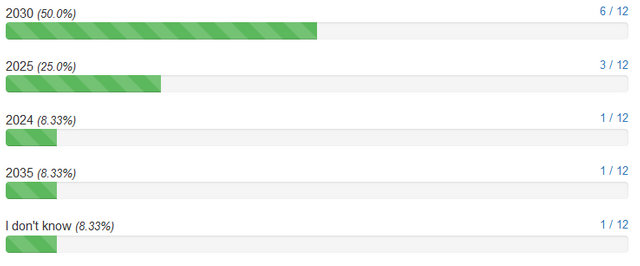 ---
Our wonderful group of supporters
29 Sponsors are supporting dPoll with a total of 19031 SP in delegations.
Thanks to our wonderful sponsors for their support of dPoll:
| Sponsor | Delegation level [SP] |
| --- | --- |
| @realself | 5'000 |
| @chitty | 4'000 |
| @pharesim | 2'500 |
| @shaka | 2'000 |
| @utopian.pay, @favcau | 1'000 |
| @voronoi | 750 |
| @ryanlj, @tolgahanuzun | 500 |
| @techslut, @boontjie | 250 |
| @espoem, @crokkon, @forykw, @isnochys, @axeman | 100 |
| @mahsumakbas, @devann, @nerdtopiade, @akomoajong, @abbak7, @bluerobo, @akdx, @vimukthi, @d-zero | 50 |
| @hatoto, @murattatar, @tdre, @mobi72 | 25 |
Sponsors will receive a weekly reward for supporting the project. If you want to support the development and engagement on dPoll, you can delegate some Steem Power and instantly become a sponsor.
---
---
Join dPoll on Discord: https://discordapp.com/invite/ZcV8SGr
---
If you want to support @dpoll.curation, you can also delegate Steem Power.
Steem connect links to delegate: