dPoll Report: Weekend Edition
Table of contents
About dPoll
Competition No. 12
Announcement of last weeks winners
Sndbox Contest 9
What happened on dPoll last week?
Our growing group of Sponsors
Some stats on dPoll
About dPoll
dPoll is a polling application on top of Steem. It utilizes an account based voting system and stores poll and voting data on the blockchain. You can find it at dPoll.xyz.
Here is a handy How-to for creating dPolls.
Recent updates to the dApp are:
Multiple Choice dPoll: this was a desired feature by the community. You can find it at the bottom of the editor. It can be enabled if you think it is appropriate for your dPoll.
Poll promotion: this is helpful when you create a poll and want to increase exposure to more users than follow you already. If you bid the highest amount, your dPoll will appear on top of the dpoll.xyz homepage.
New content filters:
An additional change introduced with the content filters was the issue that it was not obvious which dPolls were already expired. With the change only active polls are shown - in every filter. If you want to look up older polls you can go to the profile of a dPoller by either clicking on the user name in a recent dPoll or going to https://dpoll.xyz/user/@[username].
If you have any feedback, go to our issues page at Github or drop by at our Discord server.

See it online at dpoll.xyz, and the source code at github repository.
dPoll Competition No. 12
Starting this Sunday, every poll created until next Saturday will be eligible to enter the competition.
There are two ways to win:
Price pool for most votes cast:
1st Place wins 3 Steem
2nd and 3rd Place each win 1 Steem
One random voter for the winning dPoll will receive 1 Steem
Entry: you will have to create a dPoll on dPoll.xyz and try to accumulate as many votes for your question as you can. Deadline is Saturday the 9th of February 2019 12 PM UTC*.
Team members of dPoll are excluded from participating in the prize pool.
---
Winners of Competition No. 11
Congratulations to the winners!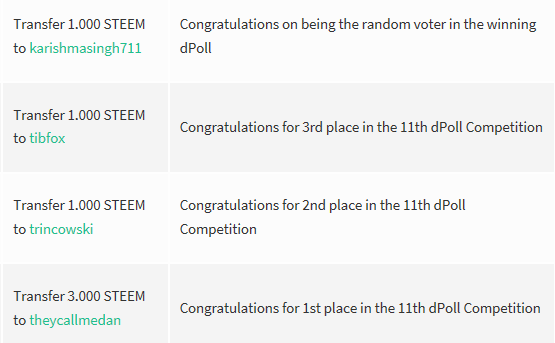 Sndbox Contest 9
@sndbox was hosting Polling for Project Feedback [dpoll contest 9] for creators who are looking for feedback on their own project.
The winners are:
---
@blind-spot won first place and a 75% upvote for feedback on a new project:
What are thoughts about #blindtest?
#blindtest is a review of projects on Steem from the perspective of a user.
---
@impactn-polls won second place and a 50% upvote for one of the questions from the last SOS forum:
No 3 How important are rewards for onboarding new users to achieve more loyal users on Steem?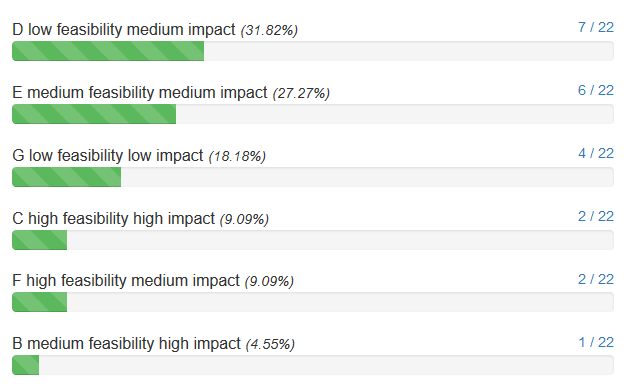 The goal is to find feasible and effective measures to improve the Steem ecosystem over the medium term.
---
@superoo7 won third place and a 25% upvote.
What Front End Technology to use to create Steem Dapps?
---
There is no need to worry if you are not working on any projects at the moment.
Sndbox is hosting many contests in different categories. Go check them out!
As long as you are doing something on Steem there should be an opportunity for you to participate.
Here is an example from @stuffbyspencer for the @sndbox dappmoji contest:
Explaining DPoll.xyz with Emojis! [ @sndbox dappmoji contest entry ]
This is dPoll with emojis: 🤔 😀 💡 -> 📝 📋 ❓ -> 🌐 💬 -> 🧐 🤩
What happened on dPoll last week?
@theycallmedan announced a 10k Steem Power delegation for one year for the winner of a dPoll last Sunday.
Which Steem Project Should I Delegate 10k SteemPower To For 1 Year?
This sparked a frenzy of voting on dPoll. @Team-CN and @Votovzla took the lead from the start. @SteemitBloggers (aka Power House Creatives) slowly but surely, vote by vote, caught up with them over the week. It was a very close competition with a lot of position changes between the three leaders . The winner was completely open until the very end of the polling window.
The other participants were: @Actifit, @Crowdmind, @Dsound, @Freewritehouse, @Qurator, @Spunkeemonkee and @SteemNurse.
@Votovzla took the win in the end with a fantastic last minute sprint.
@bluemist decided to reward @SteemitBloggers with a delegation of 10k Steem Power.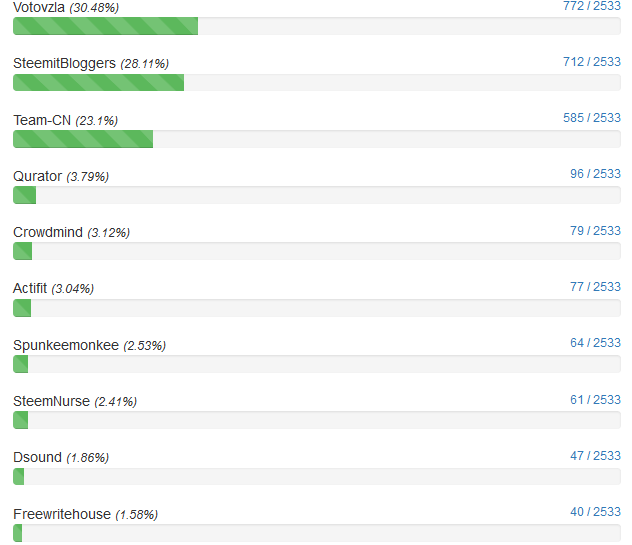 ---
@trincowski made use of our new multiple choice feature to find 3 artists he could support:
Art Curation #8 - Help Me Select 3 Artists to Reward With SBI Shares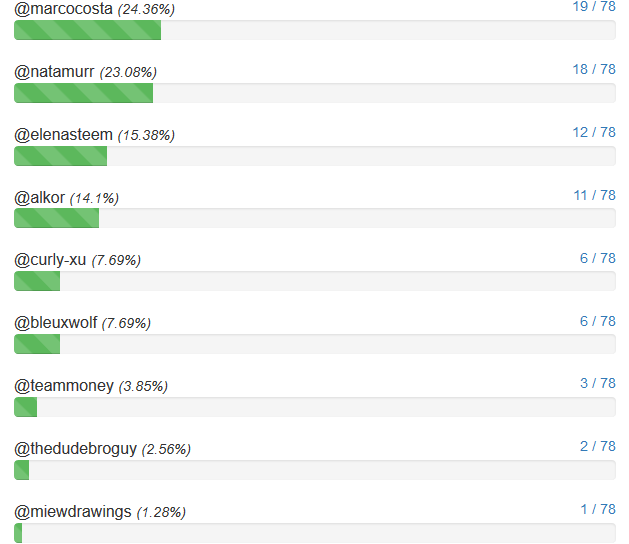 ---
@tibfox wanted to know where you guys are from: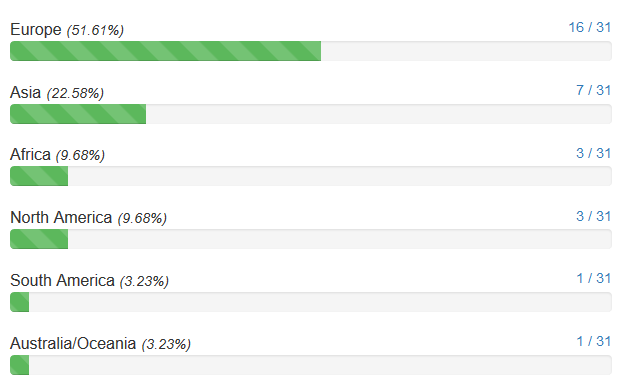 ---
@jeffjagoe wanted to know where Steemians would like to go on holiday... Sorry. Where the next SteemFest should be:
Where Do You Want STEEMFest 4 To Be Located?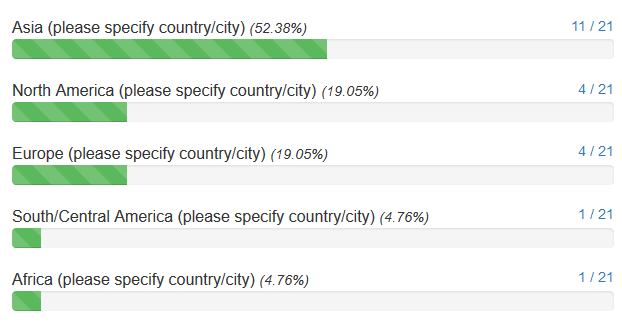 Combined with the results from @tibfox above, is it fair to say that the Europeans really want to visit Asia.
---
@sathyasankar thought: tourism is nice and all, but how about a real adventure:
Do you believe that we, the human beings, can colonize Mars in a decade?
71% believe we won't be colonizing Mars within the next 10 years.
---
@abbak7 hosted his second SBI challenge:
Would you accept a 1 SBI share? #2
Yes. It is actually that simple. Again, 100% wanted SBI shares. Who knew.
---
@runicar was revisiting rumors:
Did Samsung Really Secretly Buy Stinc Or Is It Just Another Outlandish Rumor?
This is the second poll this week that got a 100% answer. It is a rumor.
---
@mcoinz79 is looking forward to the Super Bowl LIII on Sunday:
Who Will Win The Super Bowl? (Win Some SBI)
58% Think the New England Patriots will win again. 42% is a strong showing for the LA Rams as underdogs.
Our growing group of sponsors
35 Sponsors are supporting dPoll at the moment with a total of 23787 SP in delegations.
We want to thank our wonderful sponsors for their support of dPoll:
| Sponsor | Delegation level [SP] |
| --- | --- |
| @bobbylee | 10'000 |
| @chitty | 4'000 |
| @emrebeyler | 2'500 |
| @fabien, @pharesim, @utopian.pay, @shaka | 1'000 |
| @ryanlj | 500 |
| @pjau | 300 |
| @voronoi, @techslut, @favcau, @boontjie, @sereze @kabir88 | 250 |
| @espoem, @crokkon | 100 |
| @fbslo, @ihtiht, @simplymike, @whatsup, @mahsumakbas, @aydant, @amico, @devann, @nerdtopiade, @akomoajong, @aftabkhan10, @dotwin1981 | 50 |
| @isnochys, @murattatar, @bluerobo, @tdre | 25 |
| @mobi72, @tdas0 | 10 |
Sponsors will receive a weekly reward for supporting the project. If you want to support the development and engagement on dPoll, you can delegate some Steem Power and instantly become a sponsor.
Some stats on dPoll:
dPoll is currently in 11th place on stateofthedapps.com across all listed dApps - including apps on Etherium/POA and EOS. That is 30 places up from last week.
We are in 4th position on steemapps.com. 15 places up from last week. This project has been created recently by @therealwolf to increase visibility of the Steem ecosystem.
---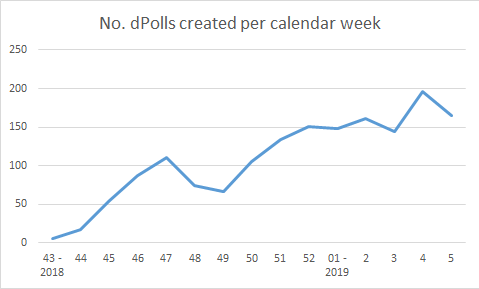 Sir! Keep moving. Nothing to see here!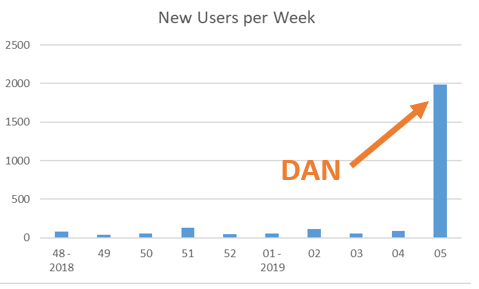 Join dPoll on Discord: https://discordapp.com/invite/ZcV8SGr
---
*Standard rules of decency apply. The dPoll team will reserve the right to exclude certain entries from the competition, if necessary.
---
If you want to support dPoll.curation, you can also delegate some Steem Power. Quick Steem connect links to delegate: