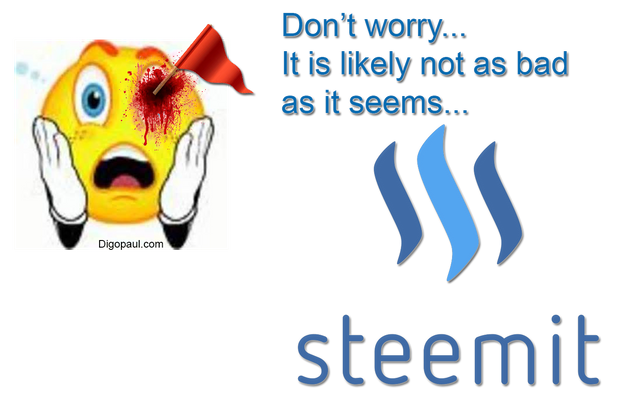 Technically there is no true censorship on the steem blockchain. There are some things that can be like censorship and most of them we have some ideas how to approach. I decided after seeing a new person I think writes well @ura-soul have one of his posts "censored" from his perspective that it was time to write about this and give new people that haven't been around to struggle through some of these issues some information. Perspective helps.
First if you are flagged (aka down voted). Don't panic.
The down vote is intended to fight plagiarism, spam, abuse, and they added for reward pool issues (wish they hadn't as that opened the flood gates).
This is currently necessary to fight spam, plagiarism, and abuse. Without these tools there is no clear way to stop such things.
There are a lot of suggestions people will often make but they are usually easy to get around by using multiple accounts, or they introduce an entirely new set of problems.
I consider the misuse of the down vote to be one of the biggest problems that remains with steem/it. In fact, for my first 6 or so months on steemit I was a vocal supporter of removing the down vote. I didn't see it as being needed. I wrote quite a number of posts on it. I also even discussed it with Dan Larimer one of the co-founders here.
The problem is that if the down vote is removed that opens the door to other problems and we haven't found a programmatic way to address those.
So really when you see a down vote that is questionable it can be like a punch in the gut. It can be far more soul draining than the greatest of up votes. Who says humans don't react to negative reinforcement? If your goal was to enrage someone down vote them because you don't like their topic, opinion, or you think people that DO like it are rewarding them too much. You'll get your rage. People don't like others dictating what they can and cannot like, or can and cannot be rewarded.
So yes I think from what I said just now you can see I totally GET why people are upset.
They will say "Censorship" to which you will encounter people saying "It was not censored".
It becomes a matter of perspective, opinion, and semantics there. Technically the information is still there on the blockchain and people that want to see it can. That is what will be used to justify that it was not censored.
However, it may have cancelled out the reward other people wanted to give you for that topic because maybe they really liked it. It could be viewed as restricting the right of people to support the people that share their interests. Is that censorship? If the post was high quality, took a lot of time, and thus needed some funding then by removing that funding such posts might have to stop, and when things like blocking funding occur in the non-steemit world that is usually considered a form of censorship.
People will say it was hidden and couldn't be seen. It actually will still be visible it will just need to be clicked on extra to be visible. If someone with sufficient reputation up votes it that will cancel out that visibility issue as well.
So as I said don't panic. You have some options. Let someone you know that has a higher reputation know about the incident. They and potentially others can up vote to help out. Since Hardfork 19 people in the community banding together have a better chance to counter these actions.
The next thing you should do is remove your support from the people that do this. Don't follow them, don't up vote them, etc. If they want to be a jerk and be an island then so be it, but we shouldn't be giving them more power if we can avoid it. Some people may even decide to mute them, but I personally leave mute off the table unless they are abusive and trolling... I like to leave the door open for people to change.
Telling people they shouldn't do this doesn't usually work. As the floodgates open and more and more people join steemit we will occasionally have people who spend a chunk of money and buy in and they will have quite a bit of power at the outset. They may not be familiar with our community and will bring ideas like those on reddit here. We have to help them see the way that hurts the community, we can't expect them to get it when they first get here.
So when you are down voted what can you do?
First: Be civil. Don't drop to their level, don't call them names, don't suggest flagging all of their stuff, etc. I've never actually seen that work out well for anyone. Keep civil even in the face of their ignorance. Don't allow your attitude to become their justification for why it was okay that they flagged you.
Second: You can try talking to them. If you can keep it civil perhaps you can convince them to reverse their action. If you don't think you can keep cool then avoid this step.
Third: Find out who they are. If you are following them and they didn't agree in step two to change their ways stop following them. Don't vote on their posts. If they want to force their opinion upon all of us then do not give them more power to do that.
Fourth: Reach out to community members you know. We'll help you counter such votes to the best of our ability even if we may not agree with your opinions in your post. If you were being an ass to someone in your post then you'll likely not get sympathy, but if it was down voted just due to subject matter you'll get support.
Fifth: Be available to support other people in similar situations. If there is someone doing this activity to other people stop following them, voting for them, etc. This is true no matter how big they are. I've seen some truly big people do this before and people keep following them hoping for those high paying votes that person might dish out. This is compromising their integrity for the sake of greed. Don't do that.
So how do you find out about them? There are a lot of tools. I tend to use steemdb.com.
If you are looking at a post it will have a url beginning with https://steemit.com/ simply change steemit.com to steemdb.com and keep the rest. You can find out in detail all about that post including all the voters.
There are going to be problems with steem and steemit. We cannot magically expect them to be fixed. This is something that has never existed before. This means it has new challenges as well as opportunities. We as the community can solve a lot of them as changing it in code often will not be the answer. I wrote a post about this that explains in more detail why this is so.
Here are some of my past posts on the topic of flagging for those that want to know more: