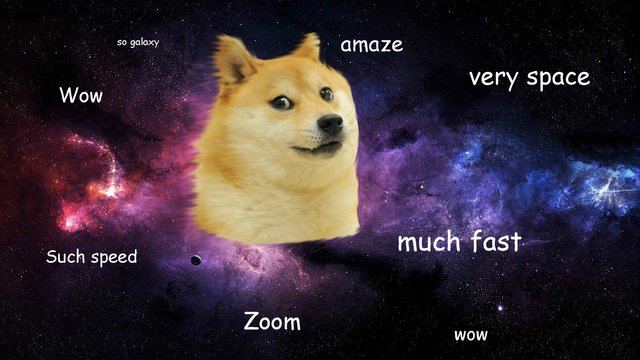 With the announcement of the DOGE to ETH bridge, DOGE is off the charts today. Is it time for the DOGE dog to moon? Or, this is a fake out?
Truth is, I've been bullish on Doge for a long time. This is purely trader thinking based on the charts. I don't see much fundamental value in the Dogecoin, other than it being a clone of early bitcoin. But in the end of the day, what makes a basic payment coin, with similar code better than another.? Really, this comes down to market sentiment. While 'modern' bitcoin has seen some forks, DOGE's code, as I understand is very close to the original bitcoin code, yet is worth much less. That alone is not a reason to buy. But the chart is, with it eventually pointing north of 10 cents. Sentiment speaks, and someone is buying, at least for a trade.
Don't worry. I see no cause for DOGE competing with Bitcoin in price base even though the code is similar. But the chart does suggest that the coin continues to find liquidity from traders like me who love its volatility that quite often exceeds Bitcoin's volatility.
The challenge with this chart is it is a large ABC in the making. This is not the typical 5 wave structure us Ellioticians look for to trade. That means we can have many of our trade signals thwarted by the market and the chart will see more 'morphs' than we see in a standard impulse. Yet we've seen a very tight flat correction since January, in proportion to its long term movement. This should be bullish to any market technician no matter which method. This move up may be signalling that correction is over. However, first I do need to see 5 waves here, as is standard in the start of a C wave. If we continue to push, holding .0038 from here, and completing 5 waves, I'll assume wave 1 of C is done and we'll pull back for the larger move.
Many pumps like this have failed in the market lately. But that's a symptom of a bear market. This isn't the symptom of scams or other irregularity as many like to blame. If you were trading post NASDAQ tech wreck in 2000, like I was, you saw the same thing in biotechs, or bioslime as some would say. Some of those stocks are still with us, some aren't. More importantly, rallies in thes stocks sold in the 2000-2003 bear market. And, so we've seen seen the same phenomenon in coins since January.
If we are near a bottom, we may see some of these pumps begin to hold. Is it DOGE's turn? I don't know. If we break support the red B wave path, is the likely level lower- slightly lower than the bear market bottom we've just seen. But if we can fill the white count out, I'll look higher.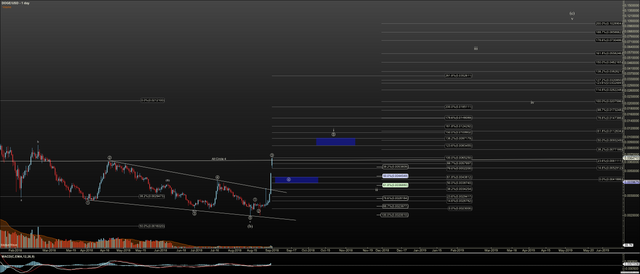 Note that free 15 day trials are available for our trading room and community on Elliott Wave Trader, where I am a full time analyst. You'll rub nose with, professional, amateur and traders in the learning process, while getting trade calls and ongoing direction for the market. No credit card is needed for a trial.