In the past few days it has been known that demonetisation of currency notes in India is a major failure as it did nothing to meet it's objectives of removing fake notes and curbing black money. It did however impact informal economy in the country furthering issues.
It disrupted the unorganised sector and caused losses to several small and medium scale enterprises. Perhaps if this ill conceived plan wasn't executed Indian economy might have grown even faster. You can read why it was a failure here.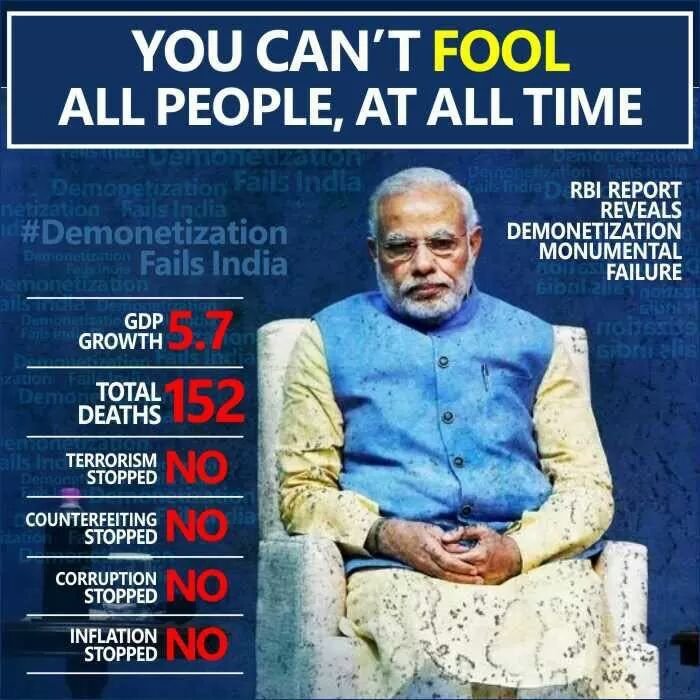 Source
In the past few months we've debated the possibility of a ban on cryptocurrencies. As we stand the case against the central bank to overturn it's mandate on banning services to crypto exchanges in India is in the Supreme Court. There's a final hearing on the 11th of September, 2018.
In the months to come the Finance ministry and it's various agencies will need to figure out how to adapt to the changing financial systems of the world. Because people in India are using cryptocurrencies whether the government likes it or not.
There's a good chance that we're going to get a positive legislation surrounding use of cryptocurrencies in the next year or so. However, in the short term the notion of banning cryptocurrencies in India is just unfounded.
It's however being considered but since P2P systems allows anyone to enter and exist the markets without intervention from the government, there's no easy way to ban crypto use in India. Peer to peer payments via cryptos prevents subjugation from the government. This in itself is a tiny victory for us.
We're supposed to be democratic nation but the government functions in a very authoritarian manner forcing it's will upon us all. Blockchain and cryptocurrencies have the power to force them to think and act differently.
Representatives of the government have claimed in the past that cryptos are used to fund terrorists, corruption, money laundering, drugs amongst a whole bunch other things. All of this without ever mentioning how much FIAT currency is used for the same things. There are more good use cases for cryptos than these illicit activities but it's not easy for the government to accept all this without shooting itself in the foot.
Indians fought back very hard when it came to net neutrality and now we're fighting against the system to keep cryptocurrency trading alive and exchanges operational. There's nothing that the government can do outright that will force us to their whim and fancy!
As Nischal Shetty, CEO of WazirX puts it:
Phases you will go through as you fall deeper into the blockchain rabbit hole

Blockchain will solve everything
Blockchain will disrupt Uber, AirBnB, FB
Blockchain will replace governments
Blockchain will replace fiat
Blockchain will create a parallel economy
---
If you like my work kindly resteem it to your friends. You may also continue reading my recent posts which might interest you:
---